The first time George Ferguson took in refugees was in 1972. For several months, a family of Ugandan Asians shared a room in his house after fleeing the regime of Idi Amin. At the time, Ferguson had just set up his own architectural practice and had a young family. Now he is the mayor of Bristol, which explains why his offer to house a refugee from the Syrian crisis has garnered attention.
"If I am asking for people to do something I always believe in leading by example," he says. "That is why if I am asking people to walk and cycle, I walk and cycle."
The carless and tieless Ferguson is used to standing out. Of the 10 cities that held a referendum in 2012 over whether to elect a mayor, only Bristol said yes. Running as an independent candidate, Ferguson was a surprise winner, defeating the Labour favourite.
On his watch, Bristol is taking refuse collection and street cleaning back in-house, installing a high-speed data network in underground ducts once used by an old cable TV service and founding the city's own green energy company. Thanks in part to Bristol's being chosen as the UK's first European Green Capital city, Ferguson is also doing a fair bit of globetrotting. Oh, and for 30 or so years he has insisted on sporting red trousers, something he believes helps him stand out in a crowd on his marketing mission that west is best.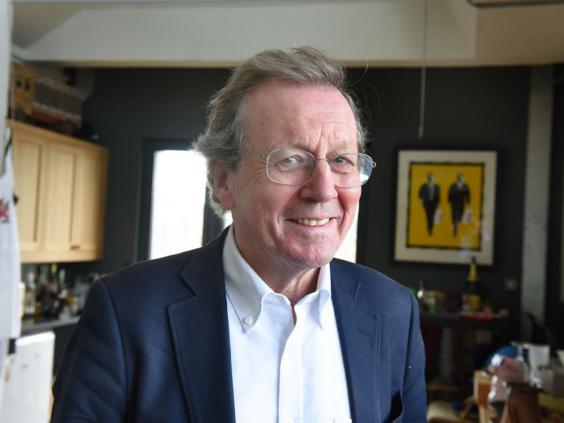 "Even though people may tease me about it, it has helped promote Bristol. The Pope didn't mind at all – and the Queen smiled," he says. Ferguson views Bristol like one of his design projects, but his long-term vision can only go so far in a short time frame that means he must stand for election again next May.
"I have lived long enough to be realistic about these things but also old enough to be impatient to get things done." The 68-year old is on track to build a city-centre music arena by early 2018, a facility that Bristol has long lacked. Redrawing residential parking zones has been unpopular with motorists, but he insists car-free Make Sunday Special days have proved popular.
"I always describe Bristol as a laboratory for change. It is very typical major provincial city: complex, historic. Try it out in Bristol and it can be applicable elsewhere. Those things open people's eyes to the possibilities."
There are bigger challenges: rush-hour gridlock, poverty in the south and affluence in the north that has seen the urban area spread into neighbouring South Gloucestershire. 
His local authority plus three others and the local enterprise partnership want jointly to borrow £1bn from the Treasury to treble their ability to invest in infrastructure and boost the economy by £2bn a year. The trouble is George Osborne's willingness to devolve spending decisions from Whitehall insists on councils working more closely together and electing a "metro mayor" to oversee each region. 
"It is a no-brainer that we should combine over the strategic issues which are transport, planning and skills. They are the biggest barriers to productivity," he says. Ferguson also backs the idea of installing a metro mayor, but "I have absolutely no ambition to be that metro mayor". 
Born in Winchester, Ferguson came to Bristol as a student in 1965. He left for London for a couple of years, met his future wife, a fellow Bristol student, and vowed to return. He left his mark on the city long before becoming mayor, campaigning successfully to stop the council concreting over Bristol's floating harbour and spending a brief spell as a Liberal councillor in the Seventies.
A bigger monument south of the River Avon is the Tobacco Factory, which takes its name from the building's former industrial use. Ferguson bought it from receivers to convert into an arts space and loft apartments, one of which he lives in – without a TV or dishwasher.
His campaign to be mayor cost £50,000. He put in half, and sought the support of Martin Bell. Victory propelled him into a network of city mayors from around the world, as well as contact with his opposite number in London, Boris Johnson.
"He asked me what the deal was with the trousers and I said it's because I haven't got the hair." Having the extrovert gene must be a requirement of office. "You've got to be sociable, you've got to enjoy people; I think that is really important. I think that by not being another politician in a suit I make myself more approachable. I want people to be able to stop me and tell me what they think. I just happen to be like that."
Ferguson's role has attracted enemies. While he can deal with whatever is said about him on social media – "I don't believe it's personal hate because they don't know me" – there has been graffiti daubed on his property. On occasion it has got physical.
The best cities in Britain to raise a family
The best cities in Britain to raise a family
1/9 1. York

andyspicturesurl/Creative Commons

2/9 2. Plymouth

Creaitve Commons

3/9 3. Stoke-on-Trent

Getty

4/9 4. Newcastle upon Tyne

5/9 5. Birmingham

Creative Commons

6/9 6. Wolverhampton

Creative Commons

7/9 7. Coventry

Creative Commons

8/9 9. Peterborough

Creative Commons

9/9 10. Leicester

Creative Commons
"I have been knocked over and had people swearing at me out of their car windows when I am cycling. I just shout: 'I love you too!' "
He thinks he has a good chance of re-election next May – but won't take anything for granted. Labour has the largest number of Bristol council seats and he knows how badly the party wants to win. 
One vote he should be guaranteed is that of Samir, the young Ugandan who took refuge in his house 40 years ago. They bumped into each other on the street recently. 
"He has done really well for himself," Ferguson says proudly. "He is a Bristolian."
The CV: George Ferguson
Education: Wellington  College, Berkshire.  University of Bristol.
Career so far: Joined local council in 1971 as an urban planner. Set up George Ferguson Architects in 1972. In 1986, set up Acanthus Architects, a national network. Royal Institute of British Architects president in 2003. Elected Bristol mayor 2012.
Personal: Separated from his wife. His daughter Alice runs Playing Out, an organisation in Bristol that encourages the return of street playtime for children.
Reuse content