Senior Tories are warning George Osborne that he faces a backbench revolt if he goes ahead with sweeping plans for a stealth raid on the pension pots of higher-income taxpayers to help pay off the deficit.
Under proposals being drawn up in the Treasury, ahead of the Budget in March, all workers paying into a pension would receive a flat rate of tax relief of between 20 and 30 per cent.
But while the changes would boost the pension pots of the majority of workers, anyone paying 40 per cent tax or more would lose out. Higher-rate taxpayers put more of their income into pensions, so the move would provide the Treasury with a multibillion-pound tax windfall. Estimates by the Pensions Policy Institute suggest that if a flat rate of 25 per cent tax relief were introduced, the Treasury would save £6.1bn a year.
But the plans, which are understood to be at an advanced stage, are causing alarm among backbenchers. Senior figures are warning that the move risks angering voters who are already the biggest net contributors to the tax system.
Mark Garnier, a Conservative member of the Treasury Select Committee, said that, while it was right to incentivise lower-rate taxpayers to save more towards their pension, it was potentially "bad politics symbolically" to tax higher-rate taxpayers more.
"I am not sure the politics of hammering the rich works," he said. "The people who will benefit are very unlikely to change the way they vote, while those who lose out will be understandably angry. If you say to 40p taxpayers that they are going to be penalised, there would be a certain amount of unrest."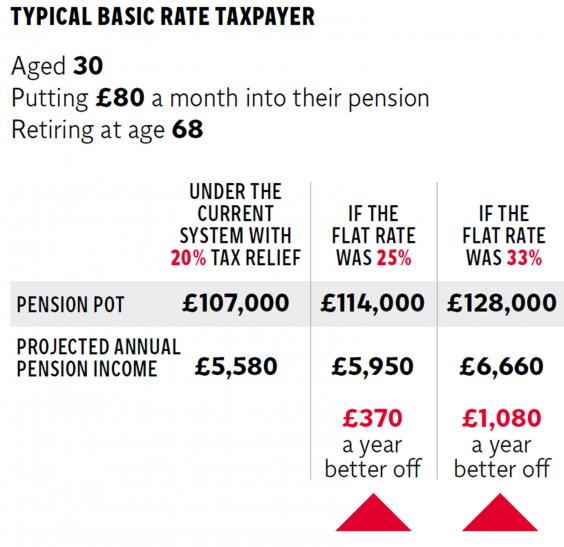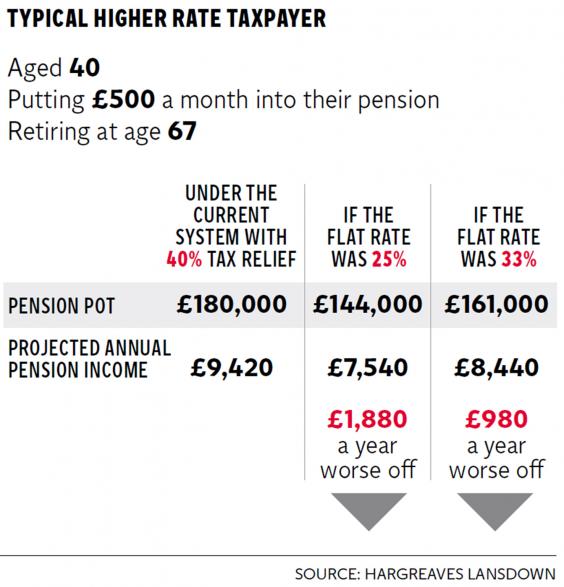 Others privately suggested that the move could damage Mr Osborne's chances of succeeding David Cameron as leader of the party.
"This is a classic case of George being political and bribing some people with other people's money," said one senior Tory backbencher. We as Conservatives should not be about this and the Chancellor dressing up as Robin Hood is not going to do anything for his economic credentials or his prospects of leading the party.
"He is in danger of alienating his own backbenchers who of course will be the people who will play a large part in deciding who will be the next leader of the party."
Another Tory backbencher said the changes reminded him of Mr Osborne's decision to remove child benefit from those people earning over £50,000 a year.
"That caused a great deal of unrest," they said. "And there was no political win out of it because those who were not affected didn't thank us for taxing the rich more, while those who were affected were very upset. This feels like another case like that."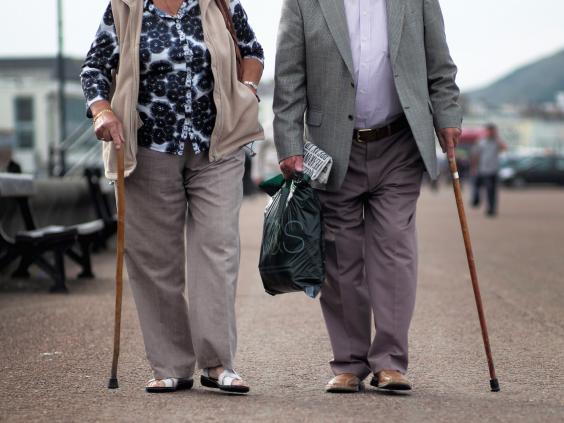 The former Liberal Democrat pensions minister, Steve Webb, said Mr Osborne might try to offset criticism by using some of the windfall gains to raise the threshold at which people pay 40 per cent tax.
This would allow him to claim the move is progressive and that the majority of ordinary voters would gain. But Mr Webb added the Chancellor was unlikely to escape criticism. "The politics of this is not all that pretty," he said. "The masses won't thank him but the rich will yelp."
Mr Webb said the move could be unavoidable given Mr Osborne's overall deficit-reduction targets and the slowing global economy.
"The thing about pensions is that even small changes to tax relief can bring in serious money to the Treasury," he said. "But it is high-risk stuff and, given that the changes would not come into effect until 2017, that is plenty of time for it to fall apart."
Pension experts said higher-rate earners would be well advised to put more of their income into their retirement funds now ahead of any change. "Millions of people who receive between 40 and 45 per cent relief could see a significant drop in their retirement funds," said Nigel Green, chief executive of the deVere Group. "Those seeking to make larger one-off pension contributions might be wise to consider doing so sooner rather than later."