George Osborne is in full retreat after the Government promised no further welfare cuts and his shambolic Budget continued to unravel only five days after he delivered it.
The embattled Chancellor came in for further criticism as he declined to attend an emergency Commons statement on his "disappearing Budget", leaving the Treasury Minister David Gauke to face the music. But Mr Osborne will be in the spotlight when he winds up a four-day Budget debate today.
David Cameron called a truce in the Tories' civil war by praising rather than criticising Iain Duncan Smith, who accused him of pursuing policies that risk dividing society after quitting as Work and Pensions Secretary over planned cuts to disability payments. "I can guarantee that the work of a 'Compassionate Conservative' Government will continue," the Prime Minister told the Commons.
But  Mr Duncan Smith won a victory after his successor Stephen Crabb killed off the proposed £4.4bn of cuts to Personal Independence Payments (PIPs) and went further by saying: "We have no further plans to make welfare savings." However, he said later it would be "absurd" to rule out any further changes before the 2020 election.
The mood of Tory MPs is so fractious that the Chancellor will not try to fill the £4.4bn "black hole" in his spending plans until he makes his Autumn Statement in November or December.
The pledge of no further welfare cuts could deliver a further blow for Mr Osborne. He is likely to continue to breach his own cap on welfare spending – a device he designed to embarrass Labour but which has now trapped him.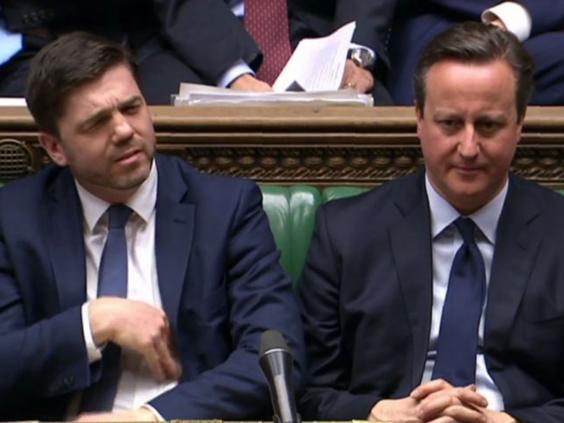 Unless the British economy does better than the gloomier forecasts set out in last week's Budget, the Chancellor could face the humiliating prospect of missing his flagship target to clear the deficit and run a £10bn budget surplus before the 2020 election.
Ministers moved to head off a rebellion by Tory Eurosceptics in the Budget votes that could have resulted in a government defeat on the measure for the first time since 1994. They will not now oppose amendments to the Finance Bill to scrap VAT on women's sanitary products and to block an increase in the VAT rate on solar panels. Eurosceptics backed the amendments to highlight the EU's role in setting indirect tax rates.  Downing Street insisted there was no need to oppose the moves because Mr Cameron  had won an agreement with fellow EU leaders to allow the UK to zero-rate sanitary products, while consultations on solar panels were continuing. Officials dismissed suggestions that the Budget votes could temporarily put Britain in breach of EU law.
Ed Miliband will argue today that the Tory turmoil strengthens the case for the public to vote to remain in the EU in the June referendum. In his first major re-entry into politics since losing last year's election, the former Labour leader will argue that his party cannot "sit out" the referendum after Jeremy Corbyn was accused of giving only lukewarm support to the In campaign.
In a speech in London, Mr Miliband will say: "The last few days have shown the Conservative Party is divided, disunited and at each other's throats. But that makes it all the more important that we set out our case on Europe. The civil war in the Conservative Party cannot and must not obscure the central question in this referendum: are we more likely to secure social justice and progressive change inside the EU or outside. The answer is resoundingly that we should vote to remain."
Amid calls by Tory MPs for Mr Osborne to be moved out of the Treasury after the referendum, Mr Cameron insisted he would remain there. The Prime Minister claimed his "deeply held conviction" in One Nation government was evident in the higher minimum wage, childcare funding, tax cuts for the lowest paid, rebuilding "sink estates", the troubled families programme, prison reform and racial equality measures."None of this would be possible if it wasn't for the actions of this Government and the work of the Chancellor in turning our economy around," he said. Although Tory loyalists cheered that, there was a muted response from many backbenchers.
UK news in pictures
UK news in pictures
1/20 25 June 2017

More than 100,000 people bowed in prayer in Birmingham's Small Heath park at the start of Eid al-Fitr on Sunday amid heightened security, with armed police present for the first time in the seven-year history of the Celebrate Eid festival

2/20 24 June 2017

Britain's opposition Labour Party leader Jeremy Corbyn addresses revellers from the Pyramid Stage at Worthy Farm in Somerset during the Glastonbury Festival

REUTERS

3/20 23 June 2017

British Prime Minister Theresa May addresses a news conference at the EU summit in Brussels, Belgium, June 23, 2017

Reuters

4/20 22 June 2017

Cosplay fans (L-R) George Massingham, Abbey Forbes and Karolina Goralik travel by tube dressed in Harry Potter themed costumes, after a visit to one the literary franchise's movie filming locations at Leadenhall Market in London, Britain

Reuters

5/20 22 June 2017

Racegoers cheer on their horse on Ladies Day at the Royal Ascot horse racing meet, in Ascot, west of London

Getty

6/20 21 June 2017

A reveller walks among the tipi tents at the Glastonbury Festival of Music and Performing Arts on Worthy Farm near the village of Pilton in Somerset, South West England

Getty

7/20 20 June 2017

A police officer lays some flowers passed over by a member of the public, close to Finsbury Park Mosque in north London, after one man died and eight people were taken to hospital and a person arrested after a rental van struck pedestrian

PA

8/20

The Borough Market bell is seen in Borough Market in central London following its re-opening after the June 3 terror attack

Getty Images

9/20

Two women embrace in Borough Market, which officially re-opens today following the recent attack, in central London

REUTERS/Hannah McKay

10/20

Mayor of London Sadiq Khan attends the re-opening of Borough market in central London following the June 3 terror attack

Getty Images

11/20

People walk through Borough Market in central London following its re-opening after the June 3 terror attack

Getty Images

12/20

News Corp CEO Rupert Murdoch, with one of his daughters, visit Borough Market, which officially re-opened today following the recent attack

REUTERS

13/20

A woman reacts in front of a wall of messages in Borough Market, which officially re-opened today following the recent attack, in central London

REUTERS/Hannah Mckay

14/20

Vivenne Westwood walks the runway at the Vivenne Westwood show during the London Fashion Week Men's June 2017 collections

Getty Images

15/20

Millwall fan and London Bridge hero Roy Larner on 'Good Morning Britain'

Rex

16/20

Richard Arnold, Roy Larner, Piers Morgan and Susanna Reid on 'Good Morning Britain'

Rex

17/20 11 June 2017

England players celebrate after defeating Venezuela 1-0 to win the final of the FIFA U-20 World Cup Korea 2017 at Suwon World Cup Stadium in Suwon, South Korea

AP

18/20 11 June 2017

England players celebrate with the trophy after the final match of the FIFA U-20 World Cup 2017 between Venezuela and England at Suwon World Cup Stadium in Suwon, South Korea

EPA

19/20 11 June 2017

Great Britain's Alistair Brownlee celebrates winning the Elite Men Columbia Threadneedle World Triathlon Leeds

Danny Lawson/PA Wire

20/20 11 June 2017

Two men drink beer outside the Southwark Tavern which reopened for business today next to an entrance to Borough Market which remains closed in London

Getty Images
For the most part, Conservative backbenchers staged a show of unity in the Commons after appeals for calm following a weekend of bitter infighting. But Peter Lilley, the former Social Security Secretary, told Mr Cameron that "British people won't take kindly to the idea that we must cut benefits for the vulnerable" by billions of pounds while handing similar sums to the EU.
Jeremy Corbyn surprised MPs by failing to mention Mr Duncan Smith in his response to Mr Cameron's Commons statement.
John McDonnell, the shadow Chancellor, accused Mr Osborne of "cowardly hiding behind" a junior minister rather than explaining  the "chaos" of his Budget. He added: "He now needs to set out how he will fill the black hole in his Budget. His failure to so do means his fantasy £10bn surplus target, like his credibility, is further shot to pieces." 
Tim Farron, the Liberal Democrat leader, said: "The only way this Budget farce is going to come to an end is if the Prime Minster finally puts the Chancellor out of his misery and asks him to stand aside."
Torsten Bell, director of the Resolution Foundation think tank, said the pledge of no more welfare cuts would  reduce the Chancellor's flexibility to respond to any worsening in the public finances. "Tax rises, further departmental spending cuts, or rethinking the scale of any surplus, would have to take the strain instead. The first port of call should be reversing recent tax cuts that disproportionately benefit the richest households," he said.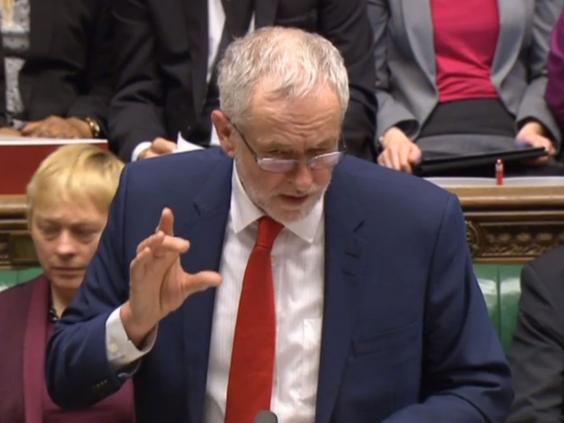 What Cameron said vs what he means
What David Cameron said
"My right honourable friend the member for Chingford and Woodford Green (Iain Duncan Smith) spent almost a decade campaigning for welfare reform and improving people's life chances."
What he meant
Mr Duncan Smith is hurt, angry, and going around attacking me and my government. I will try saying something nice and hope it calms him down.
What he said
"We have spent the last six years implementing those policies in government."
What he meant
It is a bit rich for him to say that the Government is drifting in a wrong direction when he has been part of the government all these years. 
What he said
"We must continue to cut the deficit, control the cost of welfare, and live within our means. We must not burden our children and grandchildren with debts we did not have the courage to pay off ourselves… We will continue with this approach in full because we are a modern, compassionate, One Nation Conservative Party."
What he meant
While we are talking about "compassionate" let's not forget that keeping a tight hold on government spending is "compassionate" too. If spending runs out of control, someone will have to pay eventually. 
What he said
"I am sad that he has left the government but I can guarantee that the work of being a compassionate Conservative government will continue."
What he meant
Goodbye Iain. Your resignation was pointless and we will just carry on without you.
Andy McSmith
Reuse content