Chancellor George Osborne's psychiatrist brother has been struck off the medical register after admitting having an "inappropriate" two-year affair with one of his patients. 
Adam Osborne also admitted threatening the mother-of-two when she reported him to the General Medical Council (GMC) after she attempted suicide when he ended the relationship. 
The Medical Practitioners Tribunal Service (MPTS) ruled that his fitness to practise was impaired due to misconduct and found that his behaviour was "profoundly unacceptable" .
The doctor, who is five years younger than the Chancellor, was not present at the four-day misconduct hearing in Manchester but did admit he knew - or ought to have known - the woman was a "vulnerable patient" because of her history.
He also admitted sending the threatening emails "in a moment of panic".
The tribunal heard how he had been treating the woman - referred to as Patient A - at a private clinic in London for depression, anxiety and chronic fatigue before he embarked on the affair. She also had a history of substance abuse and self-harm.
They were in an emotional and sexual relationship between 2013 and February 2015 before he broke it off.
She then took an overdose of alcohol and drugs and was admitted to hospital - but not before telling Dr Osborne's supervisor Dr Neil Boast about the affair.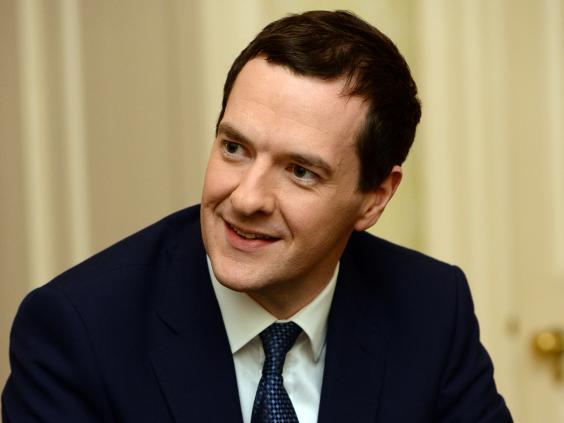 He initially tried to convince Patient A to drop the complaint against him - saying the accusation would "destroy his family" - before becoming "more imploring". 
Representing the GMC at the tribunal, barrister Bernadette Baxter described Dr Osborne as "highly manipulative" and said he preyed on the woman's vulnerabilities. 
She said: "Patient A said on a number of occasions she wanted him to stop contacting her.
"He sees himself very much as a victim. There are emails where the mood very much changed and spills into the territory where he makes threats towards Patient A, consequences to her family and in fact, the patient seduced him."
This not the first time he has been in trouble with the GMC since he qualified in 2004. 
He was suspended from practising for six months in 2010 for prescribing contraceptives to his then girlfriend - now wife - Dr Rahala Noor and anti-psychotic drugs to a cocaine-addicted prostitute with whom he had a relationship and had installed in a £795-a-month rent flat, reportedly so he could have "sex on tap". 
Dr Osborne resigned from the private Elitemed Ltc clinic he ran with Dr Noor - who he married in 2012 - last year after the allegations first came to light.
UK news in pictures
UK news in pictures
1/30 27 May 2016

Leader of Britain's opposition Labour Party, Jeremy Corybn, arrives to deliver a speech on the merits of Britain remaining in the European Union, in Doncaster

Getty Images

2/30 26 May 2016

Britain's Queen Elizabeth II, in her role as Captain-General of The Royal Regiment of Artillery, stands in the State Review Range Rover as she reviews the weapons of the Royal Artillery at Knighton Down, Larkhill on Salisbury plain. 2016 marks the Tercentenary of the formation of the Royal Artillery when, on 26 May 1716, by Royal Warrant of King George 1, two companies of artillery were formed at Woolwich in London, alongside the guns, powder and shot located in the Royal Arsenal

Getty Images

3/30 25 May 2016

Steel workers wave banners as they take part in a protest march through central London. Britain's business minister Sajid Javid met Tata Steel bosses in Mumbai ahead of a crunch board meeting expected to discuss potential buyers for its loss-making UK assets. Tata Steel, Britain's biggest steel employer, announced in March that it planned to sell its Port Talbot plant in Wales and other assets, putting 15,000 jobs at risk

Getty Images

4/30 24 May 2016

Members of the public enjoy the gardens at the 2016 Chelsea Flower Show at Royal Hospital Chelsea in London

Getty Images

5/30 23 May 2016

Chelsea Pensioners walk through the 5000 Poppies Garden at the Chelsea Flower Show in London, the garden, created by Australians Lynn Berry and Margaret Knight is a tribute to their fathers who both fought in WWII

Getty Images

6/30 23 May 2016

4-18 NOW and Brighton Festival light up Brighton Pavilion for Dr Blighty, which commemorates the Indian soldiers who fought for the allies in the First World War

Getty Images

7/30 22 May 2016

Spectators watch as Conductor Valery Gergiev leads the London Symphony Orchestra during The 5th edition of BMW LSO Open Air Classics performed in Trafalgar Square in London

Getty Images

8/30 21 May 2016

A flare goes off during the Scottish Cup Final between Rangers and Hibernian at Hampden Park in Glasgow

Getty Images

9/30 20 May 2016

Leader of the United Kingdom Independence Party (UKIP) Nigel Farage waves from a campaign bus in Westminster in London. The party unveiled a tour bus as part of their campaign to leave the European Union ahead of the EU referendum

Getty

10/30 19 May 2016

Cadbury has unveiled the UK's first ever Monster Truck taxi. The vehicle takes to the streets of London and will then set off on a journey across the country, making a stop in Manchester, Birmingham and Liverpool where it will give chocolate fans the chance to enjoy an exhilarating experience inside the cab, as well as sample some delicious new product

11/30 19 May 2016

Greenpeace activists hang banners on the front of the British Museum in London. The protest was aimed at BP's sponsorship of one of the Museum's new exhibits 'Sunken Cities'

Getty Images

12/30 18 May 2016

Britain's Queen Elizabeth II reads the Queen's Speech during the State Opening of Parliament in the House of Lords in London

AP

13/30 17 May 2016

Nadiya Hussain poses with a Great Fire of London inspired bake at The London Dungeon, which marks the 350th anniversary of the Great Fire of London

Getty Images

14/30 16 May 2016

A huge six-metre statue of Monkey has sailed down the Thames, enjoying a fresh tasting cup of PG tips Green Tea. The two-storey topiary was crafted from 110,486 fabricated green tea leaves

PA

15/30 15 May 2016

Camilla, Duchess of Cornwall, Prince Philip, Duke of Edinburgh and Catherine, Duchess of Cambridge along with Queen Elizabeth II during the final night of the Queen's 90th birthday celebrations in Windsor

Getty Images

16/30 14 May 2016

Participants gather in Clerkenwell ahead of the annual Tweed Run in London. The Tweed Run sees cyclists in vintage and period dress ride through the city

Getty Images

17/30 13 May 2016

Managing Director of the International Monetary Fund Christine Lagarde meets with Britain's Chancellor George Osborne at the Treasury, prior to a press conference in London. The IMF Director warned of the risks to the UK economy should British voters chose to quit the EU in the forthcoming referendum during the conclusion of their Article IV mission to the United Kingdom

Getty Images

18/30 12 May 2016

Protesters throw fake money as they take part in a demonstration against tax havens in London. The protest, organised by Oxfam, ActionAid and Christian Aid, turned part of Trafalgar Square into a 'tropical tax haven' to highlight tax dodging as an international corruption summit hosted by David Cameron was held in nearby Lancaster House

Getty Images

19/30 11 May 2016

Patricia Scotland (R), secretary-general of the Commonwealth walks with Nigerian President Muhammadu Buhari (C) on their way to address delegates at a conference to tackle corruption at the Commonwealth Secretariat in London

Getty Images

20/30 10 May 2016

Jeremy Corbyn speaks beside shadow Minister for Young People and Voter Registration, Gloria De Piero (2nd L) and deputy leader of the Labour Party, Tom Watson (L), in front of the 'Labour In For Britain' campaign bus at a launch in central London

Getty Images

21/30 9 May 2016

British Prime Minister David Cameron delivers a speech on the European Union (EU), at the British Museum in London. Prime Minister David Cameron warned that if Britain left the European Union it would put peace and stability on the continent at risk

Getty Images

22/30 8 May 2016

Mary Berry and Nadiya Hussain attend the House Of Fraser British Academy Television Awards 2016 at the Royal Festival Hall in London

Getty Images

23/30 7 May 2016

Britain's incoming London Mayor Sadiq Khan attends his swearing-in ceremony at Southwark Cathedral. London's new mayor Sadiq Khan thanked voters for choosing 'unity over division' as he was elected Saturday, becoming the first Muslim leader of a major Western capital

Getty Images

24/30 6 May 2016

Scotland's First Minister and SNP leader Nicola Sturgeon addresses the media outside Bute House, the official residence of the Scottish First Minister, in Edinburgh. Scottish nationalists won a third term in power but lost their outright majority in one of a series of local and regional elections seen as a key test for Labour leader Jeremy Corbyn

Getty Images

25/30 5 May 2016

Labour Party Mayoral candidate Sadiq Khan and his wife Saadiya pose outside The Richardson Hall St Alban's Church Centre in Streatham after casting their votes in London's Mayoral and Assembly elections

Getty Images

26/30 4 May 2016

An elderly couple relax in the afternoon sunshine in Green Park, central London

Getty Images

27/30 3 May 2016

A London Air Ambulance takes off from Parliament Square in London. The Air Ambulance is thought have been for a man who jumped off Westminster Bridge

Getty Images

28/30 2 May 2016

Leicester City fans celebrate their team becoming the English Premier League champions in central Leicester, after Chelsea held Tottenham Hotspur to a 2-2 draw. Leicester City completed their fairytale quest for the Premier League title after Eden Hazard's stunning late goal earned Chelsea a 2-2 draw with second-place Tottenham Hotspu

EPA

29/30 1 May 2016

Demonstrators from the Democratic Party of Alahwaz protest in Trafalgar Square during a May Day rally in London

Getty Images

30/30 30 April 2016

Sir David Attenborough and David Mooney attend the launch of the London Wildlife Trust's new Flagship nature reserve Woodberry Wetlands in London

Getty Images
Chairman of the tribunal Dr Nigel Callaghan said: "The tribunal does not consider that Dr Osborne's actions are easily remediable. This was not a fleeting relationship but sustained over a period of two years.
"Dr Osborne attempted to persuade Patient A to withdraw the complaint by sending inappropriate emails to her over a 10-day period when he knew she had taken an overdose, and was therefore in a particularly vulnerable and fragile state.
"The tribunal regards Dr Osborne's behaviour as profoundly unacceptable and undermines the public's confidence in the medical profession."
Additional reporting by PA