Chancellor George Osborne's psychiatrist brother has been struck off the medical register after admitting having an "inappropriate" two-year affair with one of his patients. 
Adam Osborne also admitted threatening the mother-of-two when she reported him to the General Medical Council (GMC) after she attempted suicide when he ended the relationship. 
The Medical Practitioners Tribunal Service (MPTS) ruled that his fitness to practise was impaired due to misconduct and found that his behaviour was "profoundly unacceptable" .
The doctor, who is five years younger than the Chancellor, was not present at the four-day misconduct hearing in Manchester but did admit he knew - or ought to have known - the woman was a "vulnerable patient" because of her history.
He also admitted sending the threatening emails "in a moment of panic".
The tribunal heard how he had been treating the woman - referred to as Patient A - at a private clinic in London for depression, anxiety and chronic fatigue before he embarked on the affair. She also had a history of substance abuse and self-harm.
They were in an emotional and sexual relationship between 2013 and February 2015 before he broke it off.
She then took an overdose of alcohol and drugs and was admitted to hospital - but not before telling Dr Osborne's supervisor Dr Neil Boast about the affair.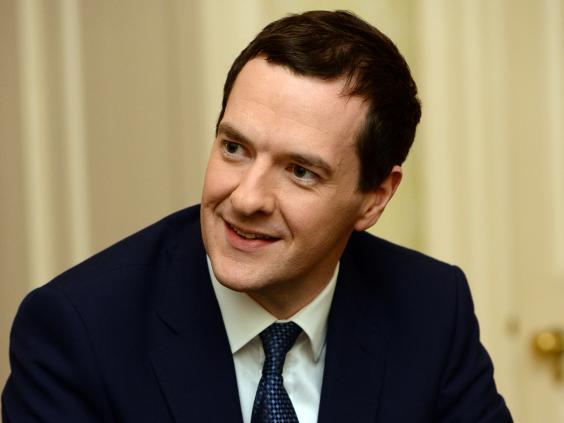 He initially tried to convince Patient A to drop the complaint against him - saying the accusation would "destroy his family" - before becoming "more imploring". 
Representing the GMC at the tribunal, barrister Bernadette Baxter described Dr Osborne as "highly manipulative" and said he preyed on the woman's vulnerabilities. 
She said: "Patient A said on a number of occasions she wanted him to stop contacting her.
"He sees himself very much as a victim. There are emails where the mood very much changed and spills into the territory where he makes threats towards Patient A, consequences to her family and in fact, the patient seduced him."
This not the first time he has been in trouble with the GMC since he qualified in 2004. 
He was suspended from practising for six months in 2010 for prescribing contraceptives to his then girlfriend - now wife - Dr Rahala Noor and anti-psychotic drugs to a cocaine-addicted prostitute with whom he had a relationship and had installed in a £795-a-month rent flat, reportedly so he could have "sex on tap". 
Dr Osborne resigned from the private Elitemed Ltc clinic he ran with Dr Noor - who he married in 2012 - last year after the allegations first came to light.
UK news in pictures
UK news in pictures
1/30 1 July 2016

Demonstrators chant as they wave underwear and placards with the words "Liar Liar Pants On Fire" written on them outside the home of former London Mayor Boris Johnson

Getty Images

2/30 30 June 2016

Justice Secretary and leading Brexit campaigner Michael Gove leaves his home in Kensington before announcing his intention to run to be the next Conservative Party leader and UK prime minister

Getty Images

3/30 29 June 2016

Spectators with umbrellas struggle against strong wind as stormy weather delays play at Wimbledon

REUTERS

4/30 28 June 2016

A couple kiss outside the Houses of Parliament during a protest aimed at showing London's solidarity with the European Union following the recent EU referendum

REUTERS

5/30 28 June 2016

Queen Elizabeth II & Prince Philip, Duke Of Edinburgh attend the unveiling of the Robert Quigg VC memorial statue in Bushmills village, Northern Ireland

Getty Images

6/30 27 June 2016

Opposition Labour party leader Jeremy Corbyn leaves after addressing a gathering of supporters demonstrating in Parliament Square, in central London

REUTERS

7/30 26 June 2016

A man dressed as Boris Johnson and Donald Trump prepare to take part in a tomato fight at the Glastonbury Festival 2016 at Worthy Farm

Getty Images

8/30 26 June 2016

People walk over Westminster Bridge wrapped in Union flags in central London. Britain's opposition Labour party plunged into turmoil and the prospect of Scottish independence drew closer, ahead of a showdown with EU leaders over the country's seismic vote to leave the bloc

AFP/Getty Images

9/30 25 June 2016

People pay tribute to the victims of the Orlando nightclub shooting as they take part in the annual Pride London Parade which highlights issues of the gay, lesbian and transgender community, in London

REUTERS

10/30 25 June 2016

Scotland's First Minister and Leader of the Scottish National Party (SNP), Nicola Sturgeon, addresses the media after holding an emergency Cabinet meeting at Bute House in Edinburgh, following the pro-Brexit result of the UK's EU referendum vote

AFP/Getty Images

11/30 24 June 2016

A man carries a EU flag, after Britain voted to leave the European Union, outside Downing Street in London

12/30 23 June 2016

AFP/Getty Images

13/30 22 June 2016

British Prime Minister David Cameron poses for a photograph after addressing pro-EU "Vote Remain" supporters at rally in Bristol, whilst campaigning to avoid a Brexit, ahead of the 23 June EU referendum

AFP/Getty Images

14/30 21 June 2016

Scottish Conservative leader Ruth Davidson (left) and Mayor of London Sadiq Khan speak during the EU debate at Wembley Arena in London

Getty Images

15/30 20 June 2016

A full moon rises behind Glastonbury Tor as people gather to celebrate the summer solstice in Somerse

Getty Images

16/30 19 June 2016

Hot air balloons took to the air as part of the annual Lord Mayor's Hot Air Balloon Regatta, a charity event in aid of the Lord Mayor's Fund, in London

Getty Images

17/30 19 June 2016

Liberal Democrats leader Tim Farron (C) poses with supporters after arriving in the Liberal Democrat Vote Remain campaign bus, campaigning to avoid a Brexit in the EU referendum, during a launch event in east London

AFP/Getty Images

18/30 18 June 2016

A man lights a flare among pro-refugee activists rallying outside the French Embassy in central London, during a protest after most of an aid convoy of vehicles organised by campaign groups heading to northern France were turned back at the French frontier at the port of Dover

AFP/Getty Images

19/30 17 June 2016

Prime Minister David Cameron and Labour Leader Jeremy Corbyn arrive to pay their respects at the scene where Jo Cox was shot in Birstall

Getty Images

20/30 16 June 2016

Floral tributes and candles are placed by a picture of slain Labour MP Jo Cox at a vigil in Parliament square in London. Cox died after a shock daylight street attack, throwing campaigning for the referendum on Britain's membership of the European Union into disarray just a week before the crucial vote

AFP

21/30 15 June 2016

Boats from the 'Fishing for Leave' campaign group join a flotilla along the Thames River in London. The flotilla organised by members of the Fishing for Leave group, who are campaigning to leave the European Union ahead of the referendum on the 23 of June, was countered by boats representing the 'In' campaign

Getty Images

22/30 14 June 2016

A general view of the Tate Modern's new Switch House in London. The Tate Modern art gallery has unveiled its new Switch House building designed by architects Herzog & de Meuron

Getty

23/30 13 June 2016

Labour Leader Jeremy Corbyn (C) and Deputy Labour Leader Tom Watson (R) attend a vigil for the victims of the Orlando nightclub shooting, outside the Admiral Duncan pub on Old Compton Street in Soho, London

Getty Images

24/30 12 June 2016

A pigeon flies ahead of Britain's Queen Elizabeth and Prince Philip, and Princes William, Harry and Kate Duchess of Cambridge behind as they wave to guests attending the Patron's Lunch on the Mall, an event to mark her 90th birthday, in London

REUTERS

25/30 11 June 2016

A Guardsman faints at Horseguards Parade for the annual Trooping the Colour ceremony in central London

REUTERS

26/30 10 June 2016

The national service of thanksgiving for the 90th birthday of Britain's Queen Elizabeth II at St Paul's Cathedral in London, which is also the Duke of Edinburgh's 95th birthday

Getty Images

27/30 9 June 2016

Princess Anne, Princess Royal attends the Founders Day Parade at The Royal Hospital Chelsea in London

Getty Images

28/30 8 June 2016

Two women walk barefoot through heavy rain in Westminster in London. The Met Office has issued flood alerts for parts of the south east of England as torrential rain hit parts of the country

Getty Images

29/30 7 June 2016

An Osprey catches two Rainbow Trout at Rothiemurchus in Kincraig, Scotland. Ospreys migrate each spring from Africa and nest in tall pine trees around the Aviemore area, the raptor was hunted to the point of extinction in the Victorian era, their migratory habits eventually brought them back to Scotland with the first successful breeding pair being recorded in 1954

Getty

30/30 6 June 2016

David Cameron speaks at a Remain in the EU campaign event at the Oval cricket ground in London

Getty Images
Chairman of the tribunal Dr Nigel Callaghan said: "The tribunal does not consider that Dr Osborne's actions are easily remediable. This was not a fleeting relationship but sustained over a period of two years.
"Dr Osborne attempted to persuade Patient A to withdraw the complaint by sending inappropriate emails to her over a 10-day period when he knew she had taken an overdose, and was therefore in a particularly vulnerable and fragile state.
"The tribunal regards Dr Osborne's behaviour as profoundly unacceptable and undermines the public's confidence in the medical profession."
Additional reporting by PA
Reuse content