Google is accused by MPs of jeopardising thousands of British jobs by failing to block websites providing illegal downloads of music and films.
In a scathing report, the Culture, Media and Sport select committee condemned the internet giant's "derisory" efforts to tackle online piracy and denounced its explanation for its inaction as "flimsy".
It said the creative industries were worth £36bn a year to the British economy and employed 1.5m people, but warned that would be put at risk if they could not rely on tough intellectual property safeguards.
The industry estimates that piracy costs it £400m in lost revenues a year. More than one-third of films watched online are viewed unlawfully and £1bn-worth of music is illegally downloaded annually.
The committee reserved its strongest words for Google, accusing it of failing to explain why its search engine still directed people to websites flouting copyright rules and challenging it to remove more illegal sites or to demote them down lists of search results.
It criticised the company for its "evident reluctance to block infringing websites on the flimsy grounds that some operate under the cover of hosting some legal content".
John Whittingdale, the committee's chairman, said: "The continuing promotion of illegal content through search engines is simply unacceptable and efforts to stop it have so far been derisory.
"There is no reason why they cannot demote and ultimately remove sites hosting large amounts of illegal material from search engine results.
"Google and others already work with international law enforcement to block for example child porn from search results and it has provided no coherent, responsible reason why it can't do the same for illegal, pirated content. Copyright infringement is a serious crime that threatens our economic future."
UK Music, which represents artists, songwriters and record labels, condemned the promotion by search engines of illegal content as unacceptable.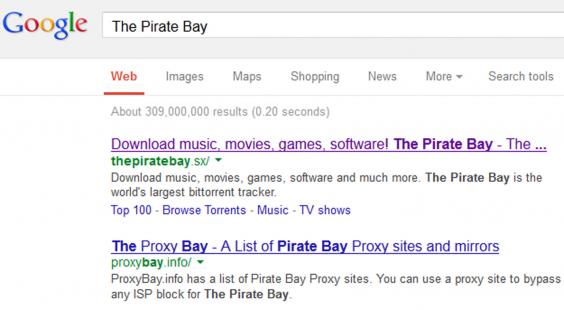 Its chief executive, Jo Dipple, said: "Google has to stop feeding up unlicensed free content. Google has to start acknowledging the responsibility it has to the consumers it serves. It is very un-British to ride so roughshod over our customers."
Last night Google said it was taking tough action to remove sites that infringed copyright legislation.
"We removed more than 20m links to pirated content from our search results in the last month alone," a spokesman said.
He said research by the watchdog Ofcom found just eight per cent of people looking for unlicensed films used Google to find them, while 13 per cent searching for unlicensed music used the search engine.
The spokesman added: "Google works harder than anyone to help the film and music industry protect their content online."
The committee called for the maximum penalty for online piracy to be increased from two to ten years' imprisonment and for the appointment of an Intellectual Property champion to boost awareness of the issue.
The MPs protested that the Government had delayed plans to send warning letters to internet users suspected of piracy until late 2015.
The hold-up was "costing the creative industries millions of pounds with serious consequences for the wider economy", they warned.
They also condemned the "excessive constraints" which prevent British companies which won contracts during the 2012 London Olympics from promoting their involvement.
"This deeply disappointing state of affairs endangers the economic legacy that British companies have a legitimate right to benefit from," the MPs said.
It called for an urgent review of the situation by ministers, adding: "This is all the more pressing as firms throughout the UK seek to gain contracts for the next games in Rio de Janeiro."
Reuse content