Gordon Brown today warned that the survival of the United Kingdom was in jeopardy as he delivered his final Commons speech in a 32-year career as an MP.
The former Prime Minister claimed that Conservative moves to introduce English votes for English laws threatened to undermine the UK's "shared foundations".
Mr Brown, whose late intervention in the Scottish independence battle was widely credited as halting the momentum towards a Yes vote, stressed he was not leaving public life and pledged to "fight and fight again" to rebuild the Union.
He was surrounded by close Labour allies, including Ed Balls and Yvette Cooper, as he spoke of his fears that the ties binding the UK together were fraying.
"I sense that the UK today is fragile, at risk and we are potentially at a point of departure," he told the Commons.
Gordon Brown: Life in politics
Gordon Brown: Life in politics
1/7 Gordon Brown

Gordon Brown's refusal to lead the Scottish party 'showed good sense'

Getty

2/7 Gordon Brown

Brown shows the strain during a meeting with Labour activists in east London in 2011

REUTERS

3/7 Gordon Brown

Brown, his wife Sarah and his two sons, leave Downing Street after he announced his resignation as Prime Minister

AFP/GETTY IMAGES

4/7 Gordon Brown

11.30 Brown has what seems a friendly enough chat with Gillian Duffy, 65, in Rochdale. It turned out not so friendly

REUTERS

5/7 Gordon Brown

Brown and Tony Blair in a show of unity at the 2005 election campaign launch

GETTY IMAGES

6/7 Gordon Brown

Brown, Tony Blair and Neil Kinnock in 2001

EPA

7/7 Gordon Brown

Brown, then the Chancellor, before presenting his 1999 Budget to Parliament

David Rose, The Independent
Mr Brown attacked the Tory commitment to creating two classes of MPs as a "direct nationalist appeal to the English electorate" which would "mimic the Nationalists by driving a wedge" between Scotland and England.
"It is not so much 'English votes for English laws', it is 'English laws for English votes'," he argued.
"Our greatest successes as a country have come not when we have been divided nor when we have turned inwards, but when we have confidently looked outwards and thought globally, our eyes fixed on the wider world and the future."
He also warned: "The predominant feeling in our country today is an anger I can see in people's faces and hear in their voices, an anger directed against elites, and a demand for change."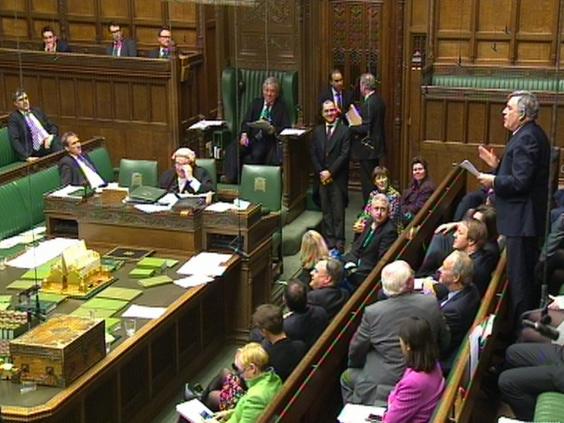 But he added: "I also sense the British people are better than leaders often presume. They are ready to respond to a vision of a country more caring, less selfish, more compassionate and less cynical than the 'me too, me first, me now, me above all, me whatever' manifestos."
Mr Brown, who was Prime Minister between 2007 and 2010, referred to leading the international response to the global financial crisis in 2008-09.
He said Britain should "never allow ourselves to become spectators or watchers on the shore, when the world needs us, in Europe and beyond, to lead and champion global action to deal with poverty, pollution, proliferation and protectionism".
For much of his Commons career Mr Brown had a formidable reputation for his debating skills. As Chancellor between 1997 and 2007 he regularly got the better of Conservative opponents, but often found himself on the losing side of clashes with David Cameron during his spell as Prime Minister.
Since Labour's heavy election defeat he has adopted a low profile at Westminster, preferring to focus on charity work and his role as a United Nations special envoy.
Mr Brown announced last year that was to retire as the MP for Kirkcaldy and Cowdenbeath following a Commons career that began in 1983.
He told MPs: "It is not my constituency, not Scotland and not public service that I am leaving. It is Westminster and London I leave to live full time in the place where I grew up and where my children will grow up and complete their schooling. It is my good fortune that Fife has not only been my constituency for a third of a century, but always my home."
Reuse content