The Government has issued a firm response to a parliamentary petition calling for the legalisation of cannabis, that reached over 200,000 signatures and will be considered for debate in parliament.
The petition that urges the Government to "make the production, sale and use of cannabis legal" has 203,466 signatures at the time of writing.
The text of the petition claims that the legalisation of cannabis "could bring in £900 million in taxes every year, save £400 million on policing cannabis and create over 10,000 new jobs."
The petition is the second most popular on the website, second only to one that calls for a debate on a no confidence vote in Health Secretary Jeremy Hunt.
Where cannabis is and isn't legal
Where cannabis is and isn't legal
1/12 UK

Having been reclassified in 2009 from a Class C to a Class B drug, cannabis is now the most used illegal drug within the United Kingdom. The UK is also, however, the only country where Sativex – a prescribed drug that helps to combat muscle spasms in multiple sclerosis and contains some ingredients that are also found in cannabis - is licensed as a treatment

Getty

2/12 North Korea

Although many people believe the consumption of cannabis in North Korea to be legal, the official law regarding the drug has never been made entirely clear whilst under Kim Jong Un's regime. However, it is said that the North Korean leader himself has openly said that he does not consider cannabis to be a drug and his regime doesn't take any issue with the consumption or sale of the drug

MARCEL VAN HOORN/AFP/Getty Images

3/12 Netherlands

In the Netherlands smoking cannabis is legal, given that it is smoked within the designated 'smoking areas' and you don't possess more than 5 grams for personal use. It is also legal to sell the substance, but only in specified coffee shops

Getty

4/12 USA

Although in some states of America cannabis has now been legalised, prior to the legalisation, police in the U.S. could make a marijuana-related arrest every 42 seconds, according to US News and World Report. The country also used to spend around $3.6 billion a year enforcing marijuana law, the American Civil Liberties Union notes

AP Photo/Ted S. Warren

5/12 Spain

Despite cannabis being officially illegal in Spain, the European hotspot has recently started to be branded, 'the new Amsterdam'. This is because across Spain there are over 700 'Cannabis Clubs' – these are considered legal venues to consume cannabis in because the consumption of the drug is in private, and not in public. These figures have risen dramatically in the last three years – in 2010 there were just 40 Cannabis Clubs in the whole of Spain. Recent figures also show that in Catalonia alone there are 165,000 registered members of cannabis clubs – this amounts to over 5 million euros (£4 million) in revenue each month

Getty

6/12 Uruguay

In December 2013, the House of Representatives and Senate passed a bill legalizing and regulating the production and sale of the drug. But the president has since postponed the legalization of cannabis until to 2015 and when it is made legal, it will be the authorities who will grow the cannabis that can be sold legally. Buyers must be 18 or older, residents of Uruguay, and must register with the authorities

Getty

7/12 Pakistan

Despite the fact that laws prohibiting the sale and misuse of cannabis exist and is considered a habit only entertained by lower-income groups, it is very rarely enforced. The occasional use of cannabis in community gatherings is broadly tolerated as a centuries old custom. The open use of cannabis by Sufis and Hindus as a means to induce euphoria has never been challenged by the state. Further, large tracts of cannabis grow unchecked in the wild

Getty

8/12 Portugal

In 2001, Portugal became the first country in the world to decriminalize the use of all drugs, and started treating drug users as sick people, instead of criminals. However, you can still be arrested or assigned mandatory rehab if you are caught several times in possession of drugs

Getty

9/12 Puerto Rico

Although the use of cannabis is currently illegal, it is said that Puerto Rico are in the process of decriminalising it

RAUL ARBOLEDA/AFP/Getty Images

10/12 Colorado

The US state became the first in the country to legalise marijuana in January 2014. In February 2015, President Obama recently said he expects to see more states "looking into" legalisation. However, it is illegally to grow more than six cannabis plants and to possess more than 28 grams of the drug

Rex Features

11/12 California

Oaksterdam in Oakland, California, is the world's only university dedicated to the study and cultivation of cannabis. If you are court in California with anything up to an ounce of cannabis, you will be fine $100, but you will not get a criminal record, nor will you have to appear in court

Getty Images

12/12 China

Cannabis is grown in the wild and has been used to treat conditions such as gout and malaria. But, officially the substance is illegal to consume, possess and sell

Getty
Despite the petition's popularity, the Government has shut the door on the prospect of legalisation with their response.
It says: "The latest evidence from the independent Advisory Council on the Misuse of Drugs is that the use of cannabis is a significant public health issue"
"Cannabis can unquestionably cause harm to individuals and society. Legalisation of cannabis would not eliminate the crime committed by the illicit trade, nor would it address the harms associated with drug dependence and the misery that this can cause to families."
"Legalisation would also send the wrong message to the vast majority of people who do not take drugs, especially young and vulnerable people, with the potential grave risk of increased misuse of drugs."
In a brief glimmer of hope for legalisation supporters, the Government recognises the "potential opportunity" to raise money through the taxation of cannabis.
However, they add that there would be costs related to "administrative, compliance and law enforcement activities" that they claim would not make legalisation worthwhile.
The Government ends its response by saying "we must prevent drug use in our communities," and adds that the downward trend in drug use over the last decade is a result of tough laws against drugs.
However, the Government's damning response to the petition jars with increasing levels of decriminalisation and legalisation around the world.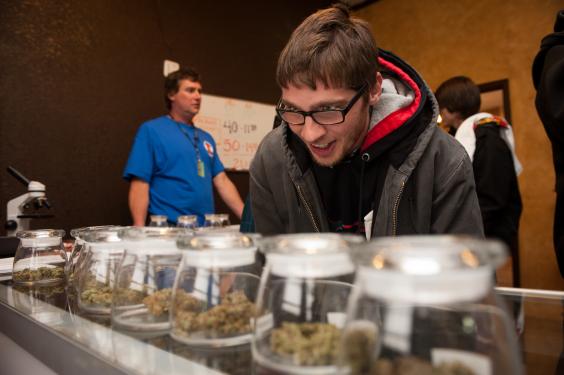 Ron Hogg, the Durham Police and Crime Commissioner, said in July that cannabis users who possess or grow small amounts of the drug for their own personal use are "not a priority" for his force. He said that blatant use or complaints would cause them to take action, but penalties would ideally be focused on rehabilitation, not punishment.
The use, possession, sale and cultivation of cannabis is illegal under American federal law, but the states of Colorado, Washington, Alaska and Oregon have legalised sale and possession for medical and recreational use.
20 other states have legalised or decriminalised medical use to varying degrees. In April, a US government-funded study recognised the ability of cannabis to shrink some kinds of tumour.
According some surveys, 52 per cent of the public supports the legalisation of cannabis - however, the Government has typically taken a strong line against liberalisation of drugs laws.
In 2009, Government drugs adviser Dr David Nutt was forced to resign after he stated his view that cannabis, ecstacy and LSD were less harmful than alcohol and tobacco.
Citing studies that have suggested a link between cannabis use and certain mental health problems, the Government's position on cannabis legalisation looks unlikely to change.
Any petition on the government's official website that receives over 100,000 signatures will be considered for a debate in parliament. It will now take 31 days for a debate date on cannabis legalisation to be announced.
Reuse content