Britain has appealed to Greece and its eurozone partners to take their "one last chance" to solve the Greek debt crisis before it spirals out of control.
George Osborne, the Chancellor, told MPs: "This is a critical moment. No-one should be under any illusions. The situation risks going from bad to worse. Britain will be affected the longer the Greek crisis lasts, and the worse it gets." He added: "There is no easy way out. But even at the eleventh hour we urge the eurozone leaders and Greece to find a sustainable solution."
Mr Osborne expected the financial situation in Greece to "deteriorate rapidly" - as the banks run out of money - if there was no signal of new talks soon.  
Prime Minister David Cameron discussed the crisis by telephone with Angela Merkel, the German Chancellor. But Britain was largely left on the sidelines as leaders of the other 18 eurozone nations prepared to meet Alexis Tsipras, the Greek Prime Minister, in Brussels on Tuesday. Downing Street insisted that Mr Cameron would attend a meeting of all 28 EU leaders if and when that became necessary. It said it was premature to speculate on the cost to Britain of any EU-wide emergency relief to Greece, saying that humanitarian aid would be largely a matter for the eurozone.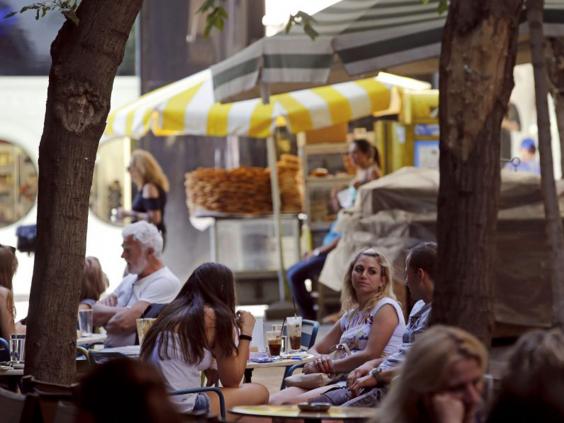 Mr Cameron chaired a meeting of ministers and officials including Bank of England Governor, Mark Carney. It agreed to send extra consular staff to the Greek islands of Crete, Rhodes, Corfu and Zakynthos to advise British holidaymakers there.
The Government is advising Britons heading for Greece to take enough supplies, including prescription medicines, with them after reports of shortages of medical supplies. The Department of Work and Pensions has advised 2,000 British pensioners living in Greece how to switch payments of their UK pensions to non-Greek bank accounts.
Downing Street and the Treasury refused to be drawn on whether they want Greece to leave the single currency. But Lord Lawson of Blaby, the Conservative former Chancellor, said: "There will be no solution to the Greek crisis without Greece leaving the eurozone altogether. That is necessary for Greece and it's necessary for the eurozone."
Although they would not admit it publicly, Conservative Eurosceptics would not mind a bout of turmoil in the eurozone, with contagion spreading to countries like Spain or Italy after a Greek exit from the euro. "This shows the whole EU project is bust," one said. The anti-EU brigade hopes the crisis will boost the prospects of an Out vote in the referendum on EU membership Britain will hold by 2017.
Migrants mingle with holidaymakers in Kos
Migrants mingle with holidaymakers in Kos
1/14 Boat migrants in Kos

Migrants watch a father and daughter cycle past as they wait outside a police station to receive temporary traveling papers

AP

2/14 Boat migrants in Kos

Tourists pass by a Syrian refugee sleeping on a bench at the coast of Kos island

EPA

3/14 Boat migrants in Kos

Afghan migrants stand in front of the police station as a woman runs past on 27 May

AFP/Getty Images

4/14 Boat migrants in Kos

An Afghan immigrant sleeps on a bench outside a local police station as tourists cycle by

Reuters

5/14 Boat migrants in Kos

An Afghan family heads to the port of Kos with Athens as a destination on Wednesday

AP

6/14 Boat migrants in Kos

Baloch, from Pakistan, wears a blanket as he waits outside the police station

AP

7/14 Boat migrants in Kos

Migrants buy goods from from a van, on the island of Kos

AP

8/14 Boat migrants in Kos

Immigrants staying in a deserted hotel on the Greek island of Kos look at newly-arrived refugees

Reuters

9/14 Boat migrants in Kos

Afghan migrants wash next to a deserted hotel, where hundreds have found temporary shelter

AFP/Getty Images

10/14 Boat migrants in Kos

Afghan children inside a room of an abandoned hotel on the island of Kos

EPA

11/14 Boat migrants in Kos

A migrant hangs his clothes on a fence of an abandoned hotel

AP

12/14 Boat migrants in Kos

An Afghan woman sits with her child at a dock at the port of Kos

AP

13/14 Boat migrants in Kos

Afghan immigrants land at a beach after landing in a dinghy on 27 May

Reuters

14/14 Boat migrants in Kos

A dinghy overcrowded with migrants is towed into Kos as the influx looks set to continue

Reuters
Some Eurosceptics believe the Greek referendum offers lessons for Mr Cameron as he negotiates a new EU deal for Britain. They argue that it strengthens the case for the Prime Minister to stage two referendums – to encourage an Out vote in the first one, so he would win a much better deal from the EU and then recommend an In vote in the second one. The idea is being pushed by Dominic Cummings, an adviser to Michael Gove when he was Education Secretary, who is setting up the Out campaign.
But Mr Cameron wants to conclude the renegotiation as soon as possible. "One referendum is quite enough," said one aide.
British officials believe the crisis in Greece could give Mr Cameron more negotiating clout. It could speed up reforms to the eurozone, which would require a change to the EU's governing treaty and the unanimous support of all 28 EU members. The inevitable horse-trading might give the Prime Minister more chance of securing his demands. One of them is increasingly relevant – safeguarding the EU members outside the eurozone, so it does not determine all EU policies. Greece may be about to join them.
Reuse content