David Cameron has admitted he is jealous of his wife's "beach body" and said he was too "greedy" to stay in shape. 
But he blamed his lack of discipline on his tour around European capitals last week as he met for talks with his continental counterparts over luxury dinners. "I was always brought up that you have got to eat what is put in front of you," he told ITV's This Morning when asked whether he was "beach body ready" himself.
He even admitted to having a three-course breakfast with Polish Prime Minister Ewa Kopacz, which finished off with a cheesecake.
At the same time Samantha Cameron was relaxing on the beach in Ibiza, taking their three children to the luxury resort of Cala Nova Beach on the south east of the island during the half-term break.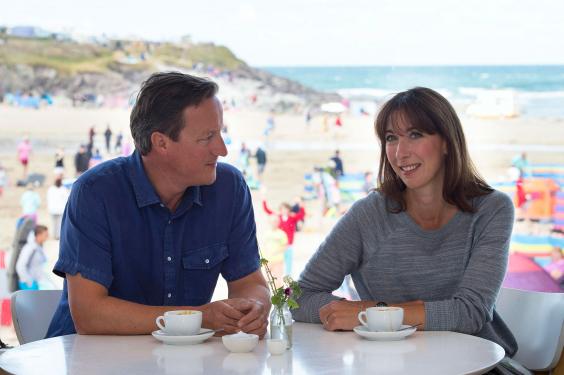 The Prime Minister, asked what he made of photos of his wife in her bikini that were printed in the Mail on Sunday, said:
"I am very lucky to have such a wonderful wife. She took the children off for a nice holiday while I was slogging around Europe trying to get this negotiation started.
"So I was a bit jealous."
He defended his lack of self-discipline, but admitted: "I am not as good as she is at controlling what goes in.
"I am a bit greedy. She is very disciplined. I have probably got a bit to learn off her.
"But I try to go for a jog or play a bit of tennis.
"When you do these European tours, the meals – I was always brought up that you have got to eat what is put in front of you and that's not always a good idea… I think I had a three course breakfast [on the tour] – I don't normally have a three course breakfast I can tell you."
And he sought to assure the nation he was trying to make up for last week's extravagance: "I had porridge this morning," he said.
Reuse content