In the starkest terms of "blood and treasure", Britain's long and gruelling war in Afghanistan has cost far more than even Tony Blair could have imagined when signing the country up to the Coalition of the Willing in the wake of 9/11.
In the past 13 years, 453 British servicemen and women have lost their lives, while more than 600 have suffered life-changing injuries and thousands more have been wounded. The conflict has cost the UK more than £20bn.
Now, it is almost over. On Friday David Cameron paid his last visit to Afghanistan as a country in which British troops are fighting, and within weeks the last British combat forces will have left Afghan soil. His message was clear: we've done our part and now it's up to you.
At Camp Bastion, the dismantling of the British base which was once home to nearly 10,000 troops is almost complete. In the words of one soldier: "We're turning it back to the sand."
While the airport and land will go back to the Afghans, everything that can be moved is returning to Britain. The camp is now a fraction of its former size and those still here can't wait to get out. Addressing these remaining troops on a makeshift platform, Mr Cameron praised their bravery, dedication and courage. But he warned that while the mission in Afghanistan was ending, "the work will continue".
Britain at War: Opinions on the ground
Britain at War: Opinions on the ground
1/8 CAROLINE LUCAS Green Party MP for Brighton Pavillion

"Whatever we decide people will die. Be it directly at the hands of ISIL, whose barbarity seems to know no limits. Or when they are hit by bombs dropped by the US, France or the UK."

Teri Pengilley

2/8 DR ANDREW WHITE Chaplain of St George's Anglican Church in Baghdad

"Isis is an evil, evil force – the only way to control these bigots is to further put at risk Iraqi people."

Susannah Ireland

3/8 DR NAFEEZ AHMED Executive director of the Institute for Policy Research & Development

"We might win some short term battles but we will create more grievances that will empower the IS cause in the long run."

4/8 DAVID DAVIS Former shadow Home Secretary

"The moral case is clear, the practical case is not - what do we do when we stop bombing?"

Getty

5/8 GENERAL JAMES CONWAY Retired US Marine

"I don't think President Obama's plan has a snowball's chance in hell of succeeding."

AFP

6/8 NADIM ZAHAWI Baghdad born Conservative MP

"We need to learn that we can't do nation-building, it has to be up to the local community to decide who they want to govern themselves."

Susannah Ireland

7/8 RICHARD WILLIAMS Former commanding officer of the SAS

"Friday's debate lacked any meaningful reference to the political solution that must be considered in Iraq if these bombs are to mean anything."

8/8 CHRIS DOYLE Director of Council for Arab-British Understanding

"The bigger issue is to actually help Syria, but if you just want to defeat IS then you lose sight of that overall goal."
"I'm afraid the work that you all do here will go on in other parts of the world," he said. "Maybe not in the same way, but the fact is what we found here – Islamist extremist terrorism –that disease is still present in so many parts of the world."
Earlier in the visit, Mr Cameron held bilateral talks with new Afghan President Ashraf Ghani and his defeated rival, Abdullah Abdullah, who is now the country's first Chief Executive. He confirmed the UK troops would not return even if the security situation deteriorated.
In flawless English, President Ghani thanked the families of British soldiers who died in the conflict. He also pleaded with Britain not to shut itself off from Afghanistan – and said that the troops' actions in his country had directly contributed to UK security.
"Remember what brought us together. It was through tragedy. 9/11 was followed by attacks on London. Your presence here means London has been safe, as has the rest of the world. We can't be fortress Europe or fortress America."
He added: "I thank your soldiers and civilians injured in Afghanistan and who have left parts of their limbs there. Some have haunting memories. But I hope they will remember the good heart of the Afghans."
Mr Cameron announced that Britain is going to provide £178m a year in aid until 2017 to support health and education programmes. And next month, he will co-host a London conference to secure continued support from the international community for Afghanistan's development.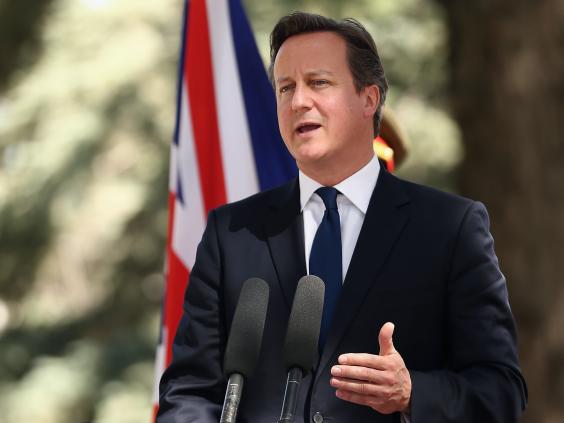 During a press conference with the two leaders, the Prime Minister also suggested that Britain would accept the Taliban being brought into the new government if it renounced violence. "If the Taliban want to secure a role in the future of Afghanistan, then they must accept that they have to give up violence and engage in the political process," he said.
Speaking ahead of the talks, Mr Cameron  said he believed that despite its high price the mission had been both necessary and worthwhile.
"If you think in bald British terms, what we've been trying to achieve – to deny a safe haven to al-Qaeda and create a situation where the Afghans were capable of their own security without the presence of foreign troops – we have gone a long way to achieving that."
He added: "This was the place where the 9/11 attacks were planned. This is the place where countless attacks were planned.
"When I became Prime Minister, nine out of 10 plots that we faced on the streets of Britain came from the Afghanistan/Pakistan area. That is now well down – somewhere below half are the latest figures I have seen, so I think that is a very real achievement."
And he was confident that even without a significant US or British presence in the country, that could be maintained: "You've got a country that has gone from having had no army that now has a capable army – having had no police, now it has capable police.
"The core UK mission was about our own domestic security, and that required an Afghan army capable of taking care of Afghan security and denying a safe haven for al-Qaeda, and huge progress on that has been made."
Asked about the lessons to be learnt from the conflict, Mr Cameron said it was clear that military measures alone would not be enough to defeat Islamic extremists.
"The lessons from Afghanistan are that in all these interventions you need to make sure you have a combined military, diplomatic, political and aid programme.
"That's not always been perfectly aligned in Afghanistan, but I think you can see that now."
Reuse content