Private housing developers should build homes with smaller rooms that do not meet existing minimum space standards so that young people can afford to buy them, the housing minister has said.
Gavin Barwell told the Conservative conference in Birmingham that he wanted the private sector to "innovate" to solve the housing crisis and that relaxing the rules on how cramped a flat can be might stop young people from being priced out.
The minister said that although most people "given the choice" would like to live in a reasonably sized home, this might not be possible for young people.
"We also want people to innovate – there are things the private sector is doing," Mr Barwell told a fringe event.
"I don't know if anyone's seen any of the schemes that Pocket housing [Pocket Living] have done where they've basically done a deal with the GLA [Greater London Authority] to get some flexibility on space standards. As a result they can offer a product well below market price.
"Now look: most people, given the choice, would like to live in a nice big home. But I think for many young people – if I was 22 today, I would rather have the chance to own that than be priced out."
Britain already builds the smallest homes in Europe with an average 500sq ft per one-bedroom flat – around the same size as a London Underground carriage. Flats built by Pocket, the developer cited by Mr Barwell, are 400sq ft and sell for just under a quarter of a million pounds.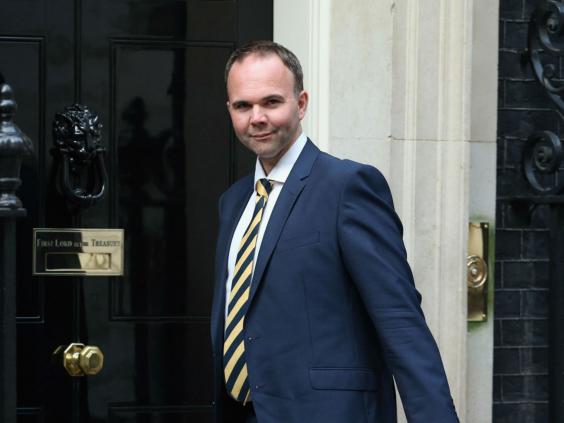 The average new home built in Denmark is nearly twice as big as the average new home in the UK; those in Germany are around 50 per cent as big, according to one 2014 study by academics at the University of Cambridge.
The Royal Institute of British Architects says more than half of new homes being built are too small for families to live in and has called for stricter minimum space standards to be embedded in nationwide building regulations.
In pictures: Tiny London flats to rent
In pictures: Tiny London flats to rent
1/6 London properties

A "cosy" flat in an upmarket area of west London is available to rent for a reasonable £520 a month, provided the tenant doesn't mind showering under the bed

2/6 London properties

Located on Castletown Road, the advertisement on Zoopla boasts: "A cosy, single studio located in the heart of London's fashionable and up-market area of West Kensington, this compact mezzanine includes not only a fully furnished living area including table, chair, wardrobe and chest of draws [sic] but also a personal shower and kitchenette complete with storage"

3/6 London properties

The property is recommended for "students, working professionals and those looking for a thriving London life at an affordable rate"

Rightmove

4/6 London properties

A studio flat for rent in Kember Street, north London was advertised for £737-a-month

Rightmove

5/6 London properties

The 'well-used' kitchen of a flat in Hoxton, which was on the market for £997 per month

Zoopla

6/6 London properties

For only £125 per week you could be the lucky owner of this single studio flat, complete with shower and kitchenette, located between Barons Court and West Kensington

Zoopla
"Tiny rabbit-hutch new-builds should be a thing of the past. But sadly our research shows that for many people, a new home means living somewhere that's been built well below the minimum space standard needed for a comfortable home," Jane Duncan, president of the Royal Institute of British Architects, said late last year.
"We urgently need new homes, but building small homes or cutting corners when converting office buildings to flats is short-sighted and fails the people these new homes are meant to serve. The Government must take action to ensure a fairer minimum space standard is applied to all new homes across the country."
At the fringe event on Tuesday the Conservative minister Mr Barwell also rubbished Labour leader Jeremy Corbyn's policy of building a million homes, half of which are planned to be council homes. He said that building more council housing amounted to "the denial of people's ambitions and dreams".
Earlier at the conference Mr Barwell claimed that Mr Corbyn's plan to build the homes would increase inequality because it would lead to some people owning homes and others not.
Reuse content