David Cameron has been told not to treat Hungarians living in the UK as "migrants" or "parasites" as he faced further opposition to his key demand to make EU workers wait four years before they can claim benefits. 
Viktor Orban, the Hungarian Prime Minister, said his compatriots living in the UK were hardworking and contributed more to the UK economy than they received in hand-outs. 
They should therefore treated with respect and "not suffer discrimination," Mr Orban said as he became the latest EU leader to oppose the most contentious of Mr Cameron's list of four demands in his effort to renegotiate Britain's membership of the EU. 
Mr Orban described Mr Cameron's plan to block EU migrants from claiming in-work benefits – such as child and working tax credits – as "difficult," but said Hungary "fully supported" Mr Cameron's other three demands for reform, which aim to make the EU single market more competitive, secure protection for non-euro countries and to end the commitment to "ever-closer union". 
On some of these he even supported demanding further reform and said he was "grateful that David is raising the issues". 
It is Mr Cameron's demand for action to reduce EU migrants coming to the UK that is proving the sticking point with EU leaders, in particular with eastern European countries who have seen large swathes of their population seek work in the UK.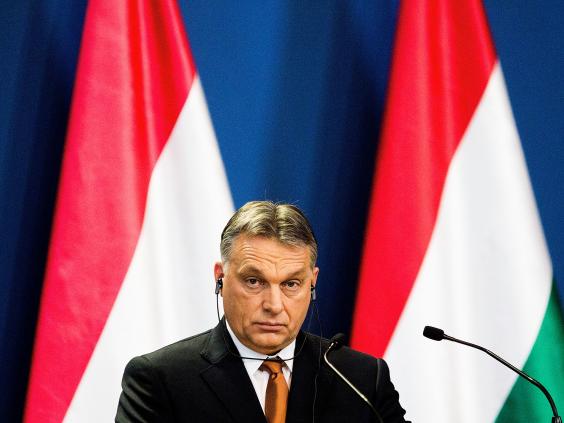 Mr Orban said the 55,000 Hungarians living in the UK "pay more contribution in taxes than the benefits that they get" and pleaded with Mr Cameron to "protect their rights" because they "work well and diligently". 
Speaking at a press conference alongside Mr Cameron during his visit to Budapest, the Hungarian capital, Mr Orban said: "We would like to make it very clear that we are not migrants into the United Kingdom.
"We are citizens of a state that belongs to the European Union, who can take jobs anywhere, freely, within the European Union.
"We do not want to go to the UK and take away something from them. We don't want to be parasites. We want to work there. And I see that Hungarians are working very well.
"Those Hungarians that are working well and contributing to the UK economy, they should get respect and they should not suffer discrimination."
Reuse content