David Cameron and George Osborne face the biggest challenge to their authority in six years of power as the Conservative Party descended into civil war over the resignation of Iain Duncan Smith. 
The former Work and Pensions Secretary launched an attack on the Government's record on Sunday, claiming the Prime Minister and the Chancellor risked "dividing society" with their approach to public spending cuts.
In his first interview since resigning, he accused opponents of a deliberate attempt to "besmirch" him as his former colleague, the pensions minister Baroness Altmann, claimed his decision to resign had been "all about Europe" and that he was condemning policies he had "pushed through" when in office. 
As a growing number of Conservative MPs lined up to support the former Tory leader, Downing Street dug in, dismissing his claim that, by seeking to cut welfare payments for the disabled while giving higher earners a tax break, the party was at risk of losing its claim to be a One Nation government.
The Climate Change Secretary, Amber Rudd, meanwhile, branded her former cabinet colleague "completely wrong" and attacked his "high moral tone". 
Mr Cameron was set to give a statement to MPs in the Commons on Monday, in which he was expected to defend the Government's "One Nation" record before answering questions on the row which has thrown his party into crisis.
But on Sunday a number of senior figures rallied around Mr Duncan Smith, who, in a veiled attack on Mr Cameron and Mr Osborne, claimed he had been left "isolated" from key decisions before and after last week's Budget. Bernard Jenkin, the senior MP and ally of Mr Duncan Smith, suggested that the Government had "taken the same playbook as Brown and Blair". 
"Everything is dictated from the top for short-term political advantage. This cannot go on," he told Sky News. "We need to reset how Whitehall operates. The Prime Minister is supposed to be primus inter pares [first among equals], not a dictator."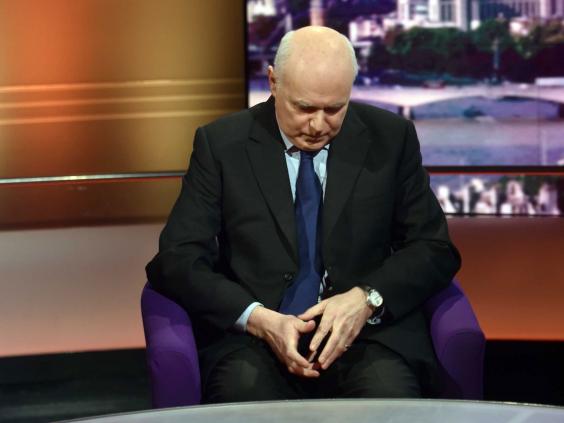 Mr Osborne now faces one of the most challenging weeks of his political career. The £4.4bn cuts to personal independence payments (PIPs) that Mr Duncan Smith says sparked his resignation have now been shelved, leaving a gaping hole in the Budget. 
In a further sign of discontent within Conservative ranks, a number of MPs are expected to back a Labour amendment to tomorrow's Finance Bill, which will give MPs an opportunity to vote on some of the major tax measures of the Chancellor's Budget.
Speaking to the BBC's Andrew Marr Show, Mr Duncan Smith made a string of attacks on the Government. 
He called last week's Budget "deeply unfair", described the welfare cap as "arbitrary" and accused Mr Osborne of pursuing "a desperate search for savings", which he said had come at the expense of reforms that would help benefit claimants back into to work.
"Yes we need to get the deficit down, but we need to make sure we widen the scope of where we look to and not just narrow it down on working-age benefits," he said. "Otherwise it just looks like we see this as a pot of money, [and] that it doesn't matter because they don't vote for us."
He said the Government was "in danger of drifting in a direction that divides society rather than unites it."
"That I think is unfair. I'm not in the business of morality. I simply say that as far as I am concerned the risk is there," he said.
Mr Duncan Smith said resigning had been a "painful" decision, but had not been "about attacking the PM or Europe". 
He defended his own record as Work and Pensions Secretary, during a tenure in which he endorsed previous cuts to the welfare budget, as well as controversial policies such as the bedroom tax and the troubled transition to universal credit. He claimed he had worked hard "behind the scenes" to "even out and smooth out those policies".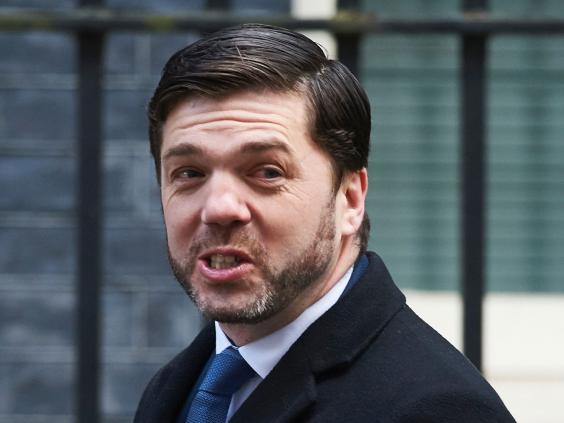 It has been reported that the Prime Minister branded his former cabinet colleague "dishonourable" on hearing of his decision to resign, while extracts from a new book by the former Liberal Democrat Coalition minister David Laws claim that Mr Cameron and Mr Osborne attempted to sack Mr Duncan Smith four years ago. 
However, Mr Duncan Smith's comments attracted support from many in the party. The senior MP and chair of the Health Committee Dr Sarah Wollaston said he had made a "compelling case", while Department for Work and Pensions ministers issued supportive comments. 
Meanwhile the Tory MP Andrew Percy, who led backbenchers concerned about the cuts to PIPs last week, told the Hull Daily Mail the party needed to "remember its basic values … which is we protect those who are vulnerable," 
"That means people at the top of the party have to listen to those of us who have concerns. People need to pay heed to those warnings."
Labour's shadow Chancellor John McDonnell said that the Government may have to withdraw the Budget, while the shadow Home Secretary Andy Burnham said there were "serious questions" about George Osborne's position as Chancellor. 
The rebel Tory MP Heidi Allen meanwhile told the BBC's Sunday Politics that Mr Osborne's future now depended on "how he responds to the challenge" of the growing discontent over last week's Budget. 
"We will see in the weeks and months ahead," she said.
Responding to Mr Duncan Smith's comments, a No 10 spokesperson said: "We are sorry to see Iain Duncan Smith go, but we are a One Nation government determined to continue helping everyone in our society have more security and opportunity, including the most disadvantaged.
"That means we will deliver our manifesto commitments to make the welfare system fairer, cut taxes and ensure we have a stable economy by controlling welfare spending and living within our means."
Reuse content