To see him cycling through the streets of London, bearded, trousers safely tucked into bicycle clips, jacket allegedly from circa 1983, is surely to wonder whether somewhere, a school might be missing its head of geography.
This is a man proud of his apple and blackcurrant jam, made from fruit grown on his allotment, a 66-year-old who likes trains – who really likes trains. "At meetings with train operators," said his friend Emily Thornberry, Labour MP for Islington South, "Jeremy and other train hacks will start getting very over-excited, talking about bogies and God knows what.
"I don't think he's a trainspotter. He just knows more about trains than anyone ought to know."
So, train chat aside, what on earth could anyone have to fear from Jeremy Corbyn, Labour MP for Islington North?
Some might see a clue in another insight from Ms Thornberry: "He is completely at peace with himself. It doesn't matter what other people say. It won't knock him off course."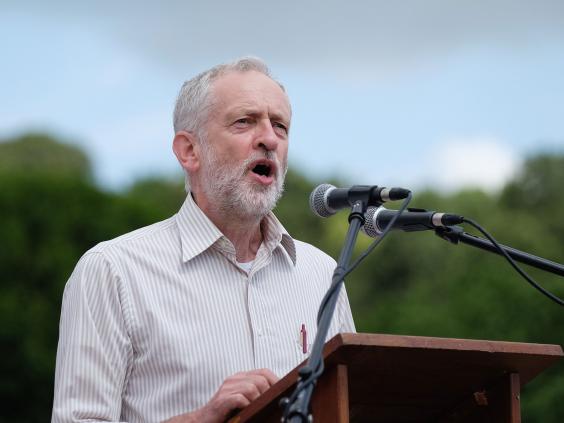 It's just everyone in the modern, media-managed wing of the Labour Party who seems to end up terrified. As appeared the case last week, when Mr Corbyn was reportedly placed in the lead in the leadership contest by two separate polls. 
It wasn't meant to be like this. This was the left winger said to have an undimmed fondness for the command economy, who thought Ed Miliband's anti-austerity election campaign wasn't leftie enough, who got photographed hugging the late Hugo Chavez, architect of the Venezuelan "Socialist revolution".
When MPs supporting other candidates "loaned" him their nominations to get him onto the ballot, he was the 100-1 comedy candidate, there just to show that the Labour Party still welcomed "debate". The only thing he was meant to win was Parliamentary Beard of the Year – (a title he has already won a record five times).
Now he's 5-1 at Ladbroke's. Or as Mr Corbyn's admirers in the International Marxist Tendency put it: "This could blow up in the Blairites' faces. There is even a possibility that Jeremy could win."
"It's a disaster," said one Labour MP.  "All this focus on Jeremy is just reminding people why they don't vote for us any more."
Perhaps that's why the Twitter campaign #ToriesForCorbyn was so gleefully active last week.
With Ed Miliband, right-wing critics had to make do with the Marxist father. With Mr Corbyn, however, you get the weekly column in the Morning Star, once the house journal of the Communist Party of Great Britain. 
Here you can read him reminiscing about happy days with Bob Crow, the "Union baron" Conservatives loved to hate: "We spoke together at numerous Stop the War events … It was an enormous pleasure to travel with him to speak at the international longshoreman workers' union in San Francisco in 2007."
Chavez-hugging, anti-monarchist to the point of asking Tony Blair to evict the Royal Family from Buckingham Palace, the man's very beard is an act of rebellion. He once called it "a form of dissent" against New Labour. He has rebelled against his party 533 times since 1997 according to the Public Whip website.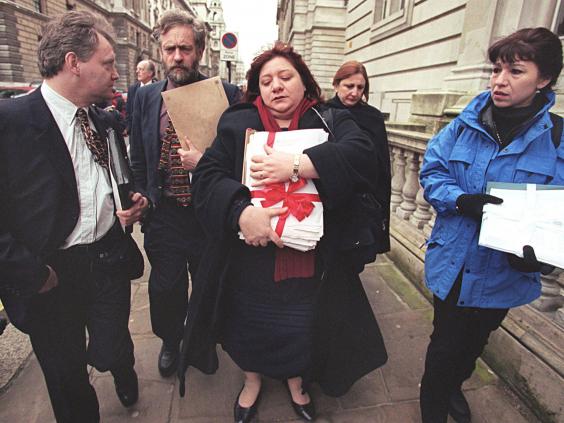 "My abiding memory of Jeremy," said one ex-Blair minister fondly, "is of him having been up all night in the Commons, then going out early the next morning, on to a picket line, with a loudhailer, urging resistance."
Left-wing dissent, it could be said, is in Jeremy Corbyn's blood. His parents met campaigning on the Spanish Civil War. His older brother Piers joined the Communist Party. 
In more mature years, however, Piers, 68, has devoted much of his energy to his weather forecasting company, writing to newspapers, decrying "global warming hysteria". "Jeremy just rolls his eyes and gets on with it," said one friend. 
Which is perhaps just as well, given that Piers appeared in Sunday newspapers last weekend quoted as claiming that his brother had secretly married Laura Alvarez, his Mexican girlfriend. Ms Alvarez, the tabloids made sure to point out, is 20 years Mr Corbyn's junior.
Mr Corbyn was reported to have split from wife No 2 – Claudia Bracchitta, a Chilean exile whom he met while campaigning against right-wing Chilean dictator Augusto Pinochet – after a row about their son's schooling. She wanted to send him to a grammar school, but, true to his principles, Mr Corbyn preferred a comprehensive.
Principle, of course, always gets mentioned when it comes to Mr Corbyn, even by his opponents. Along with his warmth, decency and kindness, the tireless work in his constituency, in the non-Blairite end of Islington, the part with child poverty and knife crime, not restaurants like Granita.
It's just that when you ask them whether they will be voting for him, you get reactions like that of his friend Ms Thornberry. "No," she said. "Definitely not. No, no, no."
How things have changed.

 
All that rebellion: it was almost comforting, once. "You always knew," said the ex-minister, "That if there was a rebellion, Jeremy would be part of it. In a way the predictability was helpful. There was no surprise."
As Shadow Cabinet ministers fulminate about the whole thing being "appalling", Jeremy strides on, into the Sky News studio, an oasis of calm in one of his favourite beige jackets. On Friday the man from Sky asked him whether he was the Michael Foot of the 21st century. Mr Corbyn seemed unperturbed, possibly pleased. "Michael Foot was a great literary and socialist figure," he said of the man who led Labour to spectacular defeat in 1983.
This weekend the bicycling Mr Corbyn will be at the Tolpuddle Martyrs Festival – an event he's been attending since 1974.
Meanwhile the senior ranks of the Labour Party will probably be fretting about his rise.
It was tempting to reflect on what one party grandee told The Independent.
"When I told Jeremy, 'You seem to be enjoying the contest,' he replied: 'I am probably the only one who is.'"
Reuse content