The European Parliament's biggest political grouping has said it supports the introduction of a European Union-wide ban on Islamic face veils
The European People's Party adopted the measure as an official policy at its annual congress in Malta this week, claiming that the ban should be introduced "both for reasons of security and because seeing one another's faces is an integral part of human interaction in Europe".
The EPP, a centre-right liberal conservative grouping, holds 216 seats in the 751 member European Parliament and is affiliated with major governing parties such as Angela Merkel's CDU, the French Republicains and Spain's People's Party.
The provisions for the banning of face coverings appear to explicitly target Muslims, being contained in a resolution named "For a cohesive society: Countering Islamic extremism" and mentioning the burqua and niquab by name.
Speaking to the German media following the passage of the resolution, Manfred Weber, the group's leader in the European Parliament, said: "We want a total ban of face covering in the EU."
Mr Weber is a member of Angela Merkel's CDU/CSU alliance in Germany.
The UK's Conservative party was previously a member of the European People's Party but it left to form the Alliance of European Conservatives and Reformists in 2009 because the EPP was not seen as eurosceptic enough.
Other provisions contained in the motion include calls for "the avoidance of concentrating thousands of third-country nationals in any one location" and a proposal to link welfare benefit payments to unspecified "mandatory integration requirements".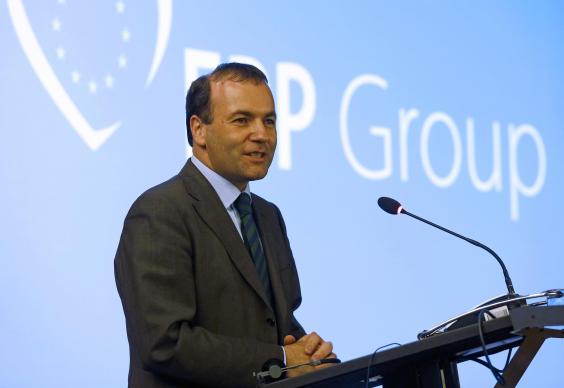 The EPP's resolution is not binding on any of its member parties but it gives an indication of the direction of its membership. An EPP source said the proposal should be discussed at EU level but accepted that such a ban would not be within current EU competencies.
The section relating to face coverings reads: "The EPP calls for … A ban on full-face veils (i.e. the burqa or niqab) in public places, both for reasons of security and because seeing one another's faces is an integral part of human interaction in Europe".
What's the European Parliament ever done for us?
What's the European Parliament ever done for us?
1/5 A cap on the amount of hours an employer can make you work

The Working Time directive provides legal standards to ensure the health and safety of employees in Europe. Among the many rules are a working week of a maximum 48 hours, including overtime, a daily rest period of 11 hours in every 24, a break if a person works for six hours or more, and one day off in every seven. It also includes provisions for paid annual leave of at least four weeks every year

Getty Images

2/5 Helping the people of Britain to avoid smoking

In 2014 MEPs passed the Tobacco Products Directive strengthening existing rules on the manufacture, production and presentation of tobacco products. This includes things like reduced branding, restrictions on products containing flavoured tobacco, health warnings on cigarette packets and provisions for e-cigarettes to ensure they are safe

3/5 Helping you to make the right choices with your food

Thanks to the European Parliament, UK consumers have access to more information than ever about their food and drink. This includes amount of fat, and how much of it is saturated, carbohydrates, sugars, protein and so on. It also includes portion sizes and guideline daily amount information so people can make informed choices about their diet. All facts must be clear and easy to understand

4/5 Two year guarantees and 14-day returns policy for all products

Consumers across the EU have access to a number of rights, from things which are potentially very useful, to things which used to be annoying. For example, shoppers in the UK receive a two-year guarantee on all products, and a 14-day period to change their minds and return a purchase, these things are useful

www.PeopleImages.com-licence restrictions apply

5/5 Keeping your air nice and fresh (and safe)

Believe it or not, although the situation is improving, some areas of the UK have appalling air quality. A report by the Royal College of Physicians released on 23 February says 40,000 deaths are caused by outdoor air pollution in the UK every year. Air pollution is linked to a number of illnesses and conditions, from Asthma to diabetes and dementia. The report estimates the costs to British business and the health service add up to £20 billion every year
Face covering bans have been introduced in a number of European countries in recent years. Some bans have been justified on the basis of secularism and others on the basis of security, but all have effectively targeted Muslim women.
France passed a ban on face coverings in 2010, as have some areas of Switzerland.
In February, when asked in the House of Commons about the status of headscarves such as the hijab, Theresa May said: "I believe that what a woman wears is a woman's choice."
Reuse content