It should be made legal for people riding bikes to go through red lights if there is no oncoming traffic and the way is clear, the Green Party has said.
Caroline Russell, the party's transport spokesperson, said the UK should follow the example of Paris, which has recently implemented new rules giving cyclists more flexibility.
"It's great to see Paris so clearly ambitious to get more people travelling by bike. The new rules for cyclists, allowing people to go straight ahead at T junctions or turn right (left in UK) on a red light, if the way is clear and no pedestrians are crossing, will make Paris more bike-friendly," Ms Russell said.
Under the rules people riding bikes treat red signals as a give-way sign.
The Islington councillor however argued that Britain first-and-foremost needed to invest in safe infrastructure like segregated cycle lanes.
"This is not an alternative to redesigning our streets with safe cycle lanes, but it's a great interim measure that can be implemented quickly and so long as everyone is considerate of others, especially those walking, it could make a real difference.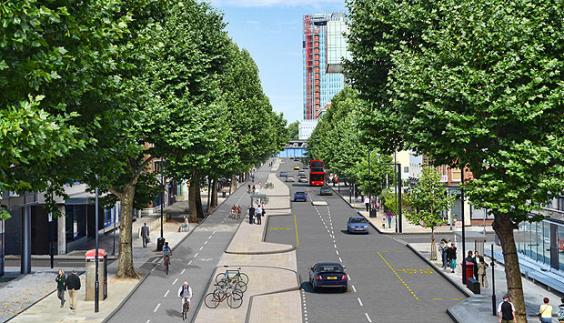 "British cities should follow suit. There are huge benefits to public health from encouraging more journeys by bike. Not only does this reduce congestion, road danger, physical inactivity and air pollution but it also makes our cities better places to live and work."
The rule is a longstanding feature of the traffic laws of the US stats of Idaho, where it is known as the "Iadho Stop".
Studies have suggested that the measure has increased cycling take-up by making it easier and safety by giving people riding bikes more flexibility about moving away from danger.
The measure has not been adopted elsewhere in the United States, however.
Similar tests carried out in Paris in 2012 suggested that allowing cyclists more freedom would improve the flow of traffic and cut the number of collisions, especially those involving a car's blind spot.  A network of new traffic lights will be installed at cycle-height specifically for people riding bikes.
Eco-friendly cities: in pictures
Eco-friendly cities: in pictures
1/10 1. Copenhagen, Denmark

55% of residents in the Danish capital cycle to work or school, and over 30% of public transport uses renewable fuel. The city is also aiming to be carbon-neutral by 2025.

Getty Images

2/10 2. Stockholm, Sweden

All trains in the Swedish capital run on renewable fuels, and buses run on a hybrid of ethanol and electricity. The city also has seven nature reserves which improve air quality.

Getty

3/10 3. Hamburg, Germany

The German city, which was the European Green Capital in 2011, uses 200,000 low-energy lamps across 400 public buildings. 3,000 hectares of state-owned parkland are also available for the million people who use them every week.

Getty Images

4/10 4. Vitoria-Gasteiz, Spain

There are over 130,000 trees and 90km of bicycle lanes in this northern city of Spain. Citizens also have access to 210 organic farming plots, and there is a public green space within 300 metres of every house.

5/10 5. Nantes, France

As the first city in France to re-introduce electric tramways, Nantes has set itself targets to reduce air pollution and carbon dioxide emissions. 15% of daily travels are undertaken on public transport, and only 11% of rubbish goes to landfill.

6/10 6. Bristol, UK

The birthplace of Banksy and this year's European Green Capital, Bristol employs around 9000 people in its low carbon economy initiative. Additionally, 34% of the city is made up of green and blue open spaces and homes have become 25% more efficient over the last decade.

Getty Images

7/10 7. Ljubljana, Slovenia

The Slovenian capital has a pedestrian-only city-centre and 94% of residents take part in the organic waste collection system. With over 190km of cycle paths and almost all residents living less than 300m from public transport, the city has promoted environmentally-friendly ways of travelling.

8/10 8. Oslo, Norway

The Norweigan capital has the world's most electric cars per capita, reducing emissions by 50% since 1991. With the aim to make public transport fossil fuel-free by 2020, the city's authority is making sure residents are as eco-friendly as possible.

Getty Images

9/10 9. Brussels, Belgium

Best known for its beer and chocolate, the city which is home to the European Parliament, reduced CO2 emissions by 13,000 tonnes between 2007 and 2009. By 2018, it hopes to have reduced car traffic by 20% from its 2001 level.

10/10 10. Nijmegen, Netherlands

Located on the River Waal, this lesser-known Dutch city fuels its buses with biogas and citizen participation is encouraged through multiple green initiatives. Around 14,000 homes are heated using a network of waste heat, and the city aims to be energy neutral by 2040.
In Britain a series of high profile deaths of people riding bikes, especially in London. has led to protests calling for action on better infrastructure.
In a recent protest in June hundreds of campaigners stage a so-called "die-in" at a junction in south London where a woman was killed on her way to work. Other protests have numbered in the thousands.