The international intelligence community is working to identify an English jihadist who beheaded the American journalist James Foley.
President Barack Obama condemned the killing of the kidnapped reporter as "hateful", while David Cameron branded it "brutal and barbaric".
Meanwhile sources on both sides of the Atlantic said they were deeply concerned about the fate of another American journalist, Steven Sotloff, who appears at the end of the gruesomely explicit video showing Mr Foley's murder. In the film, the masked jihadist, who has a British accent, warns Mr Sotloff's life depends on President Obama's next move.
Mr Cameron, who Downing Street confirmed had watched the video, has instructed MI5 and MI6 to work with US intelligence agencies to identify the killer in the video, who appears to be one of up to 500 UK citizens fighting with Isis, which has styled itself as the Islamic State.
Tonight it was claimed that he was the leader of a group of British fighters holding foreign hostages in Syria.
In pictures: James Foley
In pictures: James Foley
1/7 James Foley

Freelance photo-journalist James Foley (left) on the highway between the airport and the West Gate of Sirte, Libya

AFP

2/7 James Foley

James Foley responds to questions during an interview with The Associated Press, in Boston

AP

3/7 James Foley

James Foley responds to questions during an interview with The Associated Press, in Boston

AP

4/7 James Foley

James Foley rests in Syria, 2012

Manu Brabo via freejamesfoley.org

5/7 James Foley

US photo-journalist James Foley resting in a room at the airport of Sirte, Libya. Jihadist group the Islamic State claim to have executed American journalist James Foley in revenge for US air strikes against its fighters in Iraq

AFP

6/7 James Foley

John and Diane Foley, parents of James Foley, at a Free James Foley event on 3 May, 2013

Getty

7/7 James Foley

A ribbon is tied to a tree outside the home of American freelance journalist James Foley in Rochester, N.H

AP
Sources in Syria said they recognised the man as one of a three-man team based in the Isis stronghold of Raqqa. A former hostage, who was held for a year in Raqqa, described the British executioner as intelligent, educated and a devout believer in radical Islamic teachings.
He was said to be among three UK-born militants guarding foreign hostages and referred to as "the Beatles" by fellow hostages because of their nationality.
Mr Cameron, who returned to London from his family holiday, chaired a meeting of security chiefs to discuss the Government's response.
Afterwards he said it seemed "increasingly likely" that a British citizen was the killer. However, government sources added that it was still unclear whether the man heard speaking on the video was the same individual who carried out the murder, because his face was obscured.
To underline the scale of the problem of UK nationals leaving to fight for Isis, Downing Street said 23 people had had their passports removed this year – 14 since June.
Click HERE to view full-size graphic
"Let me condemn the barbaric and brutal act that has taken place and let's be clear – it is an act of murder, and murder without any justification," Mr Cameron said.
"We have not identified the individual responsible, but from what we have seen it looks increasingly likely that it is a British citizen.
"This is deeply shocking. Far too many British citizens have travelled to Iraq and Syria to take part in extremism and violence. And what we must do is redouble all our efforts to stop people from going."
Describing Isis as a "cancer", Mr Obama said it would "fail" because they only wanted to destroy, and the US would "continue to do what we must do to protect our people".
"It has no place in the 21st century," the President said. "No faith teaches people to massacre innocents. No just God would stand for what they did yesterday and what they do every single day."
Mr Obama said the current limited US combat role in northern Iraq would not change. However, the video could intensify pressure on Mr Obama to broaden the offensive. Republicans have been pressing for a more aggressive American response and seized on the beheading as evidence that Mr Obama had not done enough to confront the Sunni militants.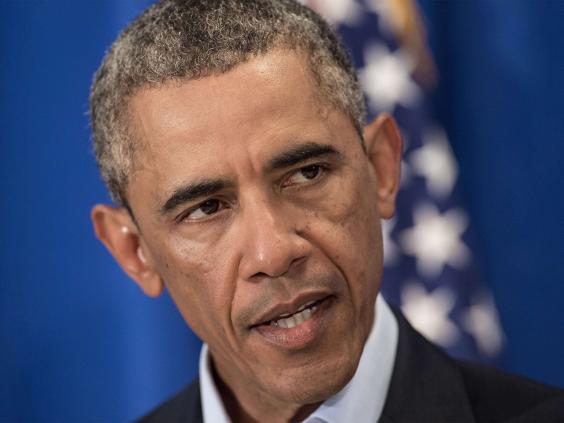 French President François Hollande called for a high-level international conference to discuss ways of combating Islamic State militants.
"We can no longer stick to the traditional debate of intervention or non-intervention," he said. "We have to come up with a global strategy to fight this group, which is structured, has significant financing, very sophisticated weapons and threatens countries like Iraq, Syria and Lebanon."
The film shows Mr Foley, 40, who worked for organisations including Agence France-Presse and went missing in Syria in 2012, kneeling in a desert-like environment at an unknown location as an Isis fighter stands by his side dressed in black and with his face covered.
Pausing and taking deep breaths, the distraught journalist says he wants to call on family, friends and loved ones to "rise up against my real killers, the US government" as the Isis fighter stands next to him brandishing a knife.

Speaking with an apparently English accent, the killer accuses America of "aggression towards the Islamic State", adding: "You have plotted against us and gone far out of your way to find reasons to interfere in our affairs."
He says further actions in Iraq by America "will result in the bloodshed of your people".
Mr Foley's mother, Diane Foley, issued a statement, saying: "We have never been prouder of our son Jim. He gave his life trying to expose the world to the suffering of the Syrian people. We implore the kidnappers to spare the lives of the remaining hostages. Like Jim, they are innocents. They have no control over American government policy."
Reuse content