Jeremy Corbyn has revealed that the abuse thrown at him over the course of the Labour leadership campaign has been "deeply hurtful" to his family and close friends.
He has been accused of being an anti-Semite, a racist and was also accused of failing to act on child abuse allegations in his Islington constituency.
Those are just some of the allegations that have been levelled against him in the media and even by some of his fellow Labour MPs, who have attempted to persuade people against voting for the far-left MP in a bitter, three-month leadership contest.
Speaking at a rally in his home constituency in north London, which was attended by members of his family, including his grandson, Mr Corbyn described the personal attacks as "nasty and unpleasant".
However he urged his supporters not to retaliate to the abuse, insisting: "we don't do that kind of politics".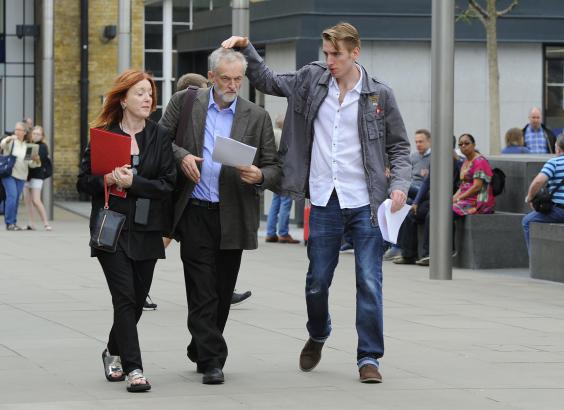 He said they were a symptom of today's "yah-boo politics" that were part of the reason why so many people are "totally turned off" politics in Britain as he called for a more positive approach in Parliament and on the airwaves.
Mr Corbyn told a packed-out crowd in Islington that one of the main reasons behind the consistently low turnout at elections in the UK was due to people being "totally turned off by a style of politics which seem to rely on the levels of clubhouse theatrical abuse we throw at each other in parliament and throw at each other across the airwaves."
He added: "As nasty and unpleasant much of the stuff printed is and remains and is deeply hurtful to my wife, family and close friends, we're not responding in any way; we don't do that kind of politics."
Labour leadership: The Contenders
Labour leadership: The Contenders
1/2 Jeremy Corbyn

Jeremy Corbyn started off as the rank outsider in the race to replace Ed Miliband and admitted he was only standing to ensure the left of the party was given a voice in the contest. But the Islington North MP, who first entered Parliament in 1983, is now the firm favourite to be elected Labour leader on September 12 after a surge in left-wing supporters signing up for a vote.

PA

2/2 Andy Burnham

Andy Burnham started out as the front-runner in the leadership election, seen as the candidate of the left until Jeremy Corbyn entered the race. The former Cabinet minister has found himself squeezed between the growing populism of Corbyn's radical agenda and the moderate, centre-left Yvette Cooper, not knowing which way to turn. It has attracted damaging labels such as 'flip-flop Andy', most notably over his response to the Government's Welfare Bill. He remains hopeful he can win enough second preference votes to take him over the 50 per cent threshold ahead of Corbyn.

PA
Mr Corbyn was speaking exactly 100 days after he scraped into the leadership race with seconds to spare.
John McDonnell, his campaign agent and fellow Labour MP, revealed that the final two MPs needed to nominate him only cast their votes 10 seconds before the deadline.
Mr Corbyn praised his "powers of persuasion," while Mr McDonnell, also speaking at last night's rally, said he would "forever be grateful" to those final two MPs who backed him.
"I'm not going to tell what deals we did - that's for the memoirs," he said to loud applause.
Back in June Mr Corbyn remained the rank outsider in the leadership contest, but after his rivals stumbled over their refusal to oppose out-right the Government's welfare reforms and his strong opposition to further Tory austerity, he has leap-frogged Yvette Cooper, Andy Burnham and Liz Kendall to become the firm favourite to be named the new leader of the Labour party on Saturday morning.