Labour's increasingly bitter civil war has deepened after allies of Jeremy Corbyn accused MPs of "spreading lies" about the 66-year-old's health in an attempt to destabilise his leadership.
After a week of acrimony over the decision to authorise air strikes on Syria, Mr Corbyn emerged emboldened after Labour won a resounding victory in the Oldham by-election on Thursday.
But The Independent on Sunday can reveal that Mr Corbyn's team has been left incensed by continuing attacks on his leadership by moderate Labour MPs and has decided to break its silence on the abuse. 
Sources close to the Labour leader have revealed that he has been forced to reassure MPs in private that he is not going to quit after being made aware of "smears" circulating Parliament about his fitness for the job – including the "categorically untrue" allegation that he briefly "passed out" under stress in his office last month.
Mr Corbyn's allies – including shadow ministers and allies in the left-wing pressure group Momentum – have drawn up a three-pronged plan to secure his position after concluding that a sizeable chunk of Labour MPs is committed to undermining his leadership.
The IoS can reveal that Mr Corbyn is being urged by senior MPs to purge the Shadow Cabinet of opponents and promote more left-wingers to avoid another situation in which he is unable to impose his views following last week's highly public split over bombing IS targets in Syria.
A reshuffle could come as early as next month, to shore up Mr Corbyn's position before an expected vote on replacing Britain's Trident nuclear deterrent next year.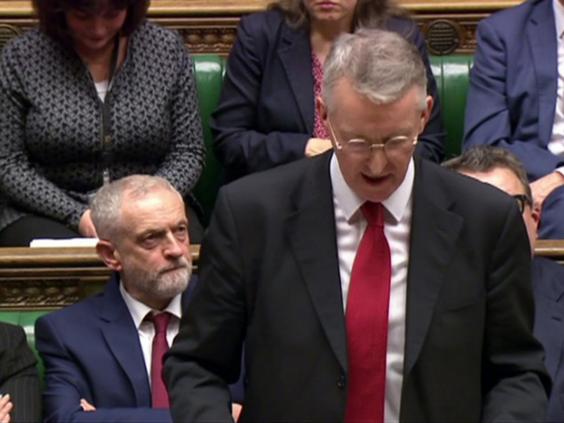 Mr Corbyn is also being urged to overhaul the Labour whips' office and use the boundary review – which is expected to be completed by 2018 – to pressure MPs into supporting him.
One shadow minister who voted for air strikes said: "He's going after whips, organisation, Shadow Cabinet – in that order."
Labour's Chief Whip Rosie Winterton is being singled out for fierce criticism over her influential role ensuring a free vote on bombing. She is also being targeted because she has the key role of co‑ordinating Labour's response to the boundary review. One Corbyn‑supporting Labour shadow minister said: "Every constituency is going to be redrawn. This is a great opportunity to protect some people and get rid of others."
One senior Labour source close to Mr Corbyn told The IoS that he had emerged from the past week strengthened – and demanded an end to personal insults and smears about his health.
He said: "Oldham has shown Jeremy is an electoral asset and it is time for the party to unite behind him and focus on attacking the Tories in the same way that led to success on tax credits and police cuts. Personal smears have no place in the party."
A shadow minister, who did not want to be named, went further – accusing anti-Corbyn MPs of being "prepared to spread lies about Jeremy's health in order to assist them in their aim" of destroying his leadership.
He added: "You can't get much lower than spreading lies about someone's health to undermine them and their ideas.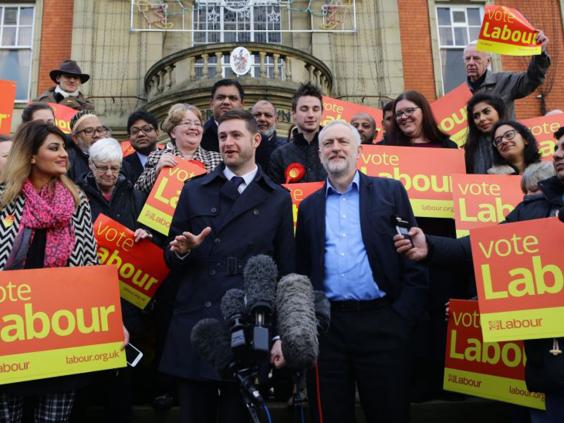 "It's about time Labour MPs showed respect, not only to the elected leader but to the members of the Labour Party and also to the people around the country who support Labour."
He also attacked MPs for complaining about being "abused" by left-wing activists online while abusing colleagues behind closed doors.
It was revealed in a separate incident that one Labour MP, Neil Coyle, was forced to call the police after receiving death threats for voting in favour of bombing Islamic State last week.
New MP Wes Streeting accused Mr Corbyn of "permitting" abuse by "not showing strong enough leadership, by not clamping down on this". Veteran backbencher John Mann claimed it was "directly linked to people purporting to support Jeremy".
However, the Corbyn-supporting MP speaking to The IoS said: "They are painting themselves as the victims of intimidation and the victims of bullying, but the reality is all too often they are the perpetrators of bullying and victimisation." He said he had been accused online of "pissing on the British flag" and being "an apologist for Islamic State".
The former London mayor Ken Livingstone claimed the abuse would subside following last week's by-election victory. But he delivered a message to those spreading the rumours: "Just stop. It's just ridiculous.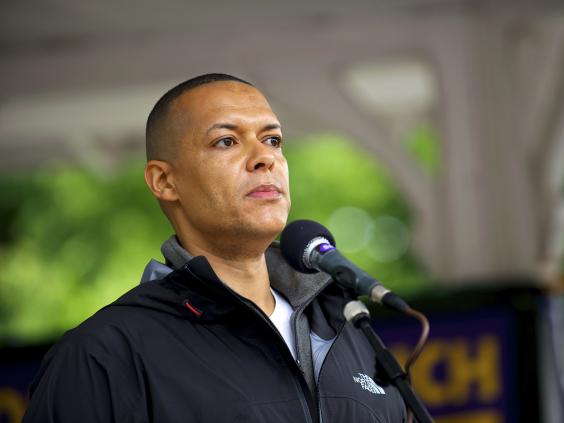 "Get involved in the debates about policy. The most important thing is to get rid of this government."
When asked about the health slurs, the shadow cabinet minister Jon Trickett, who backed Mr Corbyn for the leadership, said: "There should be an end to the infighting from all sides. It's time it ended and we got on with our task of removing the Government."
The Corbyn-supporting MP for Norwich South, Clive Lewis, added: "I think there is a war weariness. Enough is enough. The fact of the matter is Labour can win. Let's give this a chance, let's put this behind us and move forward. 
"We can't justify spending another six months at each others' throats.
"People genuinely want to see the briefings stop, the slurs and the leaks stopping. It's got to stop."
A long-serving aide to Mr Corbyn told The IoS there could be a split if Blairite MPs did not accept the new leadership. He said Mr Corbyn always knew he would have to put up with "a small band" of MPs who would not accept him. But he said: "What happens now is we face a choice – trying to make this difficult situation work or there is some kind of split. 
"We don't want the split – we didn't seek it in the past, during the New Labour years, and we don't seek it now. But it does appear that there is some on the right that do. 
British jets prepare for air strikes in Syria
British jets prepare for air strikes in Syria
1/10

A Tornado jet takes off from RAF Lossiemouth in Scotland, as RAF Tornado jets carried out the first British bombing runs over Syria

2/10

Pilots and ground crew prepare combat aircraft Panavia Tornados at RAF Marham at RAF Marham, UK

Getty

3/10

A Eurofighter Typhoon jet takes off from RAF Lossiemouth in Scotland, as RAF Tornado jets carried out the first British bombing runs over Syria

4/10

A RAF Tornado arrives at RAF Akrotiri to begin operations in Akrotiri

5/10

A Tornado jet ahead of taking off from RAF Lossiemouth in Scotland, as RAF Tornado jets carried out the first British bombing runs over Syria, the Ministry of Defence has confirmed. The air strikes were carried out within hours of a vote by MPs in the Commons to back extending operations against Isis from neighbouring Iraq

6/10

Personnel work on a British Tornado after it returned from a mission at RAF Akrotiri in southern Cyprus

7/10

Two RAF Tornado GR4's, both with remaining weapons ordnance, approach RAF Akrotiri in Cyprus, as they return to the base after carrying out some of the first British bombing runs over Syria

8/10

A RAF Tornado takes off from RAF Akrotiri, on the Mediterranean island nation of Cyprus

9/10

A Tornado jet leaving RAF Lossiemouth in Scotland

10/10

AKA RAF Tornado arrives at RAF Akrotiri to begin operations in Akrotiri, Cyprus. The RAF has sent two further Tornado aircraft and six Typhoons to bolster aircraft now flying sorties to both Iraq and Syria
"There are some people in the Shadow Cabinet who don't appear to want to keep the party together."
The ally said Mr Corbyn was now in a "strong position to reshuffle … to strengthen his position, particularly in the whips' office": "At the moment the whips' office is not Jeremy's. Something also has to be done about the management of the party. If you are going to make this work, you have to get a grip of the whips' office and the party machine. We are absolutely preparing to defend Jeremy and if we have to organise another election campaign, we will."
He said the boundary changes were "somewhat of an opportunity". But he warned the greatest threat to Mr Corbyn was that "they just grind him down through continuous abuse".
He said that "at the moment" there was not a plan for Mr Corbyn to step aside, and added: "At the moment the plan is for Jeremy to fight the next election."
---
The future for Labour's Shadow Cabinet rebels
Who might replace the 11 members who voted for Syria air strikes?
• Heidi Alexander, shadow Health Secretary. Promoted from obscurity of the junior ranks, she is considered to have done well so far. Unlikely to be moved. 
• Hilary Benn, shadow Foreign Secretary. His classic speech was a direct challenge to his leader. Corbyn would probably prefer Diane Abbott, shadow International Development Secretary, but Labour MPs would resist his moving Benn. 
• Luciana Berger, shadow minister for mental health. She's New Labour, but Corbyn appointed her to make statement about importance of mental health, so he can hardly move her. 
• Chris Bryant, shadow leader of the Commons. May be too independently minded in important post managing Commons business. Corbyn could prefer Kate Osamor,  a new MP who nominated him for the leadership and who is his PPS. 
• Vernon Coaker, shadow Northern Ireland Secretary. A party loyalist, he is unlikely to be moved. 
• Gloria De Piero, shadow minister  for young people. Very much  New Labour, but she now has protection as an ally of deputy leader Tom Watson. 
• Michael Dugher, shadow Culture, Media and Sport Secretary. A Brownite organiser who was vice-chair of the party under Ed Miliband. Too well connected to move. 
• Angela Eagle, promoted to shadow First Secretary of State to fend off row over the shortage of women in top jobs, but firm in defence of her sister Maria and party policy, which is to keep Trident. Corbyn may wish to replace her with Chi Onwurah, who narrowly missed out on the business brief.  
• Maria Eagle, shadow Defence Secretary. Pro-Trident. Could be replaced by Clive Lewis, new MP for Norwich South; a strong supporter of Corbyn. 
• Lucy Powell, shadow Education Secretary. Clashed with Diane Abbott before the Syria vote. Could be replaced by Emily Thornberry. 
• Tom Watson, deputy leader. Can't be sacked. 
• Rosie Winterton, chief whip, abstained. But she is believed to have told Corbyn that she took her orders from the Shadow Cabinet as a whole, not from the leader. Could be replaced by Graham Allen, who organised an informal  whipping operation to maximise  the vote against air strikes
Reuse content