If you wanted to make a convincing case to renationalise the railways the 11am Virgin Train service from London to Newcastle would not be a bad place to start.
Despite a ticket costing £129.10 the train is packed to the gills. And Jeremy Corbyn, scourge of the privatised railways (not to mention New Labour and the British capitalist system in general) is struggling to find a seat.
Split up from his aides who are scattered around the carriages, he eventually finds a perch squashed into a seat with a draft of a speech and a copy of Joseph Stiglitz's The Great Divide perched on the small fold-down table in front of him.
"It was a very crowded train," he remarks with some understatement later. "I managed to read a few things – but not very much."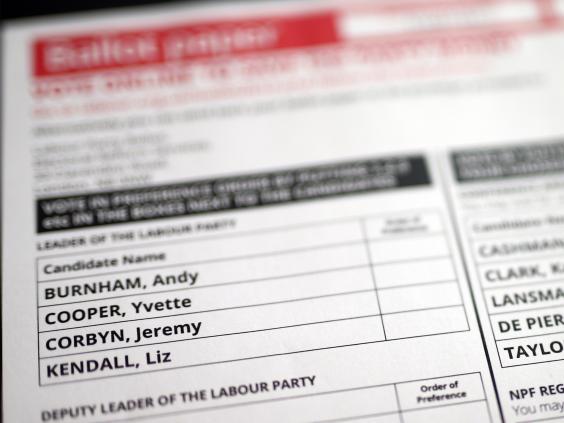 To be fair, the reason for this is not just the uncongenial surroundings but the fact that Corbynmania now extends to the East Coast mainline. The front-runner for the Labour leadership is regularly interrupted on the journey by the faithful and just plain curious engaging him in conversation. One woman with a small child in tow even asks for his autograph. Very 1970s.
A few months ago such public recognition and attention would have been inconceivable because, despite having been an MP for more than three decades, Corbyn has enjoyed relative anonymity.
He may have been a familiar figure among the protest movements of the Labour left from the miners' strike of the 1980s, to CND, to Stop the War and the anti-austerity marches of recent years, but he and his politics have never had mainstream recognition or support – until now.
Today, his radical anti-austerity agenda has caught the imagination of the left and politically disaffected and set a staid Labour leadership election alight. It's not as if he is saying anything different from what he has been in the last 30 years – the difference now is that many more people are listening.
And the scenes really are something to behold. On a day campaigning in the North-east he attracts over a thousand people to a public meeting at four o'clock in the afternoon at Middlesbrough Town Hall.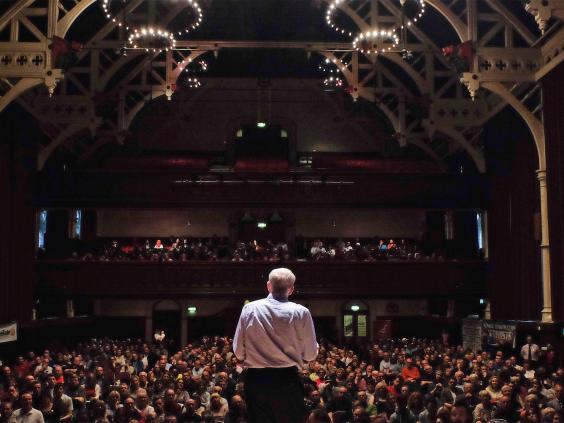 He then heads on to Newcastle where he is the star attraction at a rally in the city's Tyne Theatre. That has already sold out (capacity 1,280) so a second event is hastily put together in the street outside where several hundred people wait in the rain to hear him speak.
As the young activist who introduces him in Newcastle puts it: "This is the largest gathering of the left in living memory. Or at least in my living memory … but then I am only 21."
But what is so striking are not just the crowds but Corbyn himself. Some have portrayed him as a reluctant candidate – a grandfatherly figure who doesn't really want the leadership and has had the mantle of the left thrust upon him.
But watching him speak and talking to him afterwards, that seems to be a misreading. Everything Corbyn says (and the way in which he says it) suggests that not only does he want the leadership but he knows what he wants to do with it.
He also has a steeliness about him that is rather at odds with his gentle, grandfatherly "very nice chap" persona.
Take his warning to MPs that he will expect them to fall in line behind the new direction of the party if he wins. It is delivered with a sarcasm bordering on menacing.
"I just want to remind my dear friends in the Parliamentary Labour Party that we are honoured to be members of Parliament," he says.
Labour leadership: The Contenders
Labour leadership: The Contenders
1/2 Jeremy Corbyn

Jeremy Corbyn started off as the rank outsider in the race to replace Ed Miliband and admitted he was only standing to ensure the left of the party was given a voice in the contest. But the Islington North MP, who first entered Parliament in 1983, is now the firm favourite to be elected Labour leader on September 12 after a surge in left-wing supporters signing up for a vote.

PA

2/2 Andy Burnham

Andy Burnham started out as the front-runner in the leadership election, seen as the candidate of the left until Jeremy Corbyn entered the race. The former Cabinet minister has found himself squeezed between the growing populism of Corbyn's radical agenda and the moderate, centre-left Yvette Cooper, not knowing which way to turn. It has attracted damaging labels such as 'flip-flop Andy', most notably over his response to the Government's Welfare Bill. He remains hopeful he can win enough second preference votes to take him over the 50 per cent threshold ahead of Corbyn.

PA
Watching him speak and work a crowd it is also clear that, while he has been portrayed as the "anti-politics" candidate in this election, he is about as political as it gets.
He has a fine line in crowd-whipping rhetoric that has been honed over many years of rallies and protests – and the faithful respond with cheers and ovations. This is how politics used to be done on the left but it's so long since we heard it that it now sounds fresh.
Take, for example, the section of his stump speeches on the financial crash.
"It was not pay rates of nurses, doctors, street cleaners and care workers that crashed the economy in 2008," he thunders.  "It was directors on telephone-number salaries who were so dispirited in their work that they needed telephone-number bonuses to encourage them to go to work to earn their telephone-number salaries.
"I've never found the same argument going on in a hospital canteen when the nurses are on a night-shift break."
Or this on austerity: "When the party says it has to be seen to be economically competent to be attractive that can mean lots of things.
"You can make yourself very attractive to Rupert Murdoch. You can make yourself very attractive to global corporations. You can make yourself very attractive to the super rich around the world.
"But the problem is you make yourself attractive at the expense of something else – often called your soul – but also the very poorest within our society."
It is also wrong to say that Corbyn does not have an intellectually coherent programme for government. Many people might disagree with it and think it would be disastrous – but that's a different argument.
At heart he believes in a massive redistribution of wealth. And that means when he says he would end austerity he knows how he would pay for it.
"We have grotesque levels of inequality in Britain," he says. "Don't believe this nonsense from Cameron that we're all in it together. We are not all in it together. He has presided over a process which means we are one of least equal societies in Europe.
"People say Labour needs to be economically credible – I absolutely agree. We must be credible to develop an economy that shares wealth."
At the end of the rally he enthusiastically joins in a rendition of "The Red Flag" (full version) and unlike other leading Labour figures of the recent past appears to know all the words.
But while he is clear and unashamed in what he stands for he is not without political and media guile. At the end, while all those around him rather aggressively punched the air for the press photographers and TV crews Corbyn pointedly did not. He's in this for the long haul.
Reuse content