Jeremy Corbyn will sing the national anthem in future, Labour has said in the latest climbdown from the new leader of the Opposition.
Earlier Mr Corbyn said he would "take a full part" in official events after he was widely condemned for standing in silence while other dignitaries sang God Save the Queen at the 75th anniversary of the Battle of Britain yesterday.
But he refused to say whether this included singing the words. A Labour party spokeswoman told reporters less than two hours later that "taking part fully includes singing". Asked whether Mr Corbyn knew the words to the national anthem, the spokeswoman said: "I'll get back to you."
Mr Corbyn faced his first challenge in the House of Commons since becoming Labour leader this afternoon as he took on David Cameron head-to-head at Prime Minister's Questions.
Labour MPs said it was the best 15 minutes of his leadership so far, but expressed concern that his approach of asking lengthy questions from the public will take away time for MPs to ask the Prime Minister questions.
Speaking shortly before the session, Mr Corbyn was asked why he had refused to sing the national anthem yesterday.
He told Sky News: "I was at the Battle of Britain memorial yesterday; I was there out of respect for that amazing moment in British history.
"I was also thinking about my family - my mum and dad who were there at that time in London and worked as the air-raid wardens in the Blitz and I was thinking about that. It was a respectful ceremony and I stood in respect throughout it.
"I'm going to be at many events and I will take part fully in those events, I don't see a problem about this.
 "The issue surely is that we had a memorial for the Battle for Britain, I was there, I showed respect for it and I'll show respect in the proper way at all future events - that'll be what I'll be doing."
The new Labour leader was condemned by some after pictures showed him standing silently as fellow dignitaries sang God Save the Queen at the memorial event marking the 75th anniversary of the Battle of Britain.
Even members of his own front-bench criticised the move. But Mr Corbyn's team hit back on Twitter this morning. "We haven't got time for tittle tattle," his group's tweet read. "People are suffering in this country - and we have work to do. What's next?"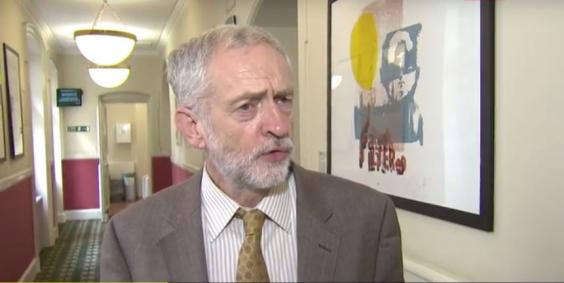 His shadow work and pensions secretary Owen Smith said he would have advised Mr Corbyn to sing the anthem "irrespective of his views", while shadow minister for women and equalities said singing it would have been the "respectful, right and appropriate" thing to do.
The Labour peer Admiral Lord west of Spithead, a former First Sea Lord, said: "I cannot believe that the people of our great nation could contemplate a prime minister who lacks that loyalty."
The right-wing media seized on his silence and compared it to his enthusiastic participating in singing "The Red Flag" after his election as leader on Saturday.
Reuse content