Betting addiction charities have reacted with dismay to the appointment of the "pro-gambling" John Whittingdale as David Cameron's new  Culture Secretary.
The appointment of a former political secretary to Margaret Thatcher – seen as a victory for Tory right-wingers who want more influence over the party leadership – is already proving divisive due to Mr Whittingdale's views on the BBC and equal rights.
But gambling reform campaigners are also concerned his promotion is either "inept" or a "deliberate" move to weaken gambling regulation, given his history of supporting the gambling industry's use of highly addictive fixed-odds betting terminals (FOBTs).
The casino-style machines can swallow up to £100 every 20 seconds and have been linked to crime and anti-social behaviour in some areas. Their spread across Britain's high streets has led campaigners to label the touch-screen roulette machine as the "crack cocaine of gambling".
Yet in his previous role as chairman of the Culture, Media and Sport Select Committee, Mr Whittingdale has repeatedly favoured reduced regulation of the addictive machines – including backing recommendations that gambling laws be relaxed, to reduce the limit on the number of machines each bookmaker can operate.
In 2013 he flew in the face of a growing consensus when he told a gambling industry conference he favoured a light regulatory approach.
He said: "People talk of [FOBT machines] being the crack cocaine of gambling. I'm not so sure they've even the cannabis of gambling."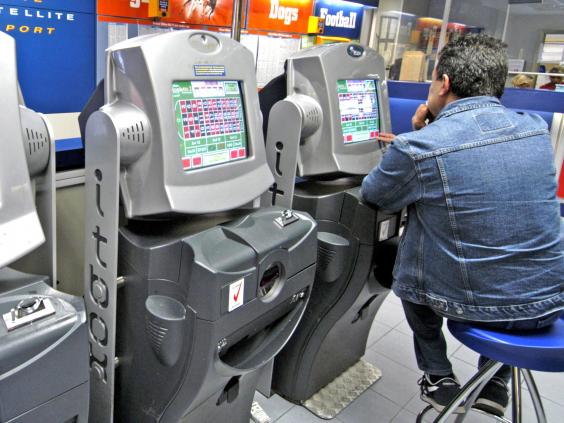 Mr Whittingdale is also on record supporting calls for casinos, bingo halls and adult gaming centres – such as those found in many motorway service stations, which are currently banned from operating the controversial machines – to be allowed to operate FOBTs.
In 2012, he shocked campaigners by backing the removal of the limit on the number £100-per-spin machines allowed in bookmakers. At the time he said that gambling was a "legitimate entertainment activity" and that laws to protect consumers were "outdated".
Mr Whittingdale became Margaret Thatcher's Political Secretary aged 28 and was greatly influence by her free-market views.
Last year Mr Whittingdale was one of just six MPs to vote against equal-pay legislation, which would require all medium-sized companies to declare their average pay for male and female employees. He has also voted against LGBT equality, including moves to lower the age of same-sex consent and to  legalise gay marriage.
His appointment has also been accompanied by speculation that he will take a hard stance against the BBC, with some suggesting he will "go to war" with the broadcaster. He has previously been a vocal critic of the licence fee, saying: "It's very regressive, expensive to collect, and you get these ridiculous letters threatening you with having your nails pulled out if you don't admit you've got a TV… It's a poll tax. Actually it's worse than a poll tax."
What does five more years of the Tories mean for Britain?
What does five more years of the Tories mean for Britain?
1/8 Welfare payments will be slashed

One of the most controversial parts of the Conservative manifesto was to cut benefits for the working age poor by £12 bn over the next three years. But during the campaign they only said where £2 bn of these savings would come from. That leaves £10 bn still to find. Some experts think the only way they can close that gap is by means testing child benefit – with millions of families losing out

Getty

2/8 There will be tax cuts for those in work and those who die

The Tories will increase the threshold at which the 40p rate of tax becomes payable to £50,000 by 2020. They haven't said so but it is also likely that at some point in the next five years they will abolish that 45p rate of tax altogether for the highest earners. They also want to increase the effective inheritance tax threshold for married couples and civil partners to £1m

Getty

3/8 There will be an in/out EU referendum in 2017

The next two years are going to be dominated by the prospect of a referendum on Britain's membership of the EU. First off David Cameron has the daunting task of negotiating a deal with other EU leaders an acceptable deal that he can sell to his party so he can go into the referendum campaigning for a 'yes' vote. This may be unachievable and it is possible that the Tories may end up arguing to leave. Opinion polls show Britain is divided on EU membership, one poll this year showed 51% said they would opt to leave compared to 49% who would vote to stay in

Getty

4/8 There will be more privatisation of the NHS

Having won the election the Tories now have a mandate to go further and faster reforming the NHS. In order to make cost savings there is likely to be greater private involvement in running services, while some smaller hospitals may lose services they currently provide like A&E and maternity units

Getty

5/8 There will be many more free schools – and traditional state schools will become a thing of the past

The Tories plans to create 500 new free schools and make 3,000 state schools become academies. They will also carry on reforming the Department of Education and remove more powers from local authorities over how schools are run

Getty

6/8 On shore wind farms will be a thing of the past and fracking will be the future

Government spending on renewable energy is under real threat now the Lib Dems are no longer in power with the Tories. Subsidies are likely to be slashed for off-shore wind farm and other green energy supplies. Meanwhile there will be generous tax break for fracking as ministers try and incentivise the industry to drill for onshore oil and gas

Getty

7/8 There maybe more free childcare – but not necessarily

In the campaign the Tories pledged to double the amount of free early education for three- and four-year-olds from 15 hours a week to 30. The extra hours would only be offered to working families where parents are employed for at least eight hours a week. However they have not said where the money will come from to fund the pledge

Getty

8/8 Workers' rights could be reduced

The Tories want to slash business regulation, merge regulator and cut costs. The Lib Dems stopped them from reducing the employment rights of workers in power – but these are now under threat

Getty
Adrian Parkinson, spokesman for the Campaign for Fairer Gambling, said: "Putting a man in charge of gambling and FOBTs with the views Whittingdale holds is either a completely inept decision on the part of David Cameron or deliberate."
The charity Rethink Gambling said it was "concerned" at his appointment.
David Lammy, the Labour MP for Tottenham who has campaigned against the spread of FOBTs, told The Independent: "The lack of regulation of FOBTs causes huge damage in communities across the UK, particularly in more deprived areas like the one I represent. It's disappointing that the new minister doesn't seem to recognise how our failure to regulate these highly addictive machines is ruining lives."
A Department for Culture, Media and Sport spokesperson said the Government's policy "remains the same" on FOBTs.
Reuse content