Ken Livingstone has dismissed allegations from a recently sacked Labour frontbencher that he is running the Labour leadership with a "bunch of far-left anti-war communists" in tow. 
Speaking to The Independent, the former London mayor laughed off claims from the former shadow culture secretary Michael Dugher that he is pulling the strings of Labour's high command from behind the scenes. Mr Dugher was removed from his post by Jeremy Corbyn earlier this week for "disloyalty" and "incompetence", according to reports.
Mr Livingstone added that since Mr Corbyn had won the Labour leadership race he has only had one official meeting – lasting half an hour, before the vote on Syria – and a phone call, requesting that he apologise for his comments to Labour MP Kevan Jones after saying he should "seek psychiatric help". 
The former London mayor added: "Half an hour and one phone call, I think that would have to be mind control of alien nature." He said Mr Dugher's comments in an interview with the Times showed "how right Jeremy was to sack this individual person", adding, "these people have got to come to terms with the fact that the Labour membership elected someone that they don't agree with."
Mr Dugher said to the Times that he was sacked from the frontbench for criticising Mr Livingstone's "moral equivalence bulls**t" over the 2007 London bombings. "The idea that you can justify what the bombers did or somehow say they were martyrs to a cause ... is totally wrong," he said. "These were sick maniacs who murdered innocent people.
"If someone else had said what Livingstone had said about 7/7 ... they'd be kicked out. But Jeremy and his allies gave Livingstone a free pass, just as they have on other issues when he's said other outrageous things."
Mr Dugher went on to claim that the former London mayor was repeatedly given a "free pass" for remarks that would lead others to being expelled. He said: "If you look at the people around Jeremy most of them have been in the employment of Livingstone…I think the truth is this leadership team is dancing on the strings of Ken Livingstone — and nobody elected Ken Livingstone to be leader of the Labour party last September."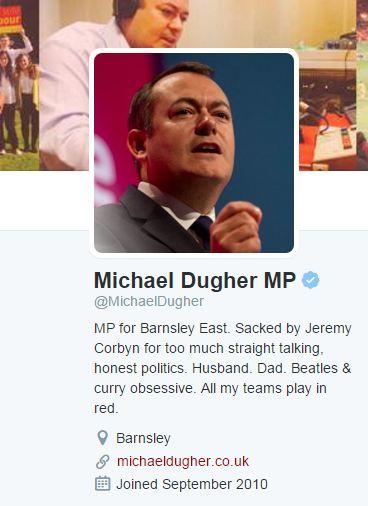 One of Mr Livingstone's controversial remarks included telling the Labour MP Kevan Jones, who is open about his history of depression, to "seek psychiatric help" after criticising the London mayor's appointment to a defence policy group within the party. 
Mr Livingstone, at the time, defended his comments by claiming his south London upbringing taught him to be rude to those who were rude to him. He added: "I didn't go to Eton and get all that smarmy charming education, I'm afraid. [What Kevan Jones said] is a personal attack, he's questioning my competence to do the job."
In pictures: Jeremy Corbyn reshuffle
In pictures: Jeremy Corbyn reshuffle
1/11 Jonathan Reynolds,Shadow Railways Minister: RESIGNED

He resigned as shadow railways minister in protest at the reasons for sacking Pat McFadden

2/11 Kevan Jones, Shadow Defence Minister: RESIGNED

He resigned as a shadow defence minister who strongly supports renewal of Trident. Has spoken out against Jeremy Corbyn's leadership before and was also the centre of a row with Ken Livingstone after he said Jones "might need some psychiatric help" (Jones has previously spoken about his struggle with depression)

3/11 Stephen Doughty, Shadow Foreign Minister: RESIGNED

He quit as a shadow foreign minister in protest at the sacking of his colleague Pat McFadden as shadow Europe minister. He said he had "looked at his own conscience" and decided to step down

4/11 Pat McFadden, Shadow Europe Minister: SACKED

He was sacked as shadow Europe minister for "disloyalty" to leader Jeremy Corbyn

5/11 Pat Glass, Shadow Europe Minister: SAFE

Former junior shadow education minister Pat Glass replaced Pat McFadden as shadow Europe minister

6/11 Emily Thornberry, Shadow Defence Secretary: SAFE

She was promoted to shadow defence secretary. She is anti-Trident and therefore more in tune with Corbyn's stance and replaces Maria Eagle, who was pro-Trident

Getty

7/11 Emma Lewell-Buck, Shadow Minister for Devolution and Local Government: SAFE

Emma Lewell-Buck was promoted to shadow minister for devolution and local government

8/11 Michael Dugher, Shadow Culture Secretary: SACKED

Outspoken critic of Jeremy Corbyn's leadership, has been sacked as shadow culture secretary for his "incompetence and disloyalty"

9/11 Hilary Benn, Shadow Foreign Secretary: SAFE

Hilary Benn remains as shadow foreign secretary, but Corbyn's team has insisted his role now comes with 'new conditions' that he must agree with Corbyn over foreign policy. Benn insists there are no 'new conditions' attached to his job and insisted: "I haven't been muzzled. I'm going to be carrying on doing my job exactly as before"

10/11 Maria Eagle, Shadow Culture Secretary: SAFE

Maria Eagle, moved from shadow defence to shadow culture secretary as part of Corbyn's move to make his defence team match his anti-Trident views

11/11 Andy Burnham, Shadow Home Secretary: SAFE

Reports linked him to foreign secretary brief, but Corbyn appears to have backed down on sacking Hilary Benn. He does not see eye-to-eye with Corbyn on home affairs such as the Snooper's charter, but removing your shadow home secretary so soon after starting would have been a dangerous move by Corbyn
According to reports, Mr Dugher lost his role as Labour's culture spokesperson for a series of comments criticising the Labour leader. In September, shortly after Mr Corbyn was elected leader, he called for an end to Corbynite "punishment beatings" in an interview with the Sunday Times. 
He said: "If you get into things like mandatory reselection you are heading down the Wacky Races road. We've played this game before and it doesn't end well. It's time to stop our punishment beatings. Now is the time to be going after the Tories, not going after each other. It is totally destructive and it's self-indulgent as well."
Then, in December the former culture secretary hit out at Momentum – the group set up to support Mr Corbyn inside the Labour party – in an interview with House magazine. "Personally, I can't see the point of Momentum," he said. "If it's an extension of the leadership campaign, well, they won the leadership. The whole point is when you've had a leadership election, all the leadership campaigns have to pack up and come together in the Labour party … It occurred to me that their aggression is matched only by their stupidity."
Reuse content