The confirmation that a Briton could be the next hostage to be killed by Isis will put the spotlight on the Government's strategy for handling such crises.
When David Cameron chaired a G8 summit in Northern Ireland last year, he rallied leaders of the world's most advanced economies behind Britain's approach – refusing to pay ransom or negotiate with terrorists. The US shares Britain's view, but some G8 members, such as France and Italy, are suspected of paying ransom money to secure the release of their nationals.
Mr Cameron was addressing Conservative MPs at Westminster when his aides informed him about the apparent beheading of Steven Sotloff. As he left the meeting, the Prime Minister condemned what he called "an absolutely disgusting and despicable act".
Isis is now at the top of Mr Cameron's agenda. The British connection will fuel the debate about whether the UK should join the US in mounting air strikes against Isis in Iraq and, possibly, in Syria.
The Prime Minister came under pressure from some Tory and Labour MPs to join the bombing campaign when he made a Commons statement on new anti-terror laws on Monday. Those calls will now grow.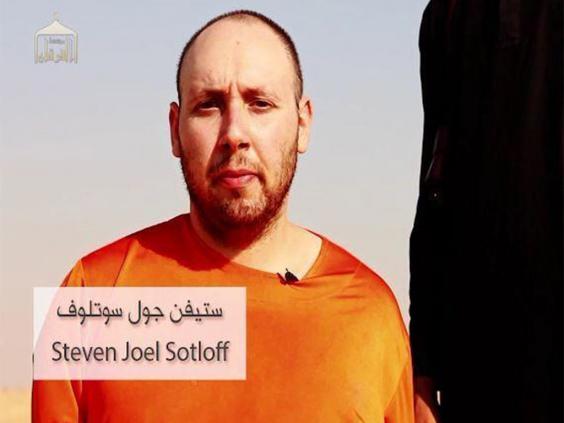 Mr Cameron said he was ruling nothing out but has no intention of repeating his humiliating Commons defeat a year ago over a plan for air strikes against the Assad regime in Syria after it used chemical weapons against its own people.
But some MPs who voted down action then would support the bombing of Isis targets now. They say British policy on intervention should no longer be paralysed by memories of the Syria vote and Tony Blair's decision to join the US invasion of Iraq 10 years earlier.
Ed Miliband, who ensured Mr Cameron's defeat on Syria, does not rule out supporting UK action against Isis if it were part of an international coalition that included countries in the region. But he might oppose a US-UK bombing campaign, which would carry too many echoes of the Iraq war.
Memories of that conflict appear to have turned public opinion against intervention. A ComRes poll for The Independent, taken at the weekend, found that only 35 per cent backed British air strikes against Isis in Iraq and Syria, with 50 per cent opposed and 15 per cent saying they were "don't knows". But news of a British hostage could shift public opinion.
In pictures: Steven Sotloff
In pictures: Steven Sotloff
1/7 Steven Sotloff

Steven Sotloff inside Al-Fateh Mosque in Manama, Bahrain, in 2010

EPA

2/7 Steven Sotloff

Journalist Steven Sotloff, left, pictured in Libya in 2011

Getty Images

3/7 Steven Sotloff

Steven Sotloff pictured in 2010 near Lulu Roundabout in Manama, which later became the iconic center for the 2011 pro-reform protests in Bahrain

EPA

4/7 Steven Sotloff

Journalist Steven Sotloff pictured in Egypt

5/7 Steven Sotloff

Media gather outside Steven Sotloff's family home in Pinecrest, Florida

AP

6/7 Steven Sotloff

Shirley Sotloff during a recent appeal to the captors of her son

AP

7/7 Steven Sotloff

Pinecrest police officers are positioned at the home of Arthur B. Sotloff and Shirley Sotloff, the parents of American freelance journalist Steven Sotloff, in Pinecrest, Florida
Reuse content