Ed Miliband's hopes of become Britain's next Prime Minister suffered a serious setback today as a new poll suggested Labour is facing political annihilation at the hands of the SNP in its Scottish heartlands.
The survey, by Ipsos Mori, found Labour is currently polling at just 23 per cent in Scotland which, if replicated in May, would see the party lose all but four of the 41 MPs it currently has north of the border.
Such a result would make it next to impossible for Labour to win an overall majority in Westminster and form a Government after the next election.
One Labour shadow minister admitted the party had become "moribund" in Scotland, and seemed to think "that infighting is more important than campaigning".
"We are in a dreadful position," said Thomas Docherty, shadow Deputy Leader of the House. "We've got to be honest about ourselves. We have very low esteem with the electorate [and they] have no idea what our polices are."
He added: "We can return to be the grown-up party that wants to be in Government or we can self-indulge like a throwback to the 1980s and watch our party implode, and the Tories win again."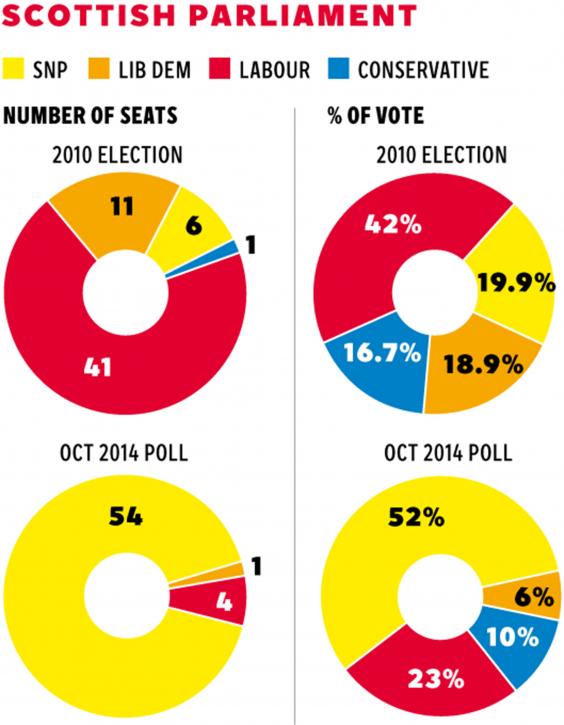 The Mori survey, commissioned by Scottish Television, found Labour in Scotland is currently trailing the SNP by 29 per cent.
If replicated at the General Election on a uniform swing it would see the SNP win 54 seats compared to its current six MPs while Labour would lose 37 seats.
The Tories would lose the only seat they currently hold in Scotland while the Lib Dems would lose all but one of its 11 current Scottish MPs.
Among those MPs who would lose their seats if the poll results were replicated include Jim Murphy, who announced on Wednesday that he is running to become the new leader of Scottish Labour, and Douglas Alexander, the party's national election supremo.
While the poll suggests a bigger SNP lead than other recent polls after the Scottish referendum, it is clear that Labour has been hemorrhaging support in a part of the country where it has taken that support for granted for decades.
It comes against the backdrop of Johann Lamont's bitter resignation as Scottish Labour leader this week, and what is likely to be a divisive campaign to succeed her.
Mr Murphy, the Blairite former Scotland Secretary, faces fierce opposition from left-wing Hollyrood MSP and Labour health spokesman Ian Findlay.
Mr Murphy admitted that if he won, his priority would be to end the "period of self-harm" that has characterised much of his party's recent history north of the border.
"There is so much that has to change about the Labour Party," he admitted. "I'm determined to bring the Labour Party together, end the period of self-harm that we've had in the Scottish Labour Party and get on and improve our country."
This evening, Mr Miliband arrived in Glasgow to speak at Scottish Labour's Gala Dinner. He said he was "determined to fight to show the Scottish people that Labour can be the change they want to see".
"We are just over six months from the general election," he said. "We face a tough fight, but no tougher than the fights we have faced in the past. In the next six months I know the Scottish Labour Party will fight every hour and every day to deliver the changes the working people of Scotland need to improve their lives.
"And I will fight with you with every fibre of my being over these months to show how we can change Scotland."
Membership of the SNP has more than tripled, to over 83,000, since the no vote on independence last month, with nearly one in 50 adults in Scotland signed up to the party.
SNP deputy leader Nicola Sturgeon said that the poll was further proof that the referendum had changed Scottish politics forever.
"London Labour's treatment of their party in Scotland as nothing more than a 'branch office' has left them in meltdown. As a result, people across the country realise that Ed Miliband doesn't speak for them and Labour support is in freefall," she said.
Reuse content