Andy Burnham's position as the union choice to be the next Labour leader has taken a knock after he was jeered and booed by delegates from the third biggest union.
All five potential candidates were on stage for a hustings at the annual conference of the general union, the GMB, answering questions from the floor, on the day when nominations formally opened.
It was not an easy occasion for the main candidates, because they were appearing in front of an audience of highly committed union activists, whose political opinions  were out of line with what most the general public thinks.
If the audience were representative of the public at large, Labour could sail to victory under the leadership of the ageing, bearded, tieless Jeremy Corbyn, who has not wavered in the left-wing beliefs he brought to Parliament when he was first elected in 1983, the year when Labour's support hit its nadir.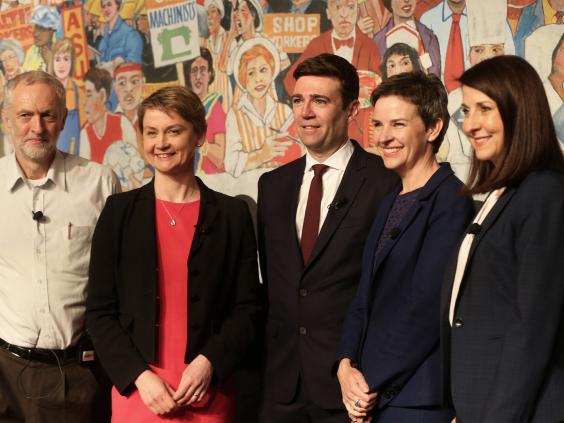 Andy Burnham was confirmed as the candidate the others have to beat. He has the nominations of 53 MPs. Yvette Cooper and Liz Kendall have also secured their places on the ballot paper, with 41 and 36 nominations respectively. Corbyn has 12 and Mary Creagh has 5. They need a minimum of 35.
Burnham was thought to be the union's preferred candidate, because he was seen as more left-wing than Cooper or Kendall.
But he had a bad moment when the Daily Mirror journalist Kevin Maguire, chairing the event in Dublin, challenged him to give a simple "yes or no" answer to the question whether he would scrap the £23,000-a-year limit the Conservatives propose to introduce on how much can be paid out in benefits to one family.
Burnham protested: "No, no, Kevin I think that a little unfair!" His apparent unwillingness to give a straight answer prompted loud jeering which almost drowned him out as he went on to say: "I am not setting my face against changes to the benefit system but it depends how they do it and I am not going to give you an answer like that to a question that complicated."
Corbyn was the only one of the five to say flatly that he would abolish the cap, which he said was leading to "social cleansing" in London. It was one of several occasions when he received resounding applause.
Burnham suffered another embarrassment when Maguire challenged him to say how much a litre of petrol costs, Burnham guessed a figure of £1.60 – more than a third as much again as the actual price.
But he was well received when – to the surprise of some – he described the manifesto on which Labour fought this year's election as the best he had seen since he first entered Parliament as MP for Leigh in 2001.
He added: "I pay tribute and give credit to Ed Miliband. I believe he did something important in refocusing our party on inequality."
Ed Miliband's leadership was marked from the beginning by the fact that the results showed that he had more support than his brother among trade unions, whereas David Miliband was the preferred candidate of MPs and party members.
Burnham has tried to avoid that trap by saying that he does not want any union funds to help his leadership campaign – but told the delegates that his reason for keeping his distance was that he wanted to be in a good position to defend union rights and the union link with the Labour Party if he becomes party leader.
None of the candidate risked saying "yes" when asked if the 2015 Labour manifesto was "too left-wing". Even if that is what they privately thought, it was not the best setting in which to say so.
Delegates at the conference had been addressed that morning by their General Secretary, Paul Kenny, who told them: "I have been absolutely sickened by the sight of old has-beens in the Labour Party lecturing us about the manifesto being too left-wing.
"They even suggest that the election was lost because the British people wanted a return to New Labour, and throw in attacks on trade unions for good measure. There we have the essence of why millions of trade unionists didn't vote Labour."
Reuse content