Harriet Harman has failed to reassure Jeremy Corbyn's three opponents in Labour's leadership contest that adequate checks are being carried out into the flood of 400,000 people who have signed up to vote since the May general election.
At private talks with the four candidates, Labour's acting leader insisted that all the applicants would be vetted to ensure they shared the party's aims and values.
But Yvette Cooper, Andy Burnham and Liz Kendall called for Labour to use its canvassing data from the May general election to weed out more people who back rival parties. Labour has analysed the data but has not made its findings available to staff conducting the checks. Ms Kendall proposed that  anyone identified as a British National Party supporter to Labour canvassers be denied a vote in the contest.
A move to use the information was blocked by trade union members of Labour's procedure committee. But it may revisit the decision when it meets on Wednesday.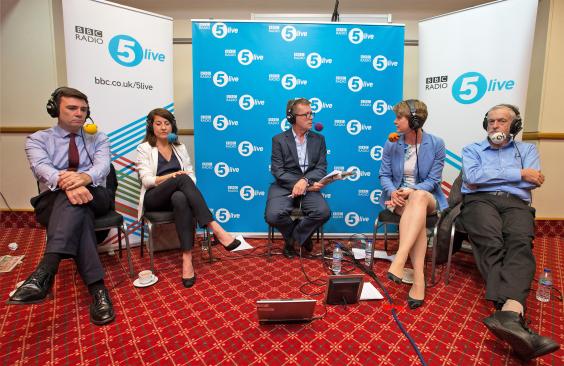 Mr Corbyn's opponents are calling for a full breakdown of the results to be published when they are announced on 12 September. This would reveal the level of support for each candidate among MPs; the 292,000 full party members; the 148,000 affiliated supporters from trade unions and the 112,000 registered supporters who have paid £3 in order to vote. Labour does not intend to issue a breakdown.
There are also concerns that only 45,000 social media profiles of new recruits are being checked for signs of support for rival parties, leaving more than 100,000 applicants not vetted in this way. "There were lots of questions at the meeting but not many answers or decisions," a member of one leadership campaign team said.
There were farcical scenes as Labour officials tried to keep the location of the talks secret – even from the leadership candidates. After taking part in a BBC Radio 5 hustings in Stevenage, the four were taken in separate cars to an industrial estate to meet Ms Harman. But the BBC had already tracked down the venue.
Labour leadership: The Contenders
Labour leadership: The Contenders
1/2 Jeremy Corbyn

Jeremy Corbyn started off as the rank outsider in the race to replace Ed Miliband and admitted he was only standing to ensure the left of the party was given a voice in the contest. But the Islington North MP, who first entered Parliament in 1983, is now the firm favourite to be elected Labour leader on September 12 after a surge in left-wing supporters signing up for a vote.

PA

2/2 Andy Burnham

Andy Burnham started out as the front-runner in the leadership election, seen as the candidate of the left until Jeremy Corbyn entered the race. The former Cabinet minister has found himself squeezed between the growing populism of Corbyn's radical agenda and the moderate, centre-left Yvette Cooper, not knowing which way to turn. It has attracted damaging labels such as 'flip-flop Andy', most notably over his response to the Government's Welfare Bill. He remains hopeful he can win enough second preference votes to take him over the 50 per cent threshold ahead of Corbyn.

PA
Labour disclosed that the number of people entitled to vote had been cut by 56,000 to 553,000. But most of this was due to 15 per cent of applicants not being on the electoral register; to some people signing up twice as both union and registered supporters and full members who had not paid their subscriptions.
The party said 3,138 people were ruled ineligible to vote because they do not support Labour's aims and values – including 1,900 members or supporters of the Greens and 400 Conservatives. Labour declined to say how many far left activists had been barred, amid claims that some had signed up to vote for the left-wing front-runner Mr Corbyn. It is believed  to be about 800.
Mr Corbyn criticised what he called a "purge" of genuine Labour supporters, saying: "If people have been unfairly rejected, then I think their case should be looked at again." He dismissed "nonsense" about Tory infiltrators.
Ms Harman said: "I am confident that there won't be questions over the integrity of the result and there aren't any bases for legal challenges."
Reuse content