Ed Miliband fired the starting gun for a "cost of living" election in May 2015 today by promising that gas and electricity bills would be frozen for all householders and businesses for 20 months if Labour wins power.
In his speech to his party's Brighton conference, Mr Miliband said an incoming Labour Government would rush in emergency legislation imposing a price freeze until January 2017. During that period, Labour would push through sweeping reforms to reduce the power of the "Big Six" energy companies and increase competition in the sector.
The price freeze would save a typical household £120 and an average business £1,800 over the 20-month period, according to Labour, and would cost the energy firms an estimated £4.5bn.
Last night the industry warned that the strategy would increase the prospect of power cuts by putting at risk its plans to invest in new power stations, and would delay moves towards "green energy".
British Gas owners Centrica said it may be forced to exit the UK market entirely if such a freeze was introduced. "If prices were to be controlled against a background of rising costs it would simply not be economically viable for Centrica, or indeed any other energy supplier, to continue to operate and far less to meet the sizeable investment challenge that the industry is facing," the company said. "The impact of such a policy would be damaging for the country's long term prosperity and for our customers."
The Conservatives saw Mr Miliband's move as a throwback to the left-wing interventionism of the 1970s, accusing Labour of imposing a tax rise on business and higher gas and electricity bills.
But Labour is convinced the price freeze will a vote-winner on the doorstep amid public anger over the rising cost of living. The consumer group Which? said at the weekend that flaws in the energy market had forced consumers to pay £3.9bn over the odds since 2010.
Delivering an hour-long speech without notes in a conversational style, Mr Miliband delighted and inspired his Labour audience with his mantra that "Britain can do better than this." He announced plans to more than double the number of homes built in Britain to 200,000 a year by 2020 and to cut business rates for small firms by cancelling a planned cut in corporation tax for large companies. He also promised that Labour would extend the right to vote to 16 and 17 year-olds.
The Labour leader accused the Conservatives of resorting to the "lowest form of politics - divide and rule", arguing that Labour's offer of "hope" could triumph over "fear". His constant refrain was: "We're Britain, we're better than this." Despite his poor personal poll ratings, he welcomed the Tories' strategy to make the 2015 election a choice of prime minister. He portrayed himself as the man brave enough to stand up to the media magnate Rupert Murdoch and to halt the "rush to war" in Syria. He said of David Cameron: "He may be strong at standing up to the weak, but he is always weak when it comes to standing up against the strong. That is the difference between me and David Cameron, so let's have that debate about leadership and character, and I relish that debate."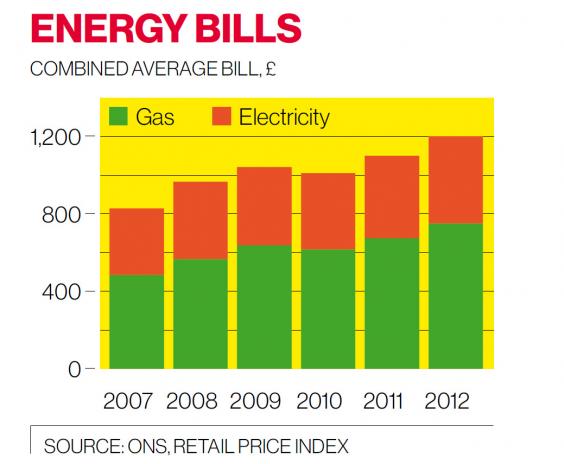 Labour would scrap the energy regulator Ofgem, replacing it with "a watchdog with more teeth." It would shake up the industry by forcing the firms to split the parts of their business which generate energy from those that sell it to consumers. Their product would be sold in an "open pool," allowing other companies to enter the market to boost competition and keep down prices. There would be a simple new tariff structure.
Mr Miliband told the conference: "We need successful energy companies in Britain. We need them to invest for the future. But you need to get a fair deal and frankly, there will never be public consent for that investment unless you do get a fair deal. And the system is broken and we are going to fix it."
Accusing Mr Cameron of starting "a race to the bottom" on pay and jobs, Mr Miliband said:"We want a race to the top to make our economy work for working people again. That's how you make Britain better than this. And we won't win a race to the top if our economy is held back by vested interests."
Angela Knight, chief executive of Energy UK, said: "Freezing the bill may be superficially attractive, but it will also freeze the money to build and renew power stations, freeze the jobs and livelihoods of the 600,000 plus people dependent on the energy industry and make the prospect of energy shortages a reality, pushing up the prices for everyone."
John Cridland, director-general of the CBI, described the energy and business tax proposals as a setback for Labour's pro-enterprise credentials. He said: "Rising energy bills are tough on families and businesses. But the proposed energy price freeze will deter much-needed investment and is at odds with Labour's pledge to decarbonise the economy and create a million green jobs."
Price comparison website UKPower.co.uk warned: "This certainly puts the pressure on suppliers to inflate prices between now and the election as they won't be taking any chances on the voting outcome… you can already freeze your energy bill with some tariffs until 31 March 2017, which beats Labour's pledge."
Labour sources said it would fall to Mr Cameron to stop energy firms hiking prices before 2015. They denied the plan was anti-business, insisting the reforms would boost competition and that energy bills were a huge burden on companies.
Grant Shapps, the Tory chairman, said Mr Miliband's pledge to decarbonise the power industry by 2030 would add £125 to a typical householder's energy bills. "Rather than saying how Labour would cut the deficit or fix the welfare system, Ed Miliband called for a damaging tax rise on business that would cost jobs and confirmed that Labour would spend more and borrow more," he said.
Ed Davey, the Liberal Democrat Energy Secretary, warned that Labour's plan would not work. "When they tried to fix prices in California it resulted in an electricity crisis and widespread blackouts. We can't risk the lights going out here too," he said.
What Ed said… and what he meant
"Ella rode past me on my bike, she fell off – it's not funny, I helped her up and afterwards she called me something I'd never been called before, she said I was an action hero. Why are you laughing?" 
I am self-deprecating. I can laugh at myself. But women also think I'm a modern, post-feminist hero. Eat sand, Bullingdon boys.
"I want to start today with the simplest of thoughts, an idea that has inspired change for generations, the belief that helped drive us out of the Second World War and into that great reforming government of 1945…"
Nobody remembers that the Attlee government was blown out in six years or that the Conservatives also promised to set up a national health service: if I wrap myself in the folk memory of wartime sacrifice that's a Labour history everyone likes.
"I want to start with leadership; leadership is about risks and difficult decisions, it's about those lonely moments when you have to peer deep into your soul."
People don't think I'm much of a leader? I'll give them a bit of cod Tony Blair leadership gobbledegook. Lots of people bought his book, after all.
"I've seen in Afghanistan those young men and women, young men and women who are young enough to be my son or daughter serving our country."
I'm not as young as you think (43 if you look it up on Wikipedia).
"They used to say a rising tide lifts all boats, now it just lifts the yachts."
Keeping the class war subliminal. Everyone remembers stories about David Cameron on Rupert Murdoch's yacht and George Osborne on Oleg Deripaska's.
"Justine and I had the privilege of taking our son to his first day at school. He was nervous at first, but he soon started having fun; a bit like being leader of the Labour Party really…"
Gordon Brown once accused David Cameron of using his children as "props". Well, needs must. Not only does Ed Speak Human, Ed Does Things Normal Humans Do, like have children who start at school.
"If people want a party that will cut itself off from the rest of the world, then let me say squarely: Labour is not your party."
You do not seem to be a natural Labour voter. Please vote Ukip rather than Conservative. Thank you.
"It's the same old story; we rescue the NHS, they wreck the NHS, and we'll have to rescue it all over again – that is what the next Labour government will do."
I cannot believe that Cameron, having sounded quite convincing about our national religion, allowed Andrew Lansley to give it back to us on a plate.
John Rentoul
Q&A: Can energy prices be frozen?
Q. Are Labour's proposals good news for hard-up consumers?
They sound like it. Ed Miliband reckons freezing prices in 2015 for two years will save the average energy user £120, while businesses will benefit to the tune of £1,800.
Q. Won't energy companies resist?
Mr Miliband plans to force them to comply by replacing the ineffective watchdog Ofgem with a much stronger one that has the power to control prices (as the water watchdog Ofwat does).
Q. But what about the cost?
The move would cost energy firms an estimated £4.5bn. They claim it would also end up pushing up prices because it would freeze the cash needed to invest in power stations, leading to energy shortages.