Labour would use the proceeds of a mansion tax on homes worth more than £2m to head off a funding crisis in the NHS, Ed Miliband will announce today.
In his speech to the Labour conference in Manchester, Mr Miliband will promise to save the NHS amid forecasts of a £30bn funding gap by 2020. Using some of the £2bn raised from Labour's proposed high value property tax will be seen as a move to soak the rich rather than ask ordinary taxpayers to top up the health budget.
Mapping out his 10-year "national mission" to transform Britain, Mr |Miliband will pledge that the number of first-time home buyers would be doubled to 400,000 a year under a Labour Government.
The Labour leader will unveil a six-point plan setting out ambitious goals that he believes would take two five-year parliamentary terms to complete because the problems Labour would inherit would be so deep-seated.
His other national goals for "Britain 2025"are to:
ensure as many school leavers take up apprenticeships as go to university, by raising the number of apprenticeships from about 100,000 to 400,000
halve the number of people on low pay (now 5m)
tackle the cost-of-living crisis by ensuring the 5m self-employed people are not "locked out" of pensions and mortgages
double the number of jobs in "green industries" to 2m
build a "world-class 21st century health and care service"
His final Labour conference speech before next May's election is designed to answer criticism that Labour has a raft of policies but no overarching vision. His aim is to "raise people's sights" with a positive picture of what Britain could become and to match the Conservatives' much-trumpeted "long-term economic plan". Labour will issue a pledge card of key manifesto policies in the run-up to the election.
Mr Miliband wants to make the NHS the centrepiece of his speech as he tries to shift the spotlight away from Tory plans to bring in "English votes for English laws" alongside greater devolution to Scotland, which have put Labour on the defensive and  overshadowed its conference.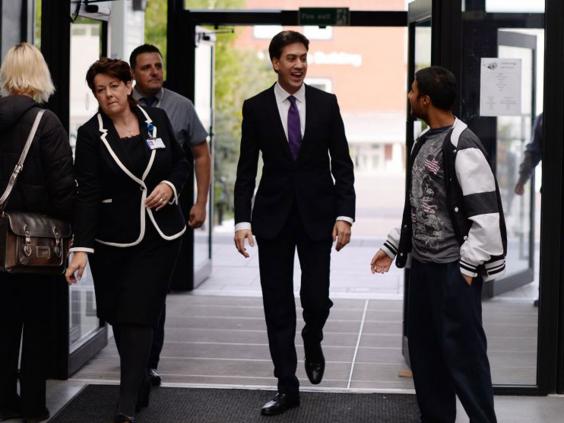 Labour has previously earmarked the proceeds from its proposed mansion tax to meet its plan to bring back a 10p starting rate of tax. Now that would be funded by scrapping David Cameron's proposal to give a tax break to married couples, allowing the revenue from a high-value property levy to be channelled into public services like health.
Ed Balls, the shadow Chancellor, meanwhile promised a more punitive rate of mansion tax for most expensive homes. He told the conference: "We will do it in a fair, sensible and proportionate way. Raising the limit each year in line with average rises in house prices. Putting in place protections for those who are asset-rich but cash-poor. And ensuring those with properties worth tens of millions of pounds make a significantly bigger contribution than those in houses just above the limit." Mr Miliband will say today: "We know that there are huge future pressures facing the NHS: so we are going to have to transform the way it works in the years ahead."
His most striking goal is to "restore the dream of home ownership" by setting a Labour government's first-ever target for the number of first-time buyers. The move will be seen as an attempt to invade natural Tory territory after home ownership soared during the Thatcher era, partly through giving council tenants the right to buy their homes.
Labour has promised that at least 200,000 new homes a year would be built by 2020. Mr Miliband will say: "The confidence and security that comes from having your own home is missing for so many people in Britain today; that most British of dreams, the dream of home ownership, has faded. We will stop the large developers sitting on land and we will back the thousands of small developers and construction companies with access to new loans, there will be new towns, garden cities and suburbs with a half a million new homes, and housing will be a top priority in our capital investment programme - because we need to start Britain building again."
A recurring theme of the speech will be to improve the prospects of young people. "A plan for our country, a plan for our families, must have at its heart a future for all our young people. So here we need the biggest national effort that we have seen for generations with young people showing the ambition to get on, schools and colleges offering gold standard technical qualifications, and business and government leading a revolution in apprenticeships."
Tory sources dismissed what they called "another Labour relaunch", adding that this plan would be Labour's seventh in three years.
Reuse content