Ed Miliband is facing calls from within his own party to take action to secure the election of more black and Asian Labour MPs, amid signs that key constituencies are shunning candidates from ethnic minorities.
Just one non-white candidate has been selected so far in the 34 seats where a sitting Labour MP is stepping down in the general election in May – the constituencies which should provide the best opportunities for the party to get new prospects elected.
By contrast, five Conservative associations among the 32 in constituencies where a sitting MP is retiring have chosen minority candidates.
And only a small number of black or Asian standard-bearers have been chosen by Labour activists in the ultra-marginal seats where Mr Miliband stands the best chance of winning new seats and capturing the keys to Downing Street.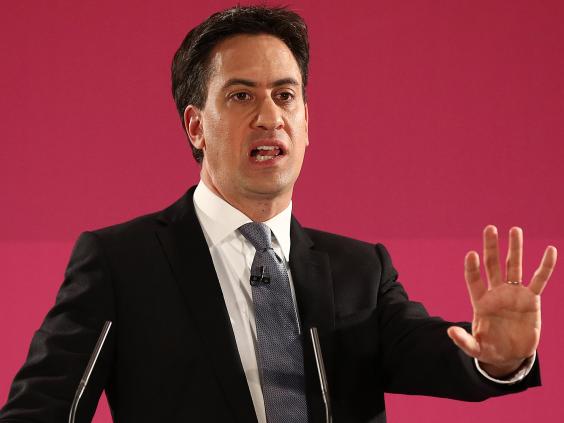 Historically, Labour has a far better record than its rivals for the promotion of black and minority ethnic (BME) candidates, but the apparent stalling of the drive to select them has sparked alarm at senior levels of the party.
The Tottenham MP David Lammy, who is black, said the figures were so bad that Labour should in future ensure that at least one ethnic minority candidate was on shortlists in constituencies with a poor record of choosing black and Asian candidates.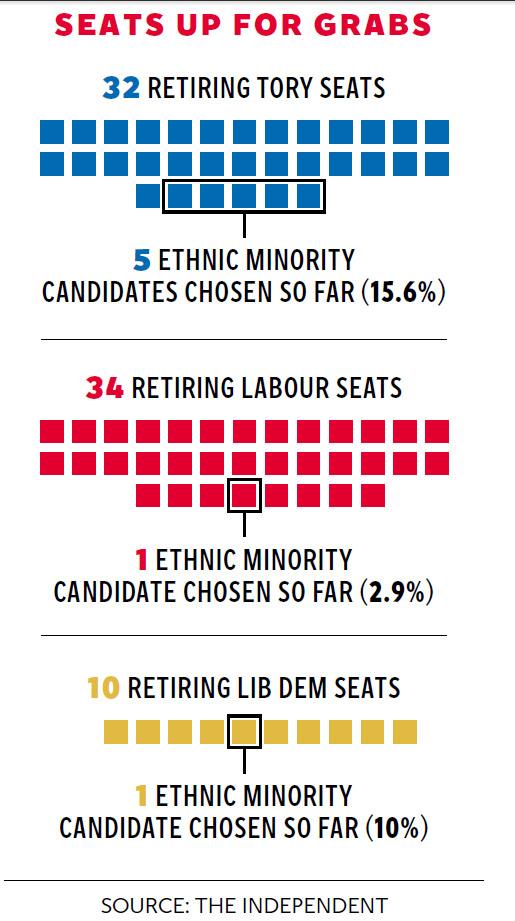 One member of the party's national executive committee told The Independent: "Our record so far has been shameful. It gives the impression that we are taking the votes of ethnic-minority candidates for granted. But 2015 might be the last year we can do that."
It heaps more pressure on Mr Miliband, whose leadership was questioned by his predecessor Tony Blair. Mr Blair said the 2015 election was likely to be a contest "in which a traditional left-wing party competes with a traditional right-wing party, with the traditional result" – meaning a Tory win. Speaking to The Economist, he urged Labour to do more to attract votes from the centre ground.
So far, Labour's sole ethnic-minority candidate in a Labour-held seat is Tulip Siddiq, who hopes to succeed Glenda Jackson in Hampstead and Kilburn. Twenty-nine other constituencies, including seats being vacated by David Blunkett in Sheffield Brightside and Hillsborough, Hazel Blears in Salford and Eccles and Peter Hain in Neath, have chosen white candidates. Four others, including Gordon Brown's powerbase of Kirkcaldy and Cowdenbeath, have yet to select candidates.
Meanwhile, the Conservatives have chosen BME standard-bearers in South Ribble, Havant, Hampshire North-East, Wealden and Richmond, where retiring MPs are bequeathing comfortable Tory majorities.
Analysis by The Independent suggests that Labour is also making only modest progress in picking non-white activists in highly marginal seats crucial to the election's outcome. It has chosen six BME candidates in 32 selections in constituencies where the party needs to overturn a majority of less than 2,000.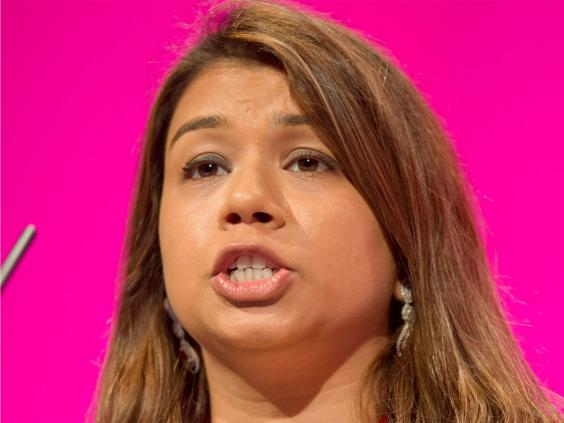 Labour's failure to promote more black and Asian candidates is in contrast to its success in adopting large numbers of female candidates following the introduction of all-women shortlists in several constituencies. Mr Lammy, who is seeking Labour's nomination for the London mayoral election in 2016, suggested it should adopt a similar tactic to advance the cause of non-white candidates.
He warned: "The party is in danger of looking incredibly complacent. Britain's ethnic minorities have traditionally voted Labour but Parliament is a long, long  way from reflecting the nation as a whole.
"If we are failing to select enough on a regional basis over a period of time, we ought to think about black and minority shortlists, with at least one on the list."
Mr Lammy urged party leaders to push ethnic-minority candidates if any Labour MPs stood down before May.
A spokesman for Labour said it had more ethnic minority MPs, MEPs and councillors than any other party but added: "We know there is always more to do and we will continue to work hard to ensure that we break down the barriers to political participation."
Research suggests Labour's support among ethnic-minority voters is plunging. According to the British Election Study, the number of Indian voters identifying with the party fell from 77 per cent in 1997 to 18 per cent this year. Support in the Pakistani community dropped from 77 to 57 per cent, while support among voters of Caribbean heritage is down from 78 to 67 per cent.
Reuse content