Companies with more than 250 staff members will have to reveal within 12 months whether or not they are paying women less than men, the Government is to announce this week.
Nicky Morgan, the Education Secretary and minister for Women and Equalities, is understood to be launching a series of measures this week designed to tackle gender imbalances in the workplace. Central to this programme is consultation in a new system that will force large employers to reveal any pay differential between male and female employees. It is expected to include a fine of up to £5,000 for non-compliance.
Once the consultation is completed, regulations would be introduced by spring next year. The average full-time pay gap is at its lowest level since records began in 1997, according to the Office for National Statistics, but is still 9.4 per cent – about £100 a week. In addition, Britain still has the sixth-largest pay gap in the European Union, according to Eurostat.
The United Nations International Labour Organisation warned earlier this year that pay for female workers will lag behind men for another seven decades if the gap continues to close up at its current slow rate.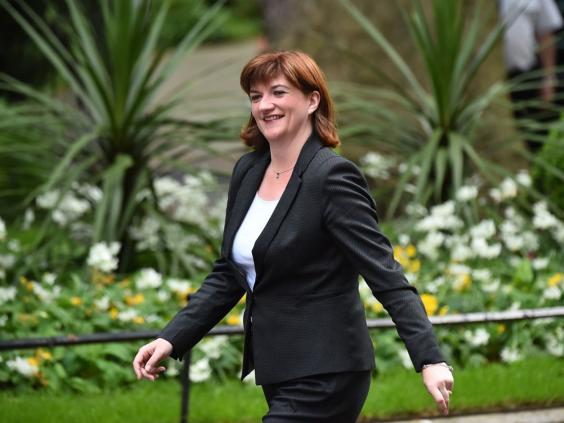 The announcement will fulfil the Tories' election manifesto pledge on the gender pay gap. They also believe that, in coalition, they achieved more than the previous Labour government in establishing greater equality in the workplace.
Women currently account for only one in eight board members of the FTSE 100 list of the country's biggest stock exchange listed companies. The Tory manifesto also stated: "They [women] represent a quarter of board members today and we want to see this rise further in the next Parliament. We also want to increase the proportion of public appointments going to women in the next Parliament, as well as the number of female MPs."
However, Louise Haigh, the new Labour MP for Sheffield Heeley, said the measures are the result of European regulations published last year and that the pay gap was only narrowing because of falling wages for men.
She added: "This is an important step – it will require companies to think carefully about how and why women are paid less and the figures being in the public domain will encourage them to take action. But we won't close the pay gap until we have fully protected maternity and paternity rights in law."