One legal advice centre helped 95 per cent of people declared 'fit to work' by the Government's disability benefit checks overturn the decision, it has emerged
Volunteers at the Bristol and Avon Law Centre have helped over 200 people in its local area challenge decisions by the DWP that they were "fit to work", according to legal magazine The Lawyer.
Of these, only 5 per cent of claimants' appeals failed once a legal professional took on their case.
The centre is staffed by law student volunteers who appear with claimants in front of a judge and a doctor at benefit appeals to help claimants make their case.
Nationally, the appeal success rate for disability benefit claims is also high – at 59 per cent, but the experience of the Law Centre appears to suggest that legal representation makes it go higher still.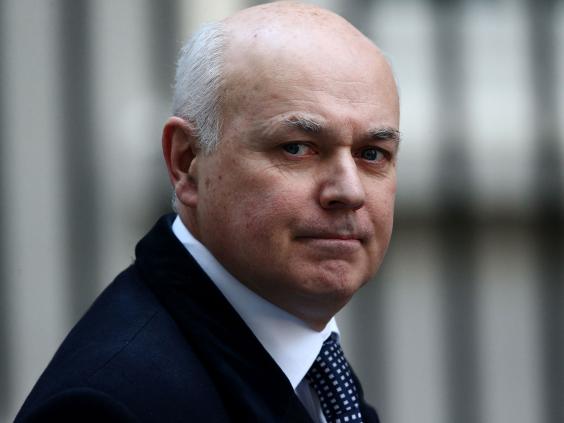 Steep cuts to legal aid for people challenging benefit decisions have left many people without legal representation at appeals.
Law Centre welfare benefits adviser Andy King told The Lawyer that the centre would only be able to help a "tiny fraction" of the number of people it does without the help of the student volunteers.
The figures come amid questions about just how accurate the Government's Work Capability Assessment actually is.
Figures released by the Department for Work and Pensions last week show that thousands of people died soon after being found 'fit to work' by the Government's disability benefits test.
The Department for Work and Pensions battled for months not to release the numbers, with its chief minister Iain Duncan Smith at one point telling Parliament they did not exist.
What does five more years of the Tories mean for Britain?
What does five more years of the Tories mean for Britain?
1/8 Welfare payments will be slashed

One of the most controversial parts of the Conservative manifesto was to cut benefits for the working age poor by £12 bn over the next three years. But during the campaign they only said where £2 bn of these savings would come from. That leaves £10 bn still to find. Some experts think the only way they can close that gap is by means testing child benefit – with millions of families losing out

Getty

2/8 There will be tax cuts for those in work and those who die

The Tories will increase the threshold at which the 40p rate of tax becomes payable to £50,000 by 2020. They haven't said so but it is also likely that at some point in the next five years they will abolish that 45p rate of tax altogether for the highest earners. They also want to increase the effective inheritance tax threshold for married couples and civil partners to £1m

Getty

3/8 There will be an in/out EU referendum in 2017

The next two years are going to be dominated by the prospect of a referendum on Britain's membership of the EU. First off David Cameron has the daunting task of negotiating a deal with other EU leaders an acceptable deal that he can sell to his party so he can go into the referendum campaigning for a 'yes' vote. This may be unachievable and it is possible that the Tories may end up arguing to leave. Opinion polls show Britain is divided on EU membership, one poll this year showed 51% said they would opt to leave compared to 49% who would vote to stay in

Getty

4/8 There will be more privatisation of the NHS

Having won the election the Tories now have a mandate to go further and faster reforming the NHS. In order to make cost savings there is likely to be greater private involvement in running services, while some smaller hospitals may lose services they currently provide like A&E and maternity units

Getty

5/8 There will be many more free schools – and traditional state schools will become a thing of the past

The Tories plans to create 500 new free schools and make 3,000 state schools become academies. They will also carry on reforming the Department of Education and remove more powers from local authorities over how schools are run

Getty

6/8 On shore wind farms will be a thing of the past and fracking will be the future

Government spending on renewable energy is under real threat now the Lib Dems are no longer in power with the Tories. Subsidies are likely to be slashed for off-shore wind farm and other green energy supplies. Meanwhile there will be generous tax break for fracking as ministers try and incentivise the industry to drill for onshore oil and gas

Getty

7/8 There maybe more free childcare – but not necessarily

In the campaign the Tories pledged to double the amount of free early education for three- and four-year-olds from 15 hours a week to 30. The extra hours would only be offered to working families where parents are employed for at least eight hours a week. However they have not said where the money will come from to fund the pledge

Getty

8/8 Workers' rights could be reduced

The Tories want to slash business regulation, merge regulator and cut costs. The Lib Dems stopped them from reducing the employment rights of workers in power – but these are now under threat

Getty
In June the British Psychological Society said there was "now significant body of evidence that the WCA is failing to assess people's fitness for work accurately and appropriately". It called for a full overhaul of the way the tests are carried out.
The WCA appeals system has also been fraught with controversy with a very high rate of overturns and delays lasting months and blamed for hardship
Some payments for the Employment and Support Allowance benefit were cut in the Chancellor's recent budget, with Mr Duncan Smith arguing that the previous cash level created a "perverse incentive".
Homelessness charity Crisis last year warned that an increase in sanctions for the ESA benefit was in danger of contributing to a rise in homelessness for disabled people.
Reuse content