Fresh details of the plan being hatched to bring down Jeremy Corbyn's chief power broker Len McCluskey, have come to light in a document obtained by The Independent. 
It shows Mr McCluskey's opponents believe they can topple him as general secretary – a result that could fatally weaken Mr Corbyn as Labour leader – if turnout in the forthcoming Unite election rises above 20 per cent and union members are reminded of his "excesses" at the top.
Under the strategy set out in the document, critics plan to highlight "concerns" around Mr McCluskey's use of union money, his "closed clique" and his "obsession" with Mr Corbyn and "London politics", while challenger Gerard Coyne will run a "professional campaign" advocating a focus on workers' pay and protection and gender equality.
Opponents of Mr McCluskey hope the two-pronged approach can swing the contest, which will dictate who has control over a huge network of political supporters and campaign infrastructure that until now has been mobilised for Mr Corbyn.
Without the Unite general secretary's backing and the financial support he guarantees, the Labour leader could find himself facing a fresh challenge in 2017.
The Independent obtained a presentation, revealing that opponents of Mr McCluskey have concluded they can beat him in the general secretary election due in the spring, if they can widen turnout beyond the more politically motivated union activists, to include more of Unite's general membership.
The presentation says: "Len's team focus on activists – tried and tested method of winning in a low turnout election – how it has always been done before.
"We need to change the nature of the game."
It adds that if turnout is low like in 2013, "Len wins again (probably). If we make it 20 per cent, it's too close to call, if we make it 25 per cent or more we win."
It says that turnout at general secretary elections has been low due to the actions of "oligarchs" at the top of the union who have failed to engage with members, but the Coyne campaign will seek to build a new network of activists and members to get the vote out. 
While highlighting "Len's London politics [and] his obsession with Corbyn", the presentation goes on to cite research showing Unite members "don't know who Jeremy Corbyn is, never mind who Len McCluskey is".
One insider said: "Members are worried about job security and conditions at work, but all they see is a general secretary who never stops talking about Jeremy Corbyn and the leadership of the Labour Party. That leaves most of them cold. 
"If Gerard can energise and inspire enough members and get the turnout up he can beat Len. There is no doubt about that."
The presentation then goes on to say research also shows members are "horrified" when the "excesses of union leaders" are explained to them, meaning there will likely be a push to "make members aware of how their money is being used (badly!)".
Among poor uses of money cited in connection with Mr McCluskey are "houses" – a potential reference to a Unite "loan" to help the union boss buy a London flat. At the time Unite said the purchase agreement was not a loan, but an equity share arrangement of a kind commonly used to help general secretaries buy homes in London.
Another poor use of money cited in the presentation simply noted "Las Vegas". It was reported that Mr McCluskey was on union business in the famous US city when he tried to help face off the coup against Jeremy Corbyn earlier this year.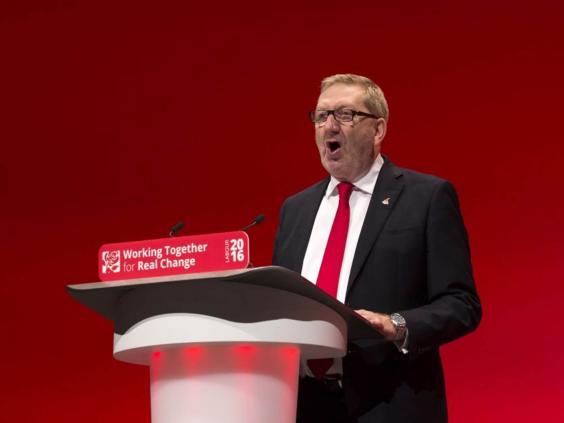 The presentation adds: "Polling shows members, especially women, feel union can be closed clique talking about things that don't matter to them".
It goes on to say how Mr Coyne will refocus the union on better pay and protection and more openness, running a campaign that will speak to "all members", and not just activists, adding that he will talk about how he'll "put members in the driving seat and will highlight the need to strengthen women's voices".
The insider told The Independent Mr Coyne would "run a thoroughly professional campaign that focuses on members' concerns. He will have a lot to say on Brexit and skills".
They said: "He will talk about the changing nature of work and the challenges of new technology. These are the issues that matter to members."
A spokesperson for McCluskey's campaign said: "It is disappointing that people associated with our union should resort to such low tactics, recycling smears from newspapers which are not merely hostile to the general secretary, but to trade unionism.
"In the brief time since the launch of the campaign to re-elect Len McCluskey as Unite's general secretary, the campaign has been inundated with messages of support for Len, illustrating the goodwill towards him among Unite members.
"Furthermore, the campaign wishes to make it unequivocally clear that it will not engage in any character assassinations or personal abuse of other candidates in the campaigning period ahead."
Opposition to Mr McCluskey has grown amid concern over his backing for Mr Corbyn and the potential Labour policies it could bring about.
As well as job concerns raised over a possible ban on petrol cars revealed by The Independent, Mr Corbyn's anti-Trident stance has also sounded alarm bells, given that thousands of Unite's 1.4 million members work in the defence industry.
Labour leadership contest: Jeremy Corbyn vs Owen Smith
Labour leadership contest: Jeremy Corbyn vs Owen Smith
1/8

Jeremy Corbyn and Owen Smith clash at a leadership hustings in Gateshead, where Mr Smith was scarcely able to answer a question without being booed by Mr Corbyn's supporters

PA

2/8

"Jeremy himself admitted he was seven out of 10 in terms of his faith in the European Union. He said it," said Mr Smith during his second live debate with Jeremy Corbyn

Getty

3/8

Ballot papers are currently due to be sent out on 22 August and returned a month later, with the result being announced at a special Labour conference on 24 September

Getty

4/8

Jeremy Corbyn supporters cheer and wave placards as the Labour Leader addresses thousands of supporters in in Liverpool, England

Getty

5/8

Labour Party leadership candidate Owen Smith poses for a picture with supporters during a picnic for young members in London Fields, Hackney in London

Getty

6/8

The Labour leader has a spring in his step at a leadership rally in Sunderland

Screenshot

7/8

Labour leadership contender Owen Smith delivers a speech at the Open University in Milton Keynes, where he promised to reverse Conservative cuts set to leave millions of low paid workers thousands of pounds a year worse off

PA

8/8

Shadow Chancellor John McDonnell has urged Owen Smith to distance himself from those saying they want to split the Labour party

Getty
But the bid for the top job from Mr Coyne, who has worked for Unite for more than 20 years, will also be seen as a politically motivated attack by some of the Labour leader's allies.
Following the disruption of the second leadership contest, Mr Corbyn's backers had hoped rebellions would die down, giving his leadership a chance to properly take root. 
Mr McCluskey announced at the start of the month that he would stand down from his position in order to run again, allowing him to stay in charge until 2020, when the next general election is due.
Reuse content