Nick Clegg is facing a revolt from grassroots Liberal Democrats who will demand a firm pledge to scrap the bedroom tax at the party's spring conference starting on Friday.
In a letter to The Independent, 90 Lib Dem general election candidates and activists call for the bedroom tax to be ended for existing social housing tenants, who have seen their housing benefit cut if they have a spare room. They want the party manifesto to go further than Mr Clegg's promise to exempt claimants when there is no smaller property available in their area.
The activists welcome the reforms pledged by the Deputy Prime Minister, but say: "We are also pleased to support revoking the under occupancy charge, so it will only apply to new tenancies going forward."
Kelly-Marie Blundell, Lib Dem candidate in Guildford, who organised the letter, said the manifesto should also protect benefits for disabled people by excluding them from the 1 per cent cap on working age benefit rises proposed by the Conservatives.
In another challenge to the Lib Dem leadership, some activists want to see the party to commit to more tax rises and fewer spending cuts in the 2015-20 parliament. They want to see 50 per cent of the deficit cleared by tax increases and 50 per cent through spending reductions. The leadership wants 60 per cent to come from cuts and 40 per cent from higher taxes.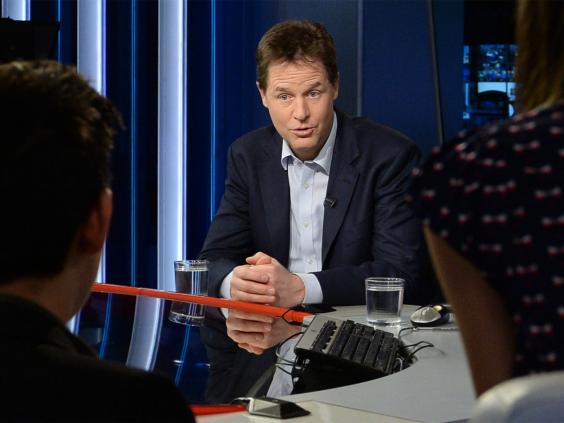 Ms Blundell said: "By ensuring that there is a balance between tax rises and cuts, we can make sure the recovery stays on track, but is fairer and doesn't affect the working age poor." She hoped the manifesto would include "a clear reference to cuts and tax rises being balanced, and if at all possible 50:50, to protect the most vulnerable."
Mr Clegg has already given some ground by moving from the ratio in this parliament, which saw 80 per cent of deficit-reduction coming from cuts and 20 per cent from higher taxes. This was seen as a victory for Vince Cable, the Business Secretary, over Danny Alexander, the hawkish Chief Treasury Secretary.
The leadership hopes to head off a defeat at the Liverpool conference by reaching a compromise with party members. Mark Pack, an activist who initially proposed a 50:50 split, said that he supported an alternative policy that could unite most of the party - to rule out benefit cuts after the first two years of the next parliament. "This should both achieve most of what those wanting 50:50 are after, but also be accepted by those in the party more hawkish on cutting spending," he said. He believed the party would end up with a policy somewhere between a 60:40 and 50:50 split.
Election Analysis: The Key Voters
Election Analysis: The Key Voters
1/6 Settled Silvers

These are the comfortably-off over-60s, still in work or drawing a decent pension – or both – who are enjoying their entitlements such as the Winter Fuel Allowance, free bus passes and free TV licence. They are worried about immigration and Europe. Both the Conservatives – who are pledging to keep benefits for wealthier pensioners – and Ukip want their votes

Micha Theiner

2/6 Squeezed Semis

Slightly older than the Harassed Hipsters, they are the second key group for Labour's family-focused election strategy. They are married couples on low to middle incomes who own unpretentious semi-detached homes in suburban areas. In 2001, these were the Pebbledash People sought by the Conservatives. Now the pebbledash is gone and a modest conservatory has been built at the back

Micha Theiner

3/6 Aldi Woman

In 1997 and 2001 she was Worcester Woman – a middle-class Middle Englander shopping at Marks & Spencer and Waitrose. Today, the age of austerity means she still goes to Waitrose for her basic food shop but cannily switches to Aldi for her luxury bargains such as Parma ham and prosecco. Identified by Caroline Flint, she is a key target of both Labour and the Conservatives

Micha Theiner

4/6 Glass Ceiling Woman

In her thirties or forties, she has an established career under her belt, perhaps in the "marzipan layer" – one position below the still male-dominated senior executive level. She is now, according to Nick Clegg, forced into making the "heart-breaking choice" between staying at home to bring up her children and going to work and forking out for high-cost, round-the-clock childcare

5/6 Harassed Hipsters

One of the two key groups identified by Labour as crucial to hand Ed Miliband the keys to Downing Street. Well-paid professional couples, often with children, they live in diverse urban and metropolitan areas rather than the suburbs. More comfortably off than most swing voters, they are time poor – struggling to balance raising a young family with busy work schedules

Micha Theiner

6/6 Neo-Greens

These are mainly first-time voters, though some are in their twenties – students and digital-age generation renters helping to fuel the "Green Surge". Idealists, but with no tribal loyalty to any party, they are anti-austerity, middle class, living in urban areas. Despite studying at university or recently graduated, they are struggling to find decent jobs and want cheaper housing and a higher minimum wage

Micha Theiner
The Lib Dems' stance on cuts and tax rises could be important in negotiations with the Tories or Labour if there is another hung parliament after the May election. The Tories have ruled out any tax rises, but Labour would clear part of the deficit from higher taxes.
A Lib Dem spokesman said: "We have already taken important steps to reform the spare room subsidy [bedroom tax] to ensure we protect the most vulnerable, and our manifesto will further reinforce our position. We believe the rules should be changed so tenants aren't penalised when they cannot move into smaller accommodation because it is not available, or where there is a serious medical reason to have an additional room."
On the deficit, the spokesman said: "Nick Clegg and Danny Alexander have outlined how the Lib Dems will finish the job of balancing the books by 2017-18 through a mix of tax rises and spending cuts, ensuring that we finish the job fairly. Finishing the job of balancing the books while protecting vital public services will require increasing taxes on the very wealthiest and ensuring big business pay their fair share. We are confident this position is one the party will united around at conference."
Reuse content