The Coalition will announce a series of big new road, telecoms and housing projects in December as one of its last acts of policy in the dying days of this Government.
Danny Alexander told The Independent fringe meeting this evening that he and George Osborne were preparing to give the go-ahead to several major infrastructure schemes in the Autumn Statement.
And the Chief Secretary to the Treasury rejected suggestions that Lib Dem and Conservative ministers would not be able to work effectively together in the Coalition's final months while setting out their own separate identities as parties.
"There is a big job we need to complete to take forward our plans for new infrastructure," he said.
"We set out a National Infrastructure Plan in 2013 and set out our spending plans until 2021. We need in the Autumn Statement to make progress on that and I believe we can do that."
Mr Alexander, who sidestepped a question about his eventual leadership ambitions, said he was angry his party did not win plaudits for some recent economic improvements which were portrayed in the media as the result of Conservative policies. 
"I get pretty disgruntled about the fact we are not really given our fair share of the credit for what we have done in the economy," he said.
"Whenever there is good news in the economy it's credited to George Osborne and the Conservatives. Every clause of the economic recovery plan and every difficult decision we have made have been as much authored by me as by George Osborne.
"It does pee me off because we done a bloody good job for this Government and we really need to shout about it."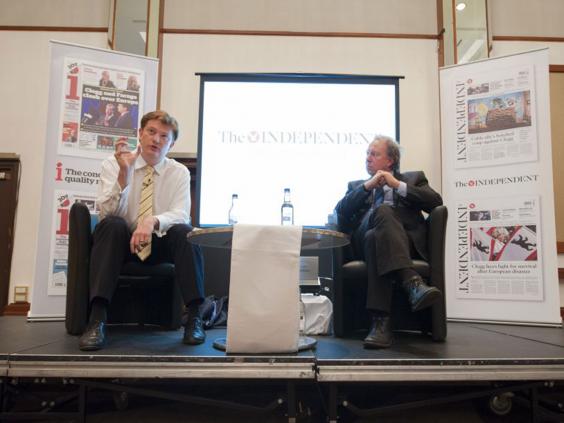 He said the party conference season had opened up a political space for the Lib Dems. Labour's "deficit amnesia" illustrated that it could not be trusted to deliver a strong economy.
The Conservatives' "very hard-edged messages" about tax and deficit reduction had "enabled us to describe what the differences are between the parties", he said.
Mr Alexander said that in retrospect he wished senior Lib Dems had done more to highlight their differences from the Conservatives in the Coalition's early days.
"We did miss some of those opportunities and that was a mistake," he told the packed meeting. "For some people it looked like we tried to sublimate our identity in the coalition."
He said the "searing and life-changing" experience of the Scottish independence referendum campaign had deepened his commitment to the European Union, adding that his party has "very profound" differences with the Tories on the issue.
"I believe very strongly that Scotland is better off as part of the UK and that the UK is better off as part of the EU," he said to applause.
"The tide of human progress for centuries, millennia, has been around removing barriers."
Mr Alexander held out little prospect that if the Lib Dems were in another Coalition with the Conservatives they would push for real terms increases in public sector pay.
He added that he would push a future Government to follow a similar strategy to reduce the remaining deficit at a rate of 20 per cent tax increases and 80 per cent spending cuts.
Asked whether he would eventually like to succeed Nick Clegg, he replied: "I do hope Nick Clegg goes on as leader for many, many years.
"Generally my approach to these things is to deal with the issues as they arise."
Reuse content