Nine out of 10 of London's private renters have experienced at least four serious problems during their tenancy, including electrical faults, incomplete repairs and lost deposits, according to a new survey.
The report, commissioned by Green London Assembly Member Sian Berry, found nearly six out of 10 renters would pay for an independent renters organisation to investigate landlords and campaign for better standards. 
The Big Renters Survey asked 1,530 Londoners about their experiences, with nearly 70% of respondents writing in to share their horror stories. 
One said: "When we asked for things to be fixed like the fire alarms the landlord would agree after a long time but then suddenly remember he hadn't put up the rent in a while."
Another wrote: "I've tried repeatedly to get the damp and mould sorted but instead of actual solutions I've had patronising lists of helpful tips implying that the problem is our fault." 
Ms Berry, the former London mayoral candidate who came third behind Sadiq Khan and Zac Goldsmith in May 2016's elections,  said the aim of the survey was to give voice to renters by allowing them to share their experiences in their own words.
"These renters were riled up enough to tell me their story - everyone's got a story that's the thing," she told The Independent. 
"Overwhelmingly renters do not have a voice, we need to bring their voices into city hall."
The Green politician is now pushing London Mayor Sadiq Khan to seek greater devolved powers for London from the Government to hold private landlords to account and better regulate the sector. 
"If you want a strong voice for renters it needs a push from City Hall. The Mayor has a role there potentially seed-funding a renters union start-up," she said. 
"A kind of union model could work but it can't just happen of its own accord, Sadiq needs to be seeking more powers than he currently has."
She also called for London to follow Scotland's lead and scrap letting fees. 
"About 50% more people said letting agents were bad than good in the survey, and I think they do tend to squeeze both the landlord and the tenant," she said.
"I think abolishing letting agents fees is such a good idea. I think letting agents could still earn money just squeeze us all less. Ultimately, we need rent controls, I think we should never stop looking at that and we need to be seeking better regulation."
Ms Berry also expressed her shock at the number surveyed who had experienced dangerous electrical faults.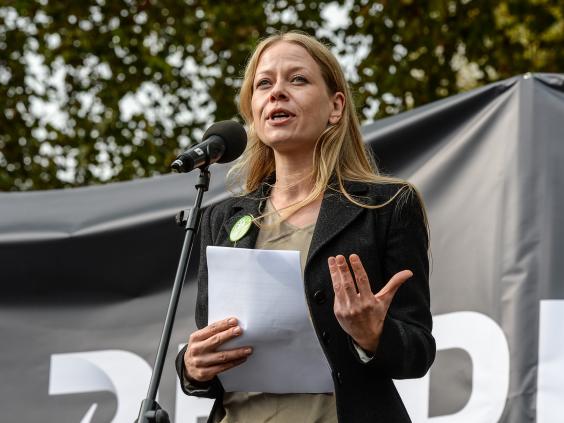 "The stories about electrical safety were so shocking, I was surprised about how many people were telling me about electrics that were shorting constantly or faulty in the bathroom. Those kind of things really worry me because the London Fire Brigade are saying it's an increasing cause of fire," she said. 
"Damp was the most common in terms of specific issues and that has a lot to do with badly maintained homes, and condensation to do with overcrowded living which is an increasing problem - temporary homeless is a hidden problem in London."
Housing charity Shelter announced on Monday more than four in 10 Britons were faced with homes which failed acceptable standards of living. 
In its new Living Home Standard report, which asked 1,691 adults about their homes, the charity considered affordability, neighbourhood, stability and living conditions.
It concluded affordability to be the biggest issue, saying people should "thrive" in homes, not just "get by".
It also found 24% of people were unable to save after paying their rent or mortgage each month and said 23% would struggle if their rent or mortgage costs rose. 
A further 18% said they had to regularly cut back on food or heating to meet escalating housing costs, with 20% having to sacrifice social activities to meet the bills.
"With our ever-growing housing crisis forcing millions into private renting, it's simply not right that so many of these homes are failing to meet their needs," Shelter's chief executive Campbell Robb told The Independent. 
"We're calling on the government and other organisations to work with us to raise the number of homes that meet the Living Home Standard in future, and make sure everyone in Britain has access to a safe, secure and affordable home." 
The Independent has approached London Mayor Sadiq Khan's office for comment. 
Reuse content