The extraordinary life of Michael Ashcroft, the billionaire Tory peer and owner of the world's largest collection of VC medals, has gone through many phases. Today, he is a familiar figure in the Westminster village who will appear at social occasions without a tie, with hands in pockets. Although no one would call him an extrovert, he is willing to engage with people who do not share his world view.
At a Conservative Party conference a couple of years ago, Lord Ashcroft was talking to two journalists, and discovered that one was from The Independent, the other from The Guardian. "The Guardian and The Independent!" he exclaimed, in mock horror. "Should I be talking to you? Dominic! Dominic!" He summoned Dominic Grieve, who was then Attorney General. "I'm talking to The Guardian and The Independent!"
Not many years ago, journalists from this newspaper had a far better chance of hearing from Lord Ashcroft's lawyers than of ever speaking to him in person. He was the mystery man of British politics, a lavish Conservative Party donor who did not appear to have any real commitment to this country. The questions most asked about Lord Ashcroft were about where and how he made his money and how much of it he handed over to the UK taxman.
His website suggested that he considered the former British colony of Belize, south of Mexico, as home. He actually lived in the United States.
Before he vanished from these shores, Michael Ashcroft was well known in London business circles as a hard-driving entrepreneur who could take over a failing company and make it grow at a speed that alarmed the more conservative elements in the City. An old article in Forbes magazine said that he started moving his business across the Atlantic in 1981, when Margaret Thatcher's popularity hit an all-time low and he feared the arrival of a left wing Labour government headed by Michael Foot.
By 1984 that danger had passed and it was obvious to anyone that the 1980s were to be a Tory decade, full of opportunities for a risk-taker like Ashcroft, who had bought a failing business in 1978 and built it into a multimillion-pound enterprise with 35,000 employees. Yet that was the  year he moved his company headquarters to the island tax haven of Bermuda.
He was gone for 15 years, reappearing after the Labour landslide in 1997. When everyone else seemed to be abandoning the Tories, Ashcroft came to their rescue.
He is reputed to have given the party more than £10m overall. But when William Hague nominated him for a working peerage, the Scrutiny Committee, chaired by the former Tory Foreign Secretary Lord Hurd, questioned whether someone who lived and ran businesses abroad could be a working member of the House of Lords.
They gave in when Hague persisted, but wanted a "clear and unequivocal assurance" that Lord Ashcroft would return from Florida to live and pay taxes in the UK.
That only set off 10 years of speculation about whether Lord Ashcroft was a UK taxpayer. He refused to say, on the grounds that it was no one else's business where he paid tax – until March 2010, when, with an election looming and Lord Ashcroft running the campaign in key marginal seats, he owned up that he was a "non-dom" but implied that he was prepared to come back and be a UK taxpayer.
No one can accuse Lord Ashcroft of being a stranger to these shores any more. Anyone who studies British politics is in his debt, because of the detailed opinion polls that he regularly commissions and publishes on line, as a gift to political obsessives.
His money has gone into numerous other important sources of political intelligence, including the Politics Home and ConservativeHome websites, the Biteback publishing company, the magazine Total Politics, and Dods, an information service that dates to the Reform Act of 1832.
Meanwhile, the fifth floor of the Imperial War Museum is now taken up by the Lord Ashcroft Gallery, where his collection of VCs is on display, funded by a £5m donation from the peer.
The news in 2009 that he had bought Politics Home set off a string of resignations by journalists associated with the project, who suspected that he would turn it into an outlet for Conservative propaganda. That did not happen, and five years on, Politics Home remains a respected source of objective information.
At Conservative headquarters, they even had cause to wonder whether Lord Ashcroft was still on their side. Relations with David Cameron soured long ago. He is working on a biography of Cameron which is not expected to flatter. Ominously, at least one of the ministers who lost their jobs in the most recent government reshuffle received a call almost immediately from Lord Ashcroft, seeking information for his book.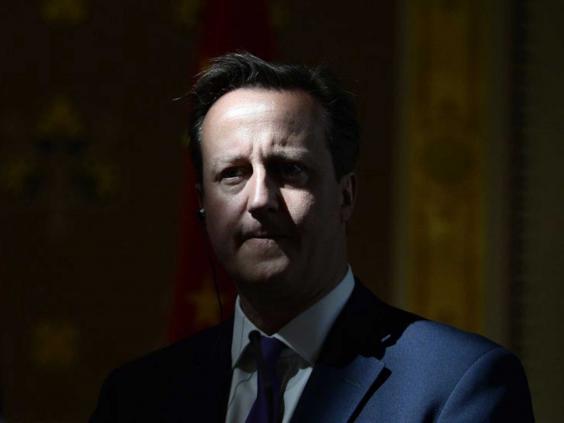 This makes The Independent's discovery this week that Lord Ashcroft has apparently resumed giving money to the Tories all the more intriguing. I say "apparently" because his business empire is as opaque as ever: it cannot be said for certain that Anne Street Partners, from which the Tories have received £50,000, is one of Ashcroft's companies, but the evidence points that way, and he has not denied it.
Perhaps it is not surprising. Lord Ashcroft never ceased to be a Conservative: it is David Cameron's brand of Conservatism that he despises. He holds Cameron responsible for the Conservatives' failure to win the 2010 election, and does not have confidence in him to win in 2015. Defeat would set off a leadership contest, and be assured that Lord Ashcroft has a view on who the next leader should be. That is reason enough to keep his political muscles trim.