Labour has slumped to its lowest rating for more than four years, while Ukip has reached a new high, according to The Independent's latest poll of polls.
Although Labour, on 33 per cent, is still two points ahead of the Conservatives at 31 per cent, its lead has shrunk from six points in February. Labour's rating is now at its lowest point since June 2010, when it stood at 32 per cent a month after a general election in which it secured 29 per cent of the vote – the party's second-lowest share of the vote since 1918.
Labour's downward drift contrasts with the continuing rise of Ukip, which is up three points to 16 per cent, beating its previous record 15 per cent in the poll of polls in June, a month after winning the European elections.
John Curtice, professor of politics at Strathclyde University, who compiled the weighted average of the polls, said Labour had suffered an 18-month trend of gradually falling support. Although the latest figures would give Labour an overall majority of one, they do not take account of last week's polls, which suggested that the party could suffer serious losses to the Scottish National Party north of the border at next May's general election.
In pictures: Ed Miliband trying to look normal
In pictures: Ed Miliband trying to look normal
1/17 The beggar

Ed Miliband casually gives money to a homeless woman in Manchester, surrounded by press photographers.

2/17 The Bacon Sandwich

Ed Miliband buys a bacon sandwich from cafe owner Antonios Foufas at New Covent Garden Market in London as he kicks off a day of campaigning on the eve of the local and European elections

3/17 The Bacon Sandwich

Ed Miliband chats with a cafe owner Antonios Foufas at New Covent Garden Market in London

4/17 The Bacon Sandwich

Ed Miliband embarked on a whirlwind campaign tour of England - but struggled at the first hurdle (a bacon sandwich). Aides intervened after just a few less-than-elegant bites

Jeremy Selwyn

5/17 Flower Shopping

Ed Miliband talks with a couple of traders at New Covent Garden Market in London

6/17 Flower Shopping

Ed Miliband purchases some red roses for his wife at New Covent Garden Market in London

7/17 Talking Business

Ed Miliband talks with a trader at New Covent Garden Market in London

8/17 Good Morning Britain

Miliband on ITV's Good Morning Britain show on 20 May 2014, a day of gaffes in which he was also caught out by BBC Wiltshire for not knowing who the local Labour leader was

9/17 '£70 Weekly Shop'

Ed was accused of being 'out of touch with reality' after he seemed not to know what he - or the average British family - spends on a weekly food shop

PA

10/17 Drop in Polls

Ed Miliband paid a visit to Leighton Hospital in Crewe to speak with the staff about the NHS, but faced difficult questions about polls showing his personal ratings falling well behind those David Cameron and George Osborne

PA

11/17 On the Sofa with Farage

Ed Miliband appeared on the Andrew Marr Show to debate with Nigel Farage - but has all but conceded defeat in the Newark by-election, allowing Ukip a free run at the Tories

BBC

12/17 Wollies in Wellies

Miliband was among a number of politicians to come under fire for 'touring' the floods in the South and South West earlier this year

PA

13/17 Wollies in Wellies

The Labour leader admitted it was 'a difficult decision for politicians whether to visit areas like this'

14/17 Missed Opportunity

Miliband's performance at the Labour conference last year failed to make much of an impression on voters, polls suggested

Getty Images

15/17 Sharing the Moment

Miliband, Nick Clegg, David Cameron and Angus Robinson enjoy their moment with Andy Murray, after the tennis player's Wimbledon win

Getty Images

16/17 Casual Husband

Miliband and his wife Justine are pictured in their hotel room in Brighton as he prepares to give his keynote speech to the annual Labour Party Conference

Getty Images

17/17 The Milibands

Just your average family of four?

Getty Images
This is the first time since early 2012 that Labour is not far enough ahead to win an overall majority, said Professor Curtice. "The chances that the next general election will produce another hung parliament appear to be increasing by the day," he added.
Labour's familiar problems seem to be getting worse. Ed Miliband's "satisfaction rating" is at an all-time low, and the party has failed to persuade voters it can handle the economy. Professor Curtice said: "It has long been evident that Labour needs to persuade people that it can provide Britain with effective leadership and competent economic management. Its persistent failure to do so during the course of this parliament is now raising serious doubts about whether it has any idea how to do so."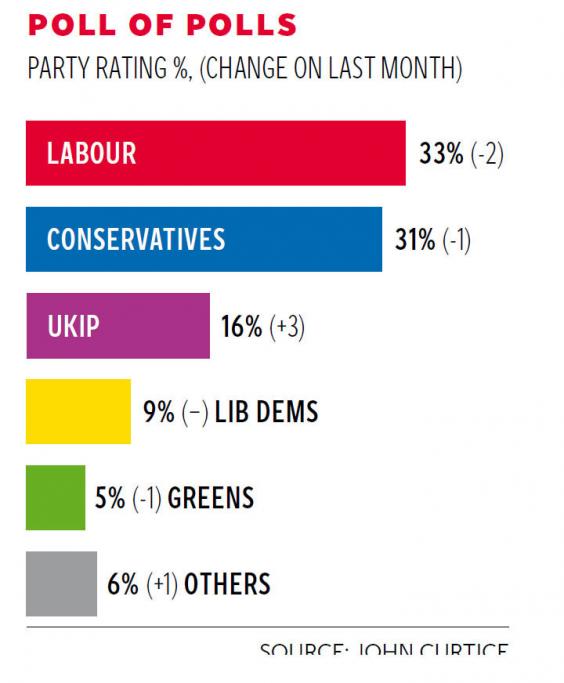 However, he found that there is "still no sign of any recovery in the Conservatives' position". The party is down one point on the previous month, underlining Tory fears of a "voteless economic recovery".
Professor Curtice said it looked "increasingly unlikely" that support for Nigel Farage's party would melt away as the Westminster parties had hoped. Ukip now matches the Tories in the voters' eyes as the best party to handle immigration. The number of people who regard Ukip as a "wasted vote" has dropped from 57 per cent in May to 41 per cent.
Labour officials played down the finding and insisted the party could still win a majority next May. They insisted that Labour is the only party with a strategy for winning the election, claiming the Tories' plan is "in tatters" due to Ukip's advance. The Tories have a "40-40 strategy" of gaining 40 marginal seats held by Labour or the Liberal Democrats and defending 40 seats with a small Tory majority. Surveys in key marginals have put Labour ahead.
Labour officials argue that while Ukip takes some votes from Mr Miliband's party, it costs the Tories seats. Professor Curtice found that 18 per cent of people who voted Tory in 2010 now back Ukip, compared to 10 per cent of those who backed the Lib Dems and eight per cent who supported Labour last time.
Reuse content