Mark Reckless's defection from the Conservatives was received so badly that the recently elected Ukip MP was forced to install extra security at his home.
Mr Reckless, 43, allegedly became so "frightened" by the negative reaction to his defection that after sending his wife and two young children away, he installed a fire proof letter box to prevent explosives being posted through his front door.
The former Tory's colleagues rounded on the rebellious politician following his much trumpeted defection on 27 September, branding him a liar.
Ukip's second MP told the Sunday Times that a member of the local Conservatives sent him a text message that said that his wife and children should be ashamed of him and encouraging other members to make him unwelcome on the streets. Mr Reckless's wife Catriona took their children Toby, 11 months, and Jamie, two, out of the area while a new security system was also installed in their home.
Despite the vitriol, Mr Reckless managed to retain his Rochester seat with a majority of just under 3,000 votes, in an election that saw the Liberal Democrat percentage of the vote crash and Labour scrape only 17 percent of the vote for a constinuency they previously held.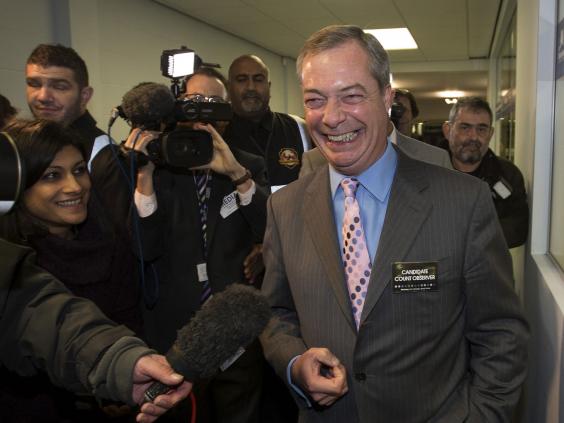 Mr Reckless first made national headlines in 2010 after becoming so drunk in a Commons bar that he missed a crucial vote. Following the embarrassment, the ten-Tory MP swore off drink – a pledge he had maintained to this day.
Ahead of his victory Mr Reckless claimed he would not drink, although perhaps Ukip leader Nigel Farage – never pictured without a pint of British beer in hand – may tempt him to the pub today.
Who's next? Conservative MPs who could defect to Ukip
Who's next? Conservative MPs who could defect to Ukip
1/8 Chris Kelly

Won Dudley South with majority of 3,856 in 2010 but is standing down next May. Has been wooed by Ukip, which is targeting his seat, but insists he will not join Nigel Farage's party. Has declined to say why he is leaving Parliament

Facebook

2/8 Mark Pritchard

Former secretary of the influential Tory 1992 Committee. MP for The Wrekin. Majority 9,450. Photographed with Nigel Farage at an event recently but said it was just a "friendly photo"

3/8 Philip Hollobone

MP for Kettering. Majority 9, 904. He said in 2013: "So many constituencies are now marginal because Ukip is now providing a fourth dynamic into what has previously been a three-party dynamic. I think we could end up with a situation where in selected seats, where the Conservative candidate or member of Parliament is in favour of leaving the EU, they would endorse him in those seats"

Rex

4/8 David Nuttall

MP for Bury North. Majority 2,243. Outspoken right-winger. Has said it would be "beneficial" if the Tories and Ukip could agree a "common programme" in order to unite the right in British politics

Twitter

5/8 Nadine Dorries

MP for Mid Bedfordshire. Majority 15,152. Lost Tory whip after appearing on ITV's "I'm a Celebrity…Get Me Out of Here," but later reinstated. Has said her constituents some constituents feel a "huge amount of empathy with Ukip". Hinted at standing on a joint ticket but denied she will defect

PA

6/8 Jacob Rees-Mogg

MP for Somerset North East. Majority 4,914. Independent-minded like Douglas Carswell. Has called for an electoral pact between Tories and Ukip. "There are many members of Ukip who are very close to the Conservative Party and there are many Conservatives to whom Ukip looks favourably," he said in May

David Hedges

7/8 Gordon Henderson

MP for Sittingbourne and Sheppey. Majority 12,383. Wants Britain to leave the EU and admits he has been "sounded out" by Ukip. But insists the party has "no principles," saying: "I'd sooner lose than be a turncoat"

8/8 Peter Bone

MP for Wellingborough. Majority 11,787. Independent-minded backbencher who hates the Coalition. Has said: "Somehow the Conservatives and Ukip have got to work together and have some sort of [electoral] pact or accord"

UPPA/Photoshot
Like many in politics today Mr Reckless graduated from Oxford University after studying PPE and was then called to the bar.
Mr Reckless is seen as the 13 most rebellious MP for voting against the Tory whip on 56 occasions, but it remains to be seen how well he will adjust to being under Mr Farage's leadership.
Reuse content