The Education Secretary Michael Gove has claimed a revolutionary communist could be appointed to run the schools inspection body Ofsted, if he or she was the right person for the job.
Mr Gove gave a speech today in which he vowed to make state schools more like private schools, breaking down what he called the "Berlin Wall" between the two sectors.
Yet it was overshadowed by recent criticism that he is trying to "politicise" the inspectorate, after Baroness Morgan of Huyton, a former aide to Tony Blair, was sacked as the organisation's chair.
Mr Gove has since been warned by Sir David Bell, a former civil servant colleague who is now vice-chancellor of Reading University, not to "believe his own hype" and surround himself with "yes men".
And on Saturday Lady Morgan said her removal was part of an "extremely worrying pattern" of non-Tories being replaced by loyal Conservatives and long-term party donors.
Speaking today at the London Academy of Excellence, Mr Gove said the appointment of a new Ofsted chair would be overseen by an independent body "free of consideration about political views".
He insisted: "So if the right candidate, for any public appointment, happens to be a member of the revolutionary communist party or someone generous enough to support a political party with their hard earned cash, if they are the right person then he or she will be appointed and that's the end of it."
In pictures: Michael Gove's most controversial policies

In pictures: Michael Gove's most controversial policies

1/5 Free Schools

Free schools, which operate independently from their local authority but receive state funding, continue to fuel controversy. Alongside the closure of a flagship free school amid quality of teaching concerns, critics have said that free schools are not being set up in areas where there is a demand for school places

2/5 GCSEs and A Levels Reform

In a move away from coursework, schoolchildren will no longer take AS levels but sit their A Level exams at the end of the two year course. For GCSE students meanwhile, only their first attempt at an examination will count towards a school's performance table after Mr Gove said that schools putting pupils forward early for their exams was a 'damaging trend'

Getty Images

3/5 Teachers' working conditions

At the heart of the ongoing dispute about pay and working conditions lies the policy of 'performance related pay', where teachers get paid more if they meet certain standards

4/5 Phonics Check

The Phonics Screening Test is a compulsory assessment for children in year one where children are asked to decode a mixture of real and made-up words. The government sees the test as a way for schools to spot slow readers, while teachers say that even the brightest fail it

5/5 Curriculum

Sweeping changes to the national curriculum are to be introduced in September 2014. Among the changes, multiplication tables will be at the centre of the curriculum for six- to seven-year-olds while history will be taught chronologically. Mr Gove says that he wants to have the 'sort of curriculum that children in other countries have, which are doing better than our own'
The Education Secretary said his department had civil servants "who are skilled at saying yes, no, maybe or just sucking their teeth" when ideas were put to them, adding that "the characterisation of the DfE as a gallery of nodding dogs is very wide of the mark".
Meanwhile, Mr Gove said state schools should be encouraged to teach Classics, have private-school-style exams and stay open for longer in a model designed to make the two sectors indistinguishable from one another.
"My ambition for the education sector is very simple - when you visit a school in England standards are so high all round that you should not be able to tell whether it's in the state sector or a fee paying independent," he said today.
Mr Gove said state school days should be "nine or 10 hours long – allowing time for structured homework sessions, prep, which will be particularly helpful for those children who come from homes where it's difficult to secure the peace and quiet necessary for hard study".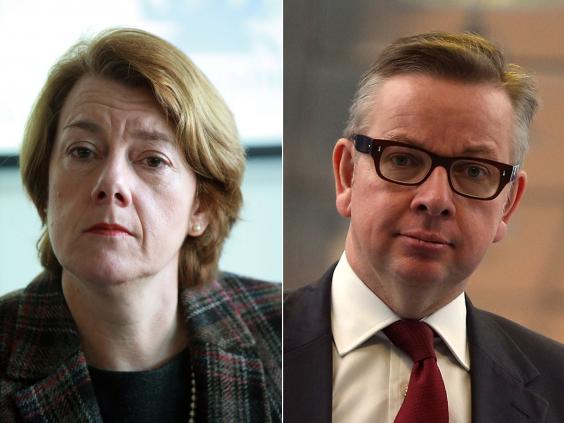 "I want to see state schools in England the best in the world," he said.
"State schools where the vast majority of pupils have the grades and the skills to apply to university, if they want to; where a state pupil being accepted to Oxbridge is not a cause for celebration, but a matter of course; where it is the norm for state pupils to enjoy brilliant extra-curricular activities like sports, orchestras, cadets, choir, drama, debating, the Duke of Edinburgh scheme, and more.
"All those things are par for the course in the private sector - why shouldn't children in the state sector enjoy them? We know England's private schools are the best independent schools in the world. Why shouldn't our state schools be the best state schools in the world."
Additional reporting by PA
Reuse content