Public sector workers in some parts of Britain are earning up to £3,200 a year more than their private sector neighbours while those in the South-east are being penalised, new research concludes.
A study by the centre-right think tank Policy Exchange found that teachers, nurses and council workers in the North-east are nearly 15 per cent better off than those in comparable private-sector jobs.
By contrast, public sector workers in London were 3 per cent worse off when factoring in age, gender, qualifications and length of employment.
The findings, taken from the most recent Labour Force Survey, will re-open the vexed and heated debate over localised pay bargaining.
The move has been championed by Conservative ministers including the Education Secretary Michael Gove, but has been strongly opposed by unions and blocked by the Liberal Democrats in Government.
They argue that such comparisons are "misleading" and are being used as an excuse to further erode pay and conditions. The Policy Exchange analysis found that the average public sector worker benefits from a 6.1 per cent pay "premium" – meaning that they could earn £1,400 a year more than someone in similar circumstances working in the private sector.
In the North-east, Merseyside and South-west this premium is as high as 14 per cent or over £3,000 a year.However, in central London, the East and South East, the average public sector worker gets paid less than their private-sector equivalent.
Matthew Oakley, head of economics and social policy at Policy Exchange, who wrote the report, said the answer was not the blunt instrument of regional pay bargaining but rather letting local managers make local decisions on pay depending on circumstances.
"You could have a good school in a nice area which has no problem attracting staff but another school down the road with many more challenges that does," he said.
"Those headteachers should not be constrained in what they can offer to attract staff as they are at the moment. For example, we have the pupil premium but this can only be spent on books and equipment – not on attracting really high-calibre teachers."
At the other end of the scale, Mr Oakley said some jobs could have been saved in the public sector in the recent round of cuts if it had been possible for civil servants and others workers to agree to take a pay cut.
"That's what happened in the private sector and it might have saved both jobs and services if it had been allowed in the public sector as well," he said.
A previous Policy Exchange paper said that rebalancing the pay and pensions of public sector workers so that they are in line with that of equivalent workers in the private sector would save £6.3bn a year in public spending.The latest findings suggest that the average premium has been relatively steady since 2010, suggesting that the Coalition's decision to freeze public-sector payrises is beginning to shift the balance. But Dr Peter Carter, General Secretary of the Royal College of Nursing, said his members would be dismayed by the "unsubstantiated attack on their pay".
"Comparing public sector and private sector pay in economically deprived areas, where most private-sector jobs are in low-skilled sectors, in order to claim that public sector workers are therefore overpaid, is an utterly disingenuous misinterpretation of statistics," he said.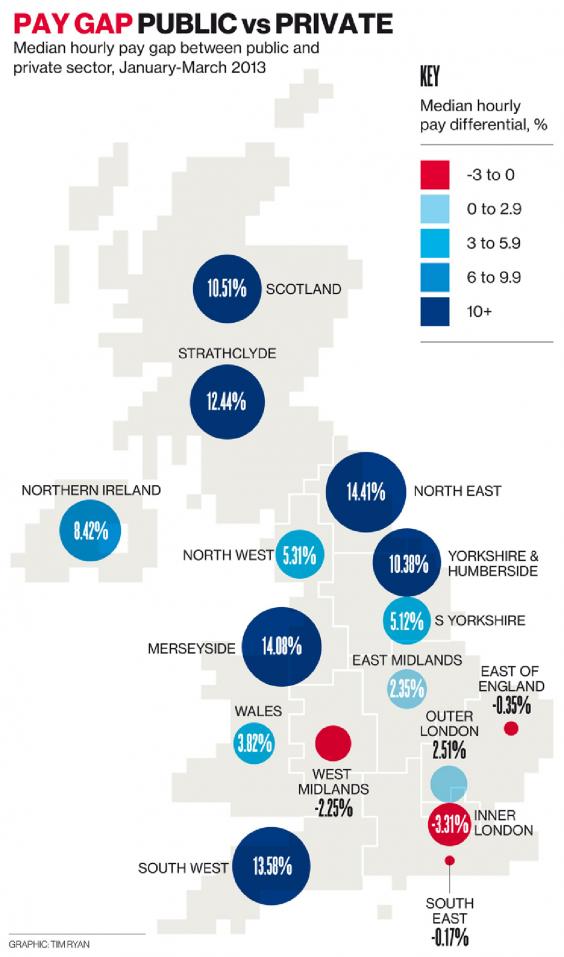 "Such a comparison is rendered even more worthless when you take into account the outsourcing of many unskilled jobs from the public to the private sector."
Dave Prentis, General Secretary of public sector workers' union Unison, added that the Policy Exchange report was based on false assumptions.
"The idea that there is a public-sector pay premium is a myth and dressing it up with dodgy statistics still won't make it true," he said. 
"Setting up workers in the public sector against those in the private is a nasty trick, designed to cover up the impact of the Government's austerity agenda. The real pay difference is between those at the top and the bottom – the bankers and financiers who are still raking in the bonuses and dodging taxes at the expense of us all."
TUC general secretary Frances O'Grady said: "Cutting pay in those parts of the country sharing least in the much-delayed and rather shallow recovery makes no economic sense.
"It will make the North-South divide even greater. And it will make inequality within regions greater too, as the biggest losers from these proposals will be low-paid staff in the public sector who will suffer big pay cuts as their pay is pushed down towards the minimum wage.
"We should be spreading the living wage in both public and private sectors, not listening to these divisive and unfair proposals from well-off London thinktank wonks who never need to worry how to make ends meet each week."
Reuse content