MPs have launched an investigation whether British-made arms are being used by Saudi Arabian forces in a widely-criticised military campaign in Yemen. 
The Committee on Arms Export Control will probe whether export control rules have been broken – after the United Nations warned of a "humanitarian disaster" and widespread attacks on civilians in the assault.
The inquiry will "examine if weapons manufactured in the UK have been used by the Royal Saudi Armed Forces in Yemen, if any arms export licence criteria have been infringed and discuss what action should be taken in such cases," the committee says.
Minsters have confirmed they have signed off the sale of weapons to Saudi Arabia but say the Saudi Arabians have assured them they are not committing war crimes using British equipment.
Aid group Médecins Sans Frontières have accused Saudi Arabia of bombing multiple hospitals, while others have warned of deadly strikes on weddings and schools.
In a three-month period late last year figures released by the business department showed the sales of bombs and munitions to Saudi Arabia by British firms had increased from £9 million to over £1 billion.
All arms exports from the UK are actively sanctioned by the Government, which issues licenses for deals after scrutinising them.
In December last year the Government was threatened with legal action by campaigners and lawyers for not blocking the flow of guns and bombs to the region.
Lawyers at law firm Leigh Day said it was likely the weapons were being used to "commit serious breaches of international humanitarian law".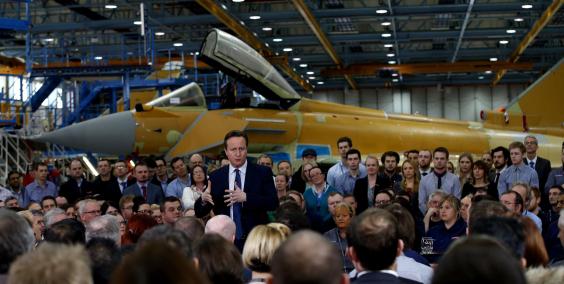 The European Parliament is the latest body to call for a full arms embargo on Saudi Arabia, following MPs on the House of Commons International Development Committee who also backed a suspension of sales.
The Campaign Against the Arms Trade welcomed the MPs' inquiry and said the sale of weapons "should not have been allowed in the first place".
"It is one of the most repressive regimes in the world and has unleashed a humanitarian catastrophe on Yemen, yet it has enjoyed uncritical political and military support from the UK," Andrew Smith, of CAAT, said.
10 examples of Saudi Arabia's human rights abuses
10 examples of Saudi Arabia's human rights abuses
1/10

In October 2014, three lawyers, Dr Abdulrahman al-Subaihi, Bander al-Nogaithan and Abdulrahman al-Rumaih , were sentenced to up to eight years in prison for using Twitter to criticize the Ministry of Justice.

AFP/Getty Images

2/10

In March 2015, Yemen's Sunni President Abd-Rabbu Mansour Hadi was forced into exile after a Shia-led insurgency. A Saudi Arabia-led coalition has responded with air strikes in order to reinstate Mr Hadi. It has since been accused of committing war crimes in the country.

Getty Images

3/10

Women who supported the Women2Drive campaign, launched in 2011 to challenge the ban on women driving vehicles, faced harassment and intimidation by the authorities. The government warned that women drivers would face arrest.

Getty Images

4/10

Members of the Kingdom's Shia minority, most of whom live in the oil-rich Eastern Province, continue to face discrimination that limits their access to government services and employment. Activists have received death sentences or long prison terms for their alleged participation in protests in 2011 and 2012.

Getty Images

5/10

All public gatherings are prohibited under an order issued by the Interior Ministry in 2011. Those defy the ban face arrest, prosecution and imprisonment on charges such as "inciting people against the authorities".

Getty Images

6/10

In March 2014, the Interior Ministry stated that authorities had deported over 370,000 foreign migrants and that 18,000 others were in detention. Thousands of workers were returned to Somalia and other states where they were at risk of human rights abuses, with large numbers also returned to Yemen, in order to open more jobs to Saudi Arabians. Many migrants reported that prior to their deportation they had been packed into overcrowded makeshift detention facilities where they received little food and water and were abused by guards.

Getty Images

7/10

The Saudi Arabian authorities continue to deny access to independent human rights organisations like Amnesty International, and they have been known to take punitive action, including through the courts, against activists and family members of victims who contact Amnesty.

Getty Images

8/10

Raif Badawi was sentenced to 1000 lashes and 10 years in prison for using his liberal blog to criticise Saudi Arabia's clerics. He has already received 50 lashes, which have reportedly left him in poor health.

Carsten Koall/Getty Images

9/10

Dawood al-Marhoon was arrested aged 17 for participating in an anti-government protest. After refusing to spy on his fellow protestors, he was tortured and forced to sign a blank document that would later contain his 'confession'. At Dawood's trial, the prosecution requested death by crucifixion while refusing him a lawyer.

Getty Images

10/10

Ali Mohammed al-Nimr was arrested in 2012 aged either 16 or 17 for participating in protests during the Arab spring. His sentence includes beheading and crucifixion. The international community has spoken out against the punishment and has called on Saudi Arabia to stop. He is the nephew of a prominent government dissident.

Getty
"If UK arms exports controls mean anything then the government needs to revoke all extant licences and stop all arms exports."
Saudi Arabia is intervening in Yemen to protect the internationally recognised Government, which does not control the country's capital. David Cameron earlier this year defended the UK's relationship with Saudi Arabia.
"First of all, our relationship with Saudi Arabia is important for our own security. They are opponents of Daesh and the extremism and terror [they spread]," he told BBC Radio 4's Today programme.
"In terms of our arms exports I think we have some of the most stringent controls anywhere in the world and I'll always make sure they're properly operated.
"We're trying to do everything we can to make sure that the work done by Saudi Arabia is properly targeted and it's right that we should do that. We're working with them and others on behalf of the legitimate government on Yemen."
Reuse content