An effective abandonment of NHS waiting times targets will cause more "discomfort and pain" for elderly patients, it has been claimed.
The changes announced by health service chief Simon Stevens have prompted widespread anger, with politicians, charities and health bodies labelling them "appalling".
Under the shake-up, patients face longer waits for non-emergency surgery such as cataract operations and hip replacements in a "trade off" for improved care elsewhere, such as cancer diagnosis and in A&E departments, said Mr Stevens.
But the British Medical Association (BMA) said the plans show the NHS is at "breaking point" and meeting one promise by missing another "should not be happening in today's NHS".
A target that no patient should have to wait longer than 18 weeks for a hospital operation from when they are referred by their GP has been in place since 2004, but the number of patients waiting longer than that is rising.
As shown in the chart below, created by Statista for The Independent, at the start of 2013, 5.7 per cent of patients waited more than 18 weeks for non-emergency surgery. By January 2017, this had risen to 10.1 per cent.
"What we're seeing here is quite appalling," said shadow health secretary Jonathan Ashworth.
"It will mean many elderly people waiting in discomfort and pain for hip replacements, knee replacements, cataract operations, operations of that order," he told the BBC.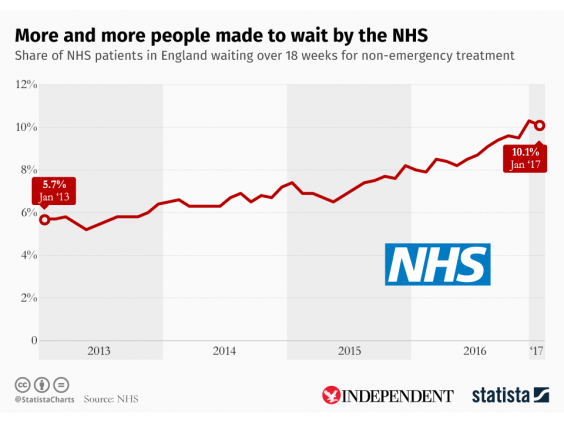 "It's a direct consequence of the big financial squeeze being imposed on the NHS by this Conservative government."
Clare Marx, head of the Royal College of Surgeons, said the 18-week target had been "jettisoned in all but name", warning: "Today's announcement means more patients will wait longer and in more pain before planned surgery."
"We risk returning to the days of unacceptably long waits for elective surgical treatment," she said.
Ms Marx said she welcomed some of the initiatives set down in the two-year blueprint for the NHS, including plans to free up two to three thousand hospital beds.
"It is absolutely right to look at how beds in hospitals can be made available by supporting patients to receive care and support in the community," she said. 
Mr Stevens said the NHS would not be returning to the year-long waiting list situation of decades ago.
"Back to the year 2000, people were waiting 18 months or longer and the NHS has delivered 18 weeks as a target," he said.
"I think nobody wants to go back to that very, very long time and there will be anxiety about that - but I think it is completely unreasonable to expect NHS services to provide everything, when the restrictions on funding and the demand is rising all the time."
He also said GPs would be asked to cut back on patients they referred to hospital with other options such as physio encouraged instead, promising quicker cancer diagnosis and A&E care in return.
"The NHS is at breaking point from a combination of increasing demand and inadequate resources," said Mark Porter, council chair of the BMA.
"Achieving one delivery promise only by missing another is a textbook example of rationing access to care. It should not be happening in today's NHS.
"The NHS, and its expert and professional staff, are working hard under extreme pressure, but fundamentally the failure to meet the access promises is a direct consequence of the Government's decision to allocate less resources to the NHS than other leading European countries."
John Appleby, director of research and chief economist at The Nuffield Trust, said "squeezing the NHS funding balloon" had led to a "reduction in quality (longer waiting times)" in a tweet responding to the news.
Mr Ashworth also blamed Government underfunding for the changes. "I've got no criticism of NHS bosses like Simon Stevens, they're faced with huge dilemmas," he said.
"But I've got huge amounts of criticism of the government. If they gave the NHS the money it needs, and if they hadn't broken their promise on NHS funding, we wouldn't be in this situation today.
"It's simply not good enough, and it is a consequence of the government's underfunding of the NHS but also their inability to get a grip of the staffing crisis, something that is only going to get worse with Brexit."
Reuse content