Nigel Farage is reportedly planning another trip to meet Donald Trump's transition team after becoming the first British politician to meet the President-elect after his shock election victory.
The interim Ukip leader met his ally at Trump Tower in New York earlier this month, afterwards showering the Republican with praise for his "good ideas", while Mr Trump returned the compliment by suggesting his appointment as US ambassador.
Mr Farage could be paying another visit to the new administration in early December, The Telegraph reports, this time to Washington DC.
There has been no public confirmation of the plan and a spokesperson for Ukip did not immediately respond to The Independent's request for comment.
Any moves for Mr Farage to ingratiate himself further with Mr Trump may be cause for alarm in Downing Street, which shot down the President-elect's suggestion to have the Brexit campaigner as ambassador by saying there was "no vacancy for the post".
Theresa May has spoken to Mr Trump on the phone, with the Prime Minister saying she looked forward to meeting "soon", but no schedule has been announced.
"If you travel to the US you should let me know," was how the President-elect extended his invite, according to a transcript obtained by The Times.
Mr Farage is reported to be taking the same group that joined his last trip to the US with him to Washington in the coming weeks, including millionaire Ukip supporter Arron Banks and his adviser Andy Wigmore.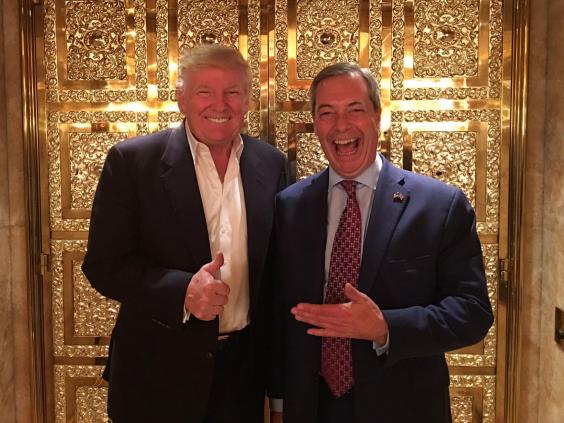 Mr Banks hosted a celebration for the interim Ukip leader at the Ritz on Wednesday night, where Mr Farage handed out a tray of Ferrero Rocher chocolates in reference to the famous "Mr Ambassador!" television advert.
The lavish London reception came as Philip Hammond announced Britain faces a £122 billion budget black hole in his Autumn Statement, as well as dwindling growth and slowing trade linked to Brexit.
Mr Farage's speech was heralded by Mr Wigman, who also served as the Leave EU campaign spokesman Andy Wigmore, with a call for attention from "Ladies, Gents, Lords and... diplomats".
"We've got a problem," Mr Farage said. "In America the revolution is total. Not only have the people spoken and won, but the old administration, Obama and all those ghastly people, are out and the Trump people are in.
"In this country, the people have spoken, but the same players have just been shuffled around the chess board and we are still being run by the career professional political class
"I am not sure what is going to happen over the course of the next couple of years but I suspect there's another big seismic shock in British politics perhaps going to come at the next election."
Mr Farage said the Tories were "not fit for the legacy of Brexit" and expected a "realignment" of politics that could involve old parties disappearing and being replaced with new ones reflecting the new public mood.
World reaction to President Trump: In pictures
World reaction to President Trump: In pictures
1/29

London, England

AP

2/29

London, England

Reuters

3/29

Manila, Philippines

Getty Images

4/29

Manila, Philippines

Getty

5/29

Mosul , Iraq

Getty

6/29

Manila, Philippines

AP

7/29

New Delhi, India

Reuters

8/29

Karachi, Pakistan

EPA

9/29

Jakarta, Indonesia

Reuters

10/29

Lagos, Nigeria

AP

11/29

Kabul, Afghanistan

AP

12/29

Jerusalem. Israel

Reuters

13/29

Moscow, Russia

Reuters

14/29

Seoul, South Korea

AP

15/29

Lagos, Nigeria

AP

16/29

Peshawar, Pakistan

EPA

17/29

Jakarta, Indonesia

Reuters

18/29

Hyderabad, India

AP

19/29

Kolkata, India

AP

20/29

Sydney, Australia

Getty

21/29

Sydney, Australia

AP

22/29

Aleppo, Syria

Reuters

23/29

Mexico City, Mexico

AP

24/29

Port-of-Spain, Trinidad and Tobago

Reuters

25/29

Jerusalem, Israel

EPA

26/29

Baghdad, Iraq

Rex

27/29

Gaza Strip, Palestinian Territories

Rex

28/29

Tokyo, Japan

Rex

29/29

Mexico City, Mexico

Getty
"It is unfinished business - the people have spoken but the establishment don't want to listen," he added. "There are great battles to be fought and I'm going to go on fighting those battles."
Among those watching the speech were Conservative MPs Jacob Rees-Mogg and Peter Bone, Labour donor John Mills and Ukip leadership candidate Paul Nuttall.
The Barclay brothers, owners of the Telegraph and the Ritz itself, Isle-of-Man-based tycoon Jim Mellon and Daily Mail columnist Richard Littlejohn were also among more than 100 guests quaffing sparkling wine from Lord Ashcroft's winery.
Asked if he would back the interim Ukip leader for ambassador, Mr Rees-Mogg told the Press Association: "Mr Farage's relationship with Mr Trump could be beneficial for the country but I am not sure he should be Ambassador Extraordinary and Plenipotentiary.
"Mr Farage is certainly extraordinary in his own way but I think that being plenipotentiary as well may be a bit too much."
But the Brexit campaigner struck a triumphant tone with his speech, claiming the vote to leave the EU was the "first brick knocked out of the establishment wall".
To cheers, he said: "For those of you who aren't particularly happy with what happened in 2016, I've got some really bad news for you - it's going to get a bloody sight worse next year."