Nigel Farage has repeatedly refused to say why he met Wikileaks founder Julian Assange before terminating a heated interview.
The former Ukip leader told Germany's Die Zeit newspaper he visited the Ecuadorian Embassy for "journalistic reasons, not political reasons" in March.
"I will not say any more about that," Mr Farage added. "It has nothing to do with you. It was a private meeting."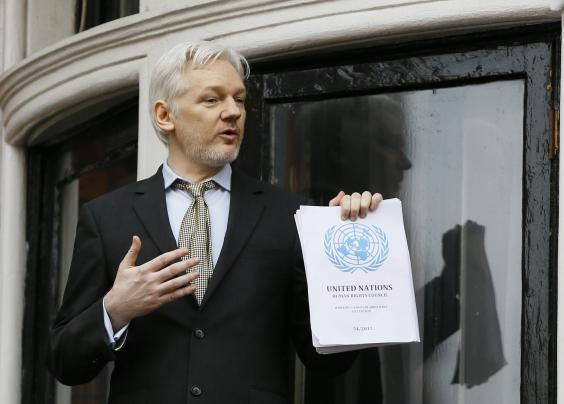 He declined to say whether any kind of article would be published but described the meeting as "very brief" and said he talked "about a lot of things" with Mr Assange.
Leaked emails later revealed long-standing contacts between Ukip and the Australian activist, who the party has publicly supported through a sexual assault investigation in Sweden.
Mr Assange claimed asylum in the Ecuadorian Embassy in London in June 2012 - a month after the UK's Supreme Court ruled that he should be extradited to Sweden to face questioning over the allegations.
The Europe of Freedom and Democracy group, led by Mr Farage, tabled a motion in the European Parliament attacking "the possible abuse of the European Arrest Warrant for political purposes" following a meeting between Mr Assange's lawyer and Ukip MEP Gerard Batten.
Mr Farage has also used his LBC radio to repeat the WikiLeaks founder's denial of Russian involvement in the Democratic National Committee email hack.
When asked whether his meeting with Mr Assange was on behalf of his ally Donald Trump, White House press secretary Sean Spicer was evasive, replying: "I don't keep [Farage's] schedule. I generally don't worry about what's going on across the pond."
Nigel Farage's most controversial moments
Nigel Farage's most controversial moments
1/12 When he unveiled that 'breaking point' poster during the referendum

Mr Farage was accused of deploying "Nazi-style propaganda" when he unveiled a poster showing Syrian refugees travelling to Europe under the next "Breaking point". Users on social media were quick to compare the advert to a Nazi propaganda film with similar visuals and featuring Jewish refugees. The poster was particularly controversial because it was unveiled the morning of the killing of Labour MP Jo Cox

Rex

2/12 When he said he'd be concerned if his neighbours were Romanian

In May 2014 Mr Farage was accused of a "racial slur" against Romanians after he suggested he would be concerned living next to a house of them. "I was asked if a group of Romanian men moved in next to you, would you be concerned? And if you lived in London, I think you would be," he told LBC radio during an interview. Asked whether he would also object to living next to German children, he said: "You know the difference"

Bongarts/Getty Images

3/12 When he said the EU campaign was won 'without a bullet being fired'

Nigel Farage has said the next Prime Minister has to be a Leave supporter

AFP/Getty

4/12 When he resigned as Ukip leader and came back days later

After failing to win the seat of South Thanet at the general election, Nigel Farage stepped down as Ukip leader – as he had promised to do during the campaign. Days later on 11 May he "un-resigned" and said he would stay after being convinced by supporters within the party. We'll see how long his resignation lasts this time

AP/Matt Dunham

5/12 When he blamed immigrants for making him late

Mr Farage turned up late to a £25-a-head 'meet the leader' style event in Port Talbot, Wales in December 2014. Asked why he was late, he blamed immigrants. "It took me six hours and 15 minutes to get here - it should have taken three-and-a-half to four," he said. "That has nothing to do with professionalism, what it does have to do with is a country in which the population is going through the roof chiefly because of open-door immigration and the fact that the M4 is not as navigable as it used to be"

Getty

6/12 When he wanted to ban immigrants with HIV from Britain

Mr Farage has used his platform as Ukip leader call for people with HIV to be banned from coming to Britain. Asked in an interview with Newsweek Europe in October 2014 who he thought should be allowed to come to the UK, he said: "People who do not have HIV, to be frank. That's a good start. And people with a skill." He also repeated similar comments in the 2015 general election leadership debates

Getty

7/12 When he defended the use of a racial slur against Chinese people

Defending one of Ukip's candidates, who used the word "ch**ky" to describe a Chinese person, Mr Farage said: "If you and your mates were going out for a Chinese, what do you say you're going for?" When he was told by the presented that he "honestly would not" use the slur, Mr Farage replied: "A lot would"

Lintao Zhang/Getty Images

8/12 When he said parts of Britain were 'like a foreign land'

The Ukip leader used his 2014 conference speech to declare parts of Britain as being "like a foreign land". He told his audience in Torquay that parts of the country were "unrecognisable" because of the number of foreigners there. Mr Farage has also previously said he felt uncomfortable when people spoke other language on a train

Screengrab

9/12 When he said the British army should be deployed to France

At the height of trouble at Britain's Calais border Mr Farage proposed a novel solution. The Ukip leader called for the British army to be sent to France to put down a migrant rebellion. "In all civil emergencies like this we have an army, we have a bit of a Territorial Army as well and we have a very, very overburdened police force and border agency," he said. "If in a crisis to make sure we've actually got the manpower to check lorries coming in, to stop people illegally coming to Britain, if in those circumstances we can use the army or other forces then why not"

AFP/Getty

10/12 When he said breastfeeding women should 'sit in the corner'

Mr Farage sparked protests from mothers after he told women to "sit on the corner" if they wanted to breastfeed their children. "I think that given that some people feel very embarrassed by it, it isn't too difficult to breastfeed a baby in a way that's not openly ostentatious," Mr Farage said. He added: "Or perhaps sit in the corner, or whatever it might be"

AFP/Getty Images

11/12 When he said the gender pay gap exists because women are 'worth less'

At a Q&A on the European Union in January 2014 Mr Farage said there was no discrimination against women causing the gender pay gap. Instead, he said, women were paid less because they were simply "worth far less" than many of their male counterparts. "A woman who has a client base, has a child and takes two or three years off - she is worth far less to her employer when she comes back than when she went away because that client base won't be stuck as rigidly to her portfolio," he said

Getty

12/12 When he said he actually couldn't guarantee £350m to the NHS after Brexit

During the EU referendum campaign the Leave side pledged to spend £350 million a week on the National Health Service – claiming that this is what the UK sends to Brussels. Nigel Farage didn't speak out against this figure and also pledged to spend EU cash on the health service and other public services himself. Then the day of the election result he suddenly changed his tone, saying he couldn't guarantee the cash for the NHS and that to pledge to do so was "a mistake"

Getty
Mr Farage has faced questions over the extent of his links with the US President, as well as with Russia after describing his political admiration of Vladimir Putin.
He rejected "conspiracy theories" over Russian funding for his Brexit campaign ahead of the EU referendum but would not tell Die Zeit how much he was paid for appearances on state-run broadcaster Russia Today.
"I [go on air] twice a year, or three times last year," he told the newspaper. "I am doing global media."
Mr Farage later terminated the interview, which saw him call the German interviewer "mad", "deluded" and a "nutcase" as a press officer attempted to direct questions to trade.
The MEP, who has unsuccessfully run for Parliament several times, quit as Ukip leader following the UK's vote for Brexit and claimed the British political establishment will "always hate" him.
He has said he will not be standing in June's snap general election, following the resignation of Ukip's only sitting MP – Douglas Carswell.
Mr Farage said he would keep his focus on Brexit negotiations in Brussels and use his "profile in European politics" to exert pressure, while appearing as a media pundit on Fox News.
Reuse content