Labour has branded Nigel Farage a "poppy-less popinjay" after the Ukip politician skipped Remembrance Sunday services in Britain so he could go to America and meet Donald Trump.
Carwyn Jones, the Labour first minister of Wales, said Mr Farage was "conspicuous by his absence" from services despite his party appropriating Battle of Britain imagery and rhetoric during his campaigns against the EU.
Mr Farage was hailed as the first British politician to meet the new US President-elect this weekend, and was pictured, poppy-less, with him on Remembrance weekend in a golden elevator at Mr Trump's headquarters.
Ukip defended Mr Farage's decision not to wear a poppy during the visit, arguing that it would have been inappropriate for the former leader to wear the commemorative flower in the circumstances.
In an angry statement issued on Monday morning, Labour's Mr Jones said: "I will never insist that anyone must wear a poppy, or attend remembrance events.
"This is a free country, and people choose to remember in different ways. But hypocrisy is something else altogether. You don't get to appropriate the Battle of Britain in your campaign literature, only to prioritise transatlantic photo-opps a few months later.
"Mr Farage likes to play by a different set of rules, this much is true. But in what universe do we let go, without comment or censure, the pictures of this grinning poppy-less popinjay in a gold lift with Donald Trump?
"Lauded on Fox News as some latter day revolutionary, Mr Farage basked in the warm glow of right-wing acceptance. But make no mistake – he made a choice between two things this weekend. 
"A choice between standing shoulder to shoulder with fellow Brexit in solemn remembrance, or to go on a jolly to the States to pick up a bit of reflected glory. He chose the latter. No other part leaders would get away with this, we shouldn't let Mr Farage."
A Ukip spokesperson however hit back at Mr Jones's criticism, arguing that to have worn a poppy in the United States on the Sunday would have amounted to "virtue signalling".
"Mr Jones is probably unaware that in the US, the 11th is the day of commemoration. For Mr Farage to have worn a poppy on Sunday 13th would have been an egregious example of virtue signalling. Something normal for the likes of Mr Jones, but an anathema to Mr Farage," he said.
"Mr Jones's statement reads more like the 'look-at-me' vapourings of the Lib Dems than the words of a serious man. It's sad to see how the Labour Party has fallen."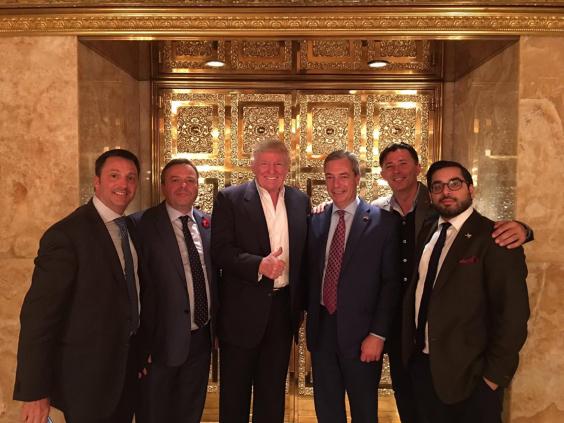 A Ukip source said Mr Farage took Remembrance Day very seriously, regularly toured First World War battlefields and studied the conflict's history, and that it was understood to be a "serious breach of protocol" to wear a poppy in the circumstances. 
Despite the spokesperson's criticism of wearing a poppy in the US, millionaire Ukip donor Arron Banks was however pictured alongside Mr Farage in the US wearing the symbol of remembrance.
Mr Farage met Mr Trump on Saturday and then toured US TV studios the following day. He could be seen wearing an enamel badge featuring the British and American flags on both occasions but did not wear a poppy.
Nigel Farage's most controversial moments
Nigel Farage's most controversial moments
1/12 When he unveiled that 'breaking point' poster during the referendum

Mr Farage was accused of deploying "Nazi-style propaganda" when he unveiled a poster showing Syrian refugees travelling to Europe under the next "Breaking point". Users on social media were quick to compare the advert to a Nazi propaganda film with similar visuals and featuring Jewish refugees. The poster was particularly controversial because it was unveiled the morning of the killing of Labour MP Jo Cox

Rex

2/12 When he said he'd be concerned if his neighbours were Romanian

In May 2014 Mr Farage was accused of a "racial slur" against Romanians after he suggested he would be concerned living next to a house of them. "I was asked if a group of Romanian men moved in next to you, would you be concerned? And if you lived in London, I think you would be," he told LBC radio during an interview. Asked whether he would also object to living next to German children, he said: "You know the difference"

Bongarts/Getty Images

3/12 When he said the EU campaign was won 'without a bullet being fired'

Nigel Farage has said the next Prime Minister has to be a Leave supporter

AFP/Getty

4/12 When he resigned as Ukip leader and came back days later

After failing to win the seat of South Thanet at the general election, Nigel Farage stepped down as Ukip leader – as he had promised to do during the campaign. Days later on 11 May he "un-resigned" and said he would stay after being convinced by supporters within the party. We'll see how long his resignation lasts this time

AP/Matt Dunham

5/12 When he blamed immigrants for making him late

Mr Farage turned up late to a £25-a-head 'meet the leader' style event in Port Talbot, Wales in December 2014. Asked why he was late, he blamed immigrants. "It took me six hours and 15 minutes to get here - it should have taken three-and-a-half to four," he said. "That has nothing to do with professionalism, what it does have to do with is a country in which the population is going through the roof chiefly because of open-door immigration and the fact that the M4 is not as navigable as it used to be"

Getty

6/12 When he wanted to ban immigrants with HIV from Britain

Mr Farage has used his platform as Ukip leader call for people with HIV to be banned from coming to Britain. Asked in an interview with Newsweek Europe in October 2014 who he thought should be allowed to come to the UK, he said: "People who do not have HIV, to be frank. That's a good start. And people with a skill." He also repeated similar comments in the 2015 general election leadership debates

Getty

7/12 When he defended the use of a racial slur against Chinese people

Defending one of Ukip's candidates, who used the word "ch**ky" to describe a Chinese person, Mr Farage said: "If you and your mates were going out for a Chinese, what do you say you're going for?" When he was told by the presented that he "honestly would not" use the slur, Mr Farage replied: "A lot would"

Lintao Zhang/Getty Images

8/12 When he said parts of Britain were 'like a foreign land'

The Ukip leader used his 2014 conference speech to declare parts of Britain as being "like a foreign land". He told his audience in Torquay that parts of the country were "unrecognisable" because of the number of foreigners there. Mr Farage has also previously said he felt uncomfortable when people spoke other language on a train

Screengrab

9/12 When he said the British army should be deployed to France

At the height of trouble at Britain's Calais border Mr Farage proposed a novel solution. The Ukip leader called for the British army to be sent to France to put down a migrant rebellion. "In all civil emergencies like this we have an army, we have a bit of a Territorial Army as well and we have a very, very overburdened police force and border agency," he said. "If in a crisis to make sure we've actually got the manpower to check lorries coming in, to stop people illegally coming to Britain, if in those circumstances we can use the army or other forces then why not"

AFP/Getty

10/12 When he said breastfeeding women should 'sit in the corner'

Mr Farage sparked protests from mothers after he told women to "sit on the corner" if they wanted to breastfeed their children. "I think that given that some people feel very embarrassed by it, it isn't too difficult to breastfeed a baby in a way that's not openly ostentatious," Mr Farage said. He added: "Or perhaps sit in the corner, or whatever it might be"

AFP/Getty Images

11/12 When he said the gender pay gap exists because women are 'worth less'

At a Q&A on the European Union in January 2014 Mr Farage said there was no discrimination against women causing the gender pay gap. Instead, he said, women were paid less because they were simply "worth far less" than many of their male counterparts. "A woman who has a client base, has a child and takes two or three years off - she is worth far less to her employer when she comes back than when she went away because that client base won't be stuck as rigidly to her portfolio," he said

Getty

12/12 When he said he actually couldn't guarantee £350m to the NHS after Brexit

During the EU referendum campaign the Leave side pledged to spend £350 million a week on the National Health Service – claiming that this is what the UK sends to Brussels. Nigel Farage didn't speak out against this figure and also pledged to spend EU cash on the health service and other public services himself. Then the day of the election result he suddenly changed his tone, saying he couldn't guarantee the cash for the NHS and that to pledge to do so was "a mistake"

Getty
In 2014 the then Ukip leader protested about being "snubbed" from the Cenotaph wreath-laying ceremony on Remembrance Sunday, suggesting that he cared very deepy about attending.
"We're not invited and I could say to you that personally I would like to be because this is a subject that I care very deeply about," he told LBC Radio at the time.
Mr Farage gave a speech during one of Mr Trump's campaign rallies and has since welcomed his election, arguing that he would be a "good president". Downing Street this morning dismissed Mr Farage"s close contact with Mr Trump, telling reporters that there was "no third person in the special relationship".
Reuse content