Nigel Farage has said Ukip would prop up a minority Conservative government if the Tories agreed to a swift and fair referendum on Britain's membership of the European Union.
The Ukip leader accused David Cameron of trying to kick the national vote, planned for 2017 if the Tories win outright next May, "into the long grass".
But the eurosceptic party would agree to a confidence and supply arrangement - where it backs or abstains on budget and legislative programme votes - with a minority Conservative government in return for a quick and full referendum.
Mr Farage told BBC1's Sunday Politics: "The price would be a full, free and fair referendum on our continued membership of the European Union, the opportunity to get our country back, and for that to happen quickly."
"Some time in July next year strikes me as a very good time to do this."
Who's next? Conservative MPs who could defect to Ukip
Who's next? Conservative MPs who could defect to Ukip
1/8 Chris Kelly

Won Dudley South with majority of 3,856 in 2010 but is standing down next May. Has been wooed by Ukip, which is targeting his seat, but insists he will not join Nigel Farage's party. Has declined to say why he is leaving Parliament

Facebook

2/8 Mark Pritchard

Former secretary of the influential Tory 1992 Committee. MP for The Wrekin. Majority 9,450. Photographed with Nigel Farage at an event recently but said it was just a "friendly photo"

3/8 Philip Hollobone

MP for Kettering. Majority 9, 904. He said in 2013: "So many constituencies are now marginal because Ukip is now providing a fourth dynamic into what has previously been a three-party dynamic. I think we could end up with a situation where in selected seats, where the Conservative candidate or member of Parliament is in favour of leaving the EU, they would endorse him in those seats"

Rex

4/8 David Nuttall

MP for Bury North. Majority 2,243. Outspoken right-winger. Has said it would be "beneficial" if the Tories and Ukip could agree a "common programme" in order to unite the right in British politics

Twitter

5/8 Nadine Dorries

MP for Mid Bedfordshire. Majority 15,152. Lost Tory whip after appearing on ITV's "I'm a Celebrity…Get Me Out of Here," but later reinstated. Has said her constituents some constituents feel a "huge amount of empathy with Ukip". Hinted at standing on a joint ticket but denied she will defect

PA

6/8 Jacob Rees-Mogg

MP for Somerset North East. Majority 4,914. Independent-minded like Douglas Carswell. Has called for an electoral pact between Tories and Ukip. "There are many members of Ukip who are very close to the Conservative Party and there are many Conservatives to whom Ukip looks favourably," he said in May

David Hedges

7/8 Gordon Henderson

MP for Sittingbourne and Sheppey. Majority 12,383. Wants Britain to leave the EU and admits he has been "sounded out" by Ukip. But insists the party has "no principles," saying: "I'd sooner lose than be a turncoat"

8/8 Peter Bone

MP for Wellingborough. Majority 11,787. Independent-minded backbencher who hates the Coalition. Has said: "Somehow the Conservatives and Ukip have got to work together and have some sort of [electoral] pact or accord"

UPPA/Photoshot
Such an arrangement would require Ukip to hold enough parliamentary seats to make a material difference in the division lobbies.
But Mr Farage predicted that Ukip would continue to send shock waves through the Westminster establishment.
The next by-election battle, which will be fought in Rochester and Strood, could lead to either David Cameron or Ed Miliband being ousted if their parties are given a further drubbing, he claimed.
Pressed on who he would prefer to be prime minister after the general election, Mr Farage told the programme: "Ask me that after the Rochester by-election because I think there is a possibility that one or both of those leaders may not be leading their parties in to the next general election."
Douglas Carswell, Ukip's first elected MP, has insisted the party is on course for victory in the Kent seat being fought by fellow Tory defector Mark Reckless, adding the win would "fundamentally" change British politics.
Recent polling has put the eurosceptics nine points ahead and Mr Carswell said it "felt a little bit like Clacton".
He told BBC1's Andrew Marr Show: "I think things are looking OK there. If we can win there then I think things are looking fundamentally different."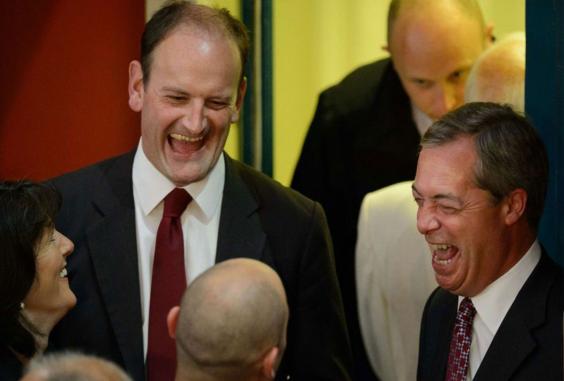 Mr Carswell said he hoped more of his former colleagues would join him in switching allegiances but insisted the party was "not the Conservative party in exile".
The Clacton victor likened his former party to failed music store HMV and claimed the Conservatives were now "defunct".
"The way the Tory party is retailing politics is like the way HMV retailed music. It's a defunct retail model," he said.
But Boris Johnson said fighting Ukip was like "fighting doppelgangers" and said he struggled to find any areas to disagree with his former colleague on.
Ukip has surged to 25% in the polls and some experts have claimed the soaring level of support would secure the party an astonishing 128 MPs in a general election.
Mr Carswell refused to be drawn on speculation about the number of seats the party could win.
"Let's keep a sense of perspective. We have won a single seat. There are 300-and-something to go to get a majority."
He added: "I don't like bravado talk and I'm not going to use it."
The Conservatives and Labour were left reeling after Ukip dealt both sides major blows when voters went to the polls in two by-elections on Thursday.
Mr Carswell became the first elected MP for the eurosceptics after taking Clacton with a handsome majority of 12,404 and the party was just 617 votes shy of victory in Heywood and Middleton.
Labour leader Ed Miliband is attempting to counter the threat posed by Ukip by promising reforms that would mean migrants have to "earn the right" to state benefits.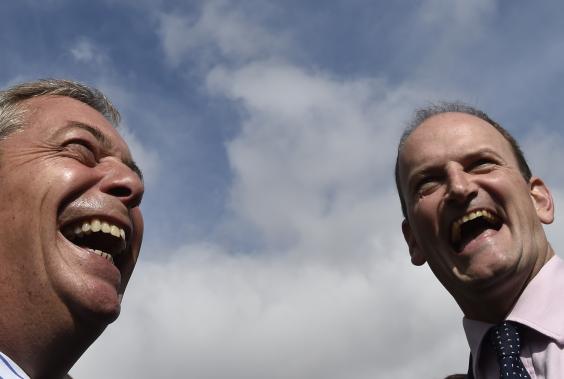 Deputy leader Harriet Harman insisted there was no "wobble" in the Labour ranks and denied a leadership change would be required despite concerns about how voters view the party and huge Ukip gains in Heywood and Middleton.
In a staggering study for the Mail on Sunday fresh off the back of the anti-Brussels party's by-election victory in Clacton, Nigel Farage won the support of one in four voters.
The Survation poll put Labour and the Tories both on 31% while the Liberal Democrats are on 8% and experts suggest that the ratings would give Labour 253 MPs, Conservatives 187, Ukip 128, Lib Dems 11 and other parties, such as the SNP, 71.
John Curtice, professor of politics at Strathclyde University, told the Mail on Sunday: "Today's poll suggests Ukip's support has increased much more in the south of England outside London than it has elsewhere in the UK - by a staggering 34 points.
"If that level was recorded throughout the South, Ukip could win as many as 128 seats, with no less than 102 of them coming from the Conservatives, whose vote in the region is down 14 points."
Private polling analysis seen by The Sunday Times, however, puts the party on course to win a more circumspect maximum of 25 MPs, although the number is still far higher than previous predictions.
PA
Reuse content