Nigel Farage has followed Donald Trump in suggesting Sweden is the "rape capital" of Europe because of its liberal immigration policies – despite the claim already having been widely debunked.
The former Ukip leader defended Trump's remarks about Sweden by saying: "Malmo in Sweden is the rape capital of Europe due to EU migrant policies. Anyone who says there isn't a problem is lying to you."
His remarks came after his political ally Donald Trump, speaking to supporters at a rally in Florida, listed a series of known European terror attacks before adding: "Look at what's happening last night in Sweden."
This baffled the world, because no-one else was aware of any terrorist attack happening anywhere in Sweden on Friday night – although one Swedish tabloid helpfully listed some things that really had happened in the country that night, like an avalanche warning and police chasing a drunken driver.
Mr Trump eventually said he had been referring to a story broadcast on Fox News on Friday night, which included a clip from a new film by Ami Horowitz – who has said his aim was to " investigate why Sweden has become the rape capital of Europe" after admitting "over 350,000 Syrian refugees."
And Mr Farage has now backed Mr Trump and Mr Horowitz by tweeting his views about Malmo and telling listeners to his LBC radio show: "Pro-rata Sweden has taken more young male migrants than any other country in the Europe.
"And there has been a dramatic rise in sexual crime in Sweden – so much so that Malmo is now the rape capital of Europe, and some argue, perhaps the rape capital of the world.
"And there is a Swedish media that frankly just doesn't report it."
It is, however, possible that the Swedish media doesn't report it because it isn't happening.
Two days ago, at about the same time that Mr Trump was tweeting explanations of his remarks, some people had already put together compelling evidence to debunk the Sweden "rape capital of Europe/the world because of immigrants" claim.
Philip N Cohen, a sociologist at the University of Maryland produced a graph showing rapes recorded by police per 100,000 population in Sweden compared to the country's refugee population.
This showed the rape figures started increasing dramatically after 2004, seven years before the refugee population started increasing in 2011.
And as Professor Cohen also mentioned, the sharp increase in rapes reported to police between 2004 and 2005 may have had something to do with the fact that in 2005 Sweden changed the law to introduce a far more wide-ranging definition of rape.
For example, the law change meant cases where the victim was asleep or intoxicated were from 2005 included in the rape figures where previously they had been counted in a different "sexual abuse" crime category.
The wide-ranging nature of the Swedish definition of rape also came to global attention seven years ago, in 2010 when Wikileaks founder Julian Assange was accused of sex offences in the country. Some of Mr Assange's supporters claimed that he was facing criminal prosecution for actions that would have been legal - and would therefore never have appeared in police figures – in many other countries.
Prof Cohen also seemed to be drawing his statistics from the Swedish police, as does the United Nations Office on Drugs and Crime (UNODC), whose country by country statistics have been used by right-wing commentators to compare Sweden unfavourably to just about every other nation on earth.
A frequently produced graph shows that according to UNODC data, Sweden had by far the highest rape rate, with 66.5 offences reported to police per 100,000 in 2012.  This dwarfed the next highest figure of 34.1 rapes per 100,000 recorded in Jamaica.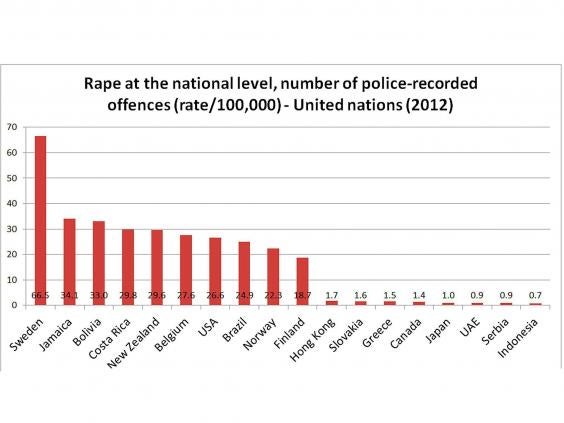 But even UNODC itself has cautioned against such country against country comparisons, issuing its statistics with the 'health warning': "Please note that when using the figures, any cross-national comparisons should be conducted with caution because of the differences that exist between the legal definitions of offences in countries, or the different methods of offence counting and recording."
And experts have been pointing out – for years – that in Sweden such a health warning is particularly applicable, and not just because of the 2005 law change that set it apart from many other countries.
More than four years ago, in September 2012 Klara Selin, a sociologist at the National Council for Crime Prevention in Stockholm, was also pointing out to the BBC that "In Sweden, there has been this ambition explicitly to record every case of sexual violence separately, to make it visible in the statistics.
"So, for instance, when a woman comes to the police and she says my husband or my fiance raped me almost every day during the last year, the police have to record each of these events, which might be more than 300 events. In many other countries it would just be one record – one victim, one type of crime, one record."
The controversial orders Donald Trump has already issued
The controversial orders Donald Trump has already issued
1/8 Trump and the media

White House Press Secretary Sean Spicer takes questions during the daily press briefing

Getty Images

2/8 Trump and the Trans-Pacific Partnership

Union leaders applaud US President Donald Trump for signing an executive order withdrawing the US from the Trans-Pacific Partnership negotiations during a meeting in the Roosevelt Room of the White House in Washington DC

Getty

3/8 Trump and the Mexico wall

People protest against US President Donald Trump's inauguration next to a fake wall with a Mexican national flag and a dummy representing him in Mexico City

Getty Images

4/8 Trump and the Mexico wall

A US Border Patrol vehicle sits waiting for illegal immigrants at a fence opening near the US-Mexico border near McAllen, Texas. The number of incoming immigrants has surged ahead of the upcoming Presidential inauguration of Donald Trump, who has pledged to build a wall along the US-Mexico border

Getty Images

5/8 Trump and abortion

US President Donald Trump signs an executive order as Chief of Staff Reince Priebus looks on in the Oval Office of the White House

Getty Images

6/8 Trump and the Dakota Access pipeline

Opponents of the Keystone XL and Dakota Access pipelines hold a rally as they protest US President Donald Trump's executive orders advancing their construction, at Columbus Circle in New York. US President Donald Trump signed executive orders reviving the construction of two controversial oil pipelines, but said the projects would be subject to renegotiation

Getty Images

7/8 Trump and the Dakota Access pipeline

US actress and political activist Jane Fonda attends a rally with opponents of the Keystone XL and Dakota Access pipelines as they protest US President Donald Trump's executive orders advancing their construction, at Columbus Circle in New York

Getty Images

8/8 Trump and 'Obamacare'

Nancy Pelosi who is the minority leader of the House of Representatives speaks beside House Democrats at an event to protect the Affordable Care Act in Los Angeles, California. The Republican-led US Senate has launched their much-anticipated effort to repeal the Affordable Care Act by passing a budget blueprint which would allow them to begin rolling back the health care reforms

Getty Images
Right-wing commentators have also enjoyed pointing out the supposed irony of "feminist" Sweden having such a high rape rate.
But the high numbers of rapes reported to police may also owe a lot to "feminist" Sweden being keen to ensure that women are not ashamed to tell the authorities they have been raped. It is possible that in other countries there is a far stronger stigma around reporting rape than in Sweden.
It appears that in some countries, rape victims may be less likely to report the crime and their allegation may be less likely to be recorded by police.
In 2012, as Sweden was recording 66.5 reports of rape to police per 100,000 inhabitants, Indonesia was recording 0.7 rape allegations per 100,000.
But in 2013 a UN survey found that 26.2 per cent of men in urban Indonesia admitted to having committed a rape.  
The survey, which asked men in six countries if they had ever forced a woman to have sex or forced sex on someone who too drunk or drugged to consent, found that in rural Indonesia 19.5 per cent of men – nearly one in five – admitted to actions amounting to rape.
When it comes to the claim of Sweden supposedly being an international "rape capital", it may also be significant that some countries have not been included in UNODC statistics for country by country comparison.
In 2009 South Africa's rape rate was not included in the UNODC statistics but a 2009 survey by South Africa's Medical Research Council found that one in four men admitted to having raped someone and one in 20 said they had raped a woman or girl in the last year.  
If, however, Mr Trump and Mr Farage want to check out the real situation in Malmo for themselves, there may be a cheap and easy way.
Paul Joseph Watson, editor-at-large of alt-right website Infowars is offering to pay travel and accommodation costs for journalists willing to visit.
Messrs Trump and Farage may have to hurry, though, because Mr Watson's offer of an expenses-paid trip to what he insists are the "crime-ridden suburbs of Malmo" is proving surprisingly popular.