Planned infrastructure investment is "heavily biased" towards London at the expense of  the North, according to research that calls into question the Government's commitment to rebalancing the economy.
The analysis of national infrastructure projects by researchers at the Sheffield Political Economy Research Institute (Speri) suggests that George Osborne is "failing to deliver" on his Northern Powerhouse promises. The study describes how London is set to receive more funding from the public purse than every other English region combined. Northern business leaders are now urging the Chancellor to take steps to bridge the "gaping chasm".
Infrastructure investment in London is about to reach £45bn, or £5,305 for each person in the capital, according to the institute's figures.This compares with £1,946 per head in the North-west, £851 per head in Yorkshire and Humberside, and £414 per head in the North-east – the lowest of any English region.
The report comes amid growing concern about the Government's announcement in June that the electrification of the Manchester to Leeds railway line – a key piece of the Northern Powerhouse jigsaw – had been "paused".
"The bias towards… investment in London suggests the Government's commitment to geographical rebalancing of the UK economy is highly questionable, and will continue to inhibit private sector growth in other regions," the institute's report says.
Dr Craig Berry, the co-author of the report and deputy director of Speri, said: "These findings call into question the Government's commitment to economic rebalancing and to creating a Northern Powerhouse."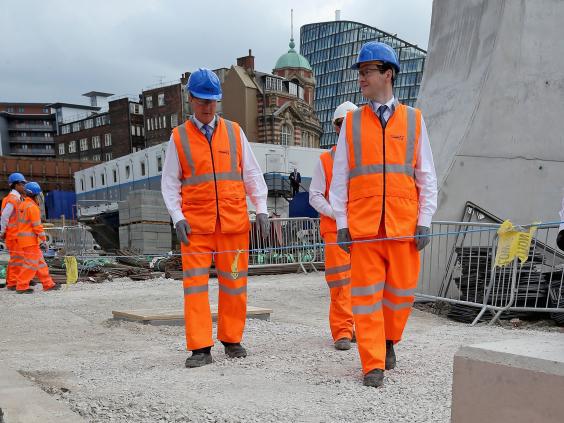 The institute's researchers analysed the Government's "National Infrastructure Pipeline" published in December last year. London projects in the infrastructure pipeline include Crossrail, the Francis Crick Institute – a biomedical research centre being built in King's Cross – the expansion of London City Airport and the renovation of several Tube stations, including Tottenham Court Road.
Chris Fletcher, the policy director at Greater Manchester Chamber of Commerce, said: "For a number of years, various reports have shown the gaping chasm in spending on infrastructure between London, the South-east and the rest of the UK.
"Our members demand greater investment and they see the Northern Powerhouse as a way to do this. Support is still strong from business, but patience could start to wear thin if there were to be any more delayed projects."
Steven Leigh, head of policy at the Mid-Yorkshire Chamber of Commerce, said: "The Government needs to take this report seriously. The Chancellor has talked a lot about the Northern Powerhouse and it is very concerning that the Government has fallen at the first hurdle by pausing the electrification of the Trans-Pennine railway line."
It also appears, from Speri's report, that the English regions where the private sector is weakest are receiving "far less" infrastructure investment. While London has the strongest private sector in the country, just 3 per cent of England's businesses are based in the North-east.
James Ramsbotham, chief executive of the North-East Chamber of Commerce, said: "The North-east has the best export record in the country, significant energy expertise, capacity for further … development and we are a hub of major industry clusters. Despite this, our region is sometimes overlooked, and so we believe commitment to devolution is vital to maximise our assets."
A spokesman for the Treasury said: "We are determined to deliver the infrastructure Britain needs… That's why we're building a Northern Powerhouse and have set out over £410bn of public and private infrastructure investment spread out across Britain."
Reuse content