Activists associated with the Occupy protest movement are planning a mock "arrest" of media mogul Rupert Murdoch, they have said.
The activists, from the Occupy the Media group, will deliver a giant arrest warrant to the headquarters of News UK, the company owned by the Australian media mogul.
The group accuses Mr Murdoch facilitating "phone hacking, political blackmail, tax avoidance, and war crimes".
"It is completely unacceptable that despite all his crimes against the UK's democracy, Murdoch remains in power. It is high-time Ofcom barred him from our Fourth Estate," a spokesperson said.
In a statement Occupy the Media claim that "all 175 of Rupert Murdoch's global newspapers backed the disastrous illegal Iraq war".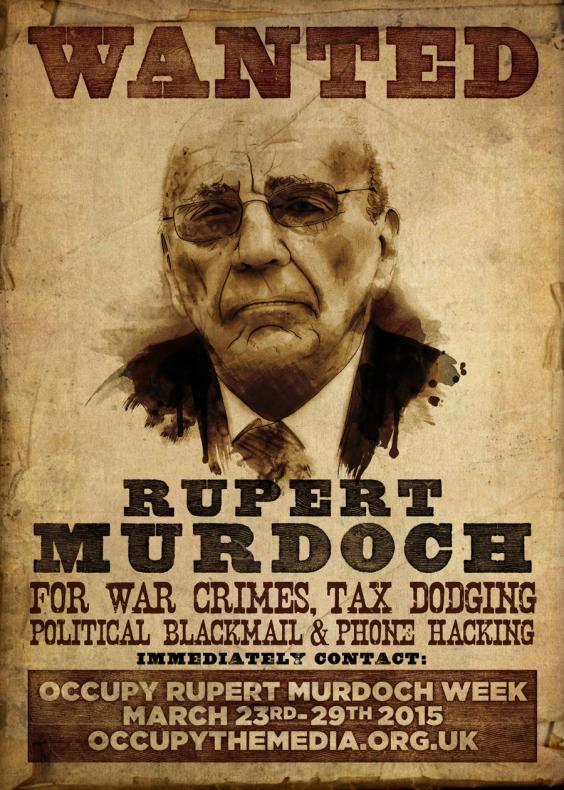 The action is the start of a "week of action" outside the company's headquarters in London Bridge, dubbed Occupy Rupert Murdoch.
The action is scheduled to take place on Monday morning. The week will end with a mock "people's trial" of the media mogul the following Saturday, and a march.
The group has produced a mock 'wanted' poster to promote the event.
"The fourth estate is a crucial pillar of the UK's democracy.  It is time to remove these five extremist billionaires from our fourth estate and ensure the press reflects the needs of all the people and not just the 1% corporate billionaire class. We call on Ofcom to immediately declare all five not fit and proper persons to hold media proprietorships," a spokesperson for the group said.
"The massive transfer of wealth from the poor to the rich (5 families now own more than the 12.5 million poorest Britons) and the environmental destruction facilitated by these five media billionaires must be stopped."
The Independent approached News UK for comment but has not yet received a response.
Reuse content